April 21, 2018
Best burger in berlin
You could say that the burger is, in a way, a very Berlin-ish food item: Vaguely egalitarian, vaguely retro; with an international flair, but still well-known and unthreatening.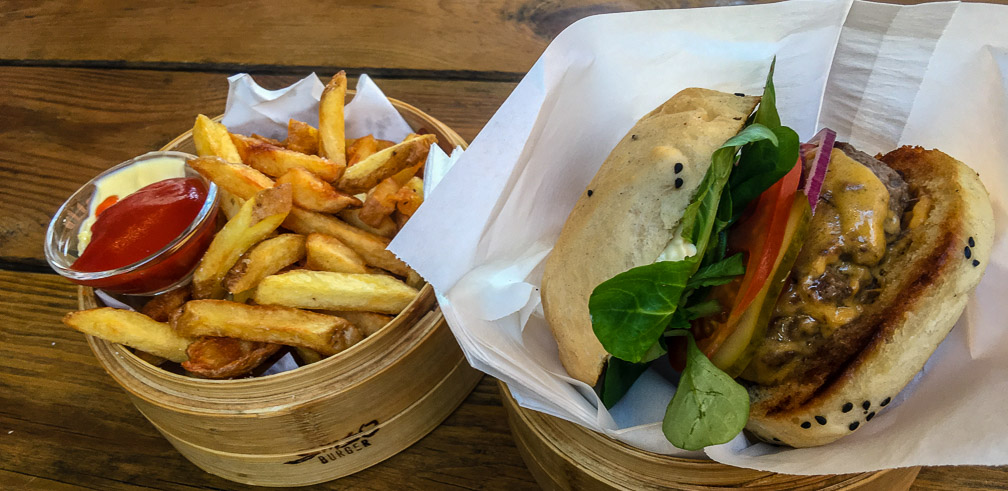 You could say that the burger is, in a way, a very Berlin-ish food item: Vaguely egalitarian, vaguely retro; with an international flair, but still well-known and unthreatening.
And, most importantly, there are so many possibilities to spruce it up that you can, at the same time, feel really hipster and have a staple that has been with you since childhood.
Our Berlin burger adventure started years ago with what are still some of the busiest places: Burgermeister and The Bird.
Classic: Burgermeister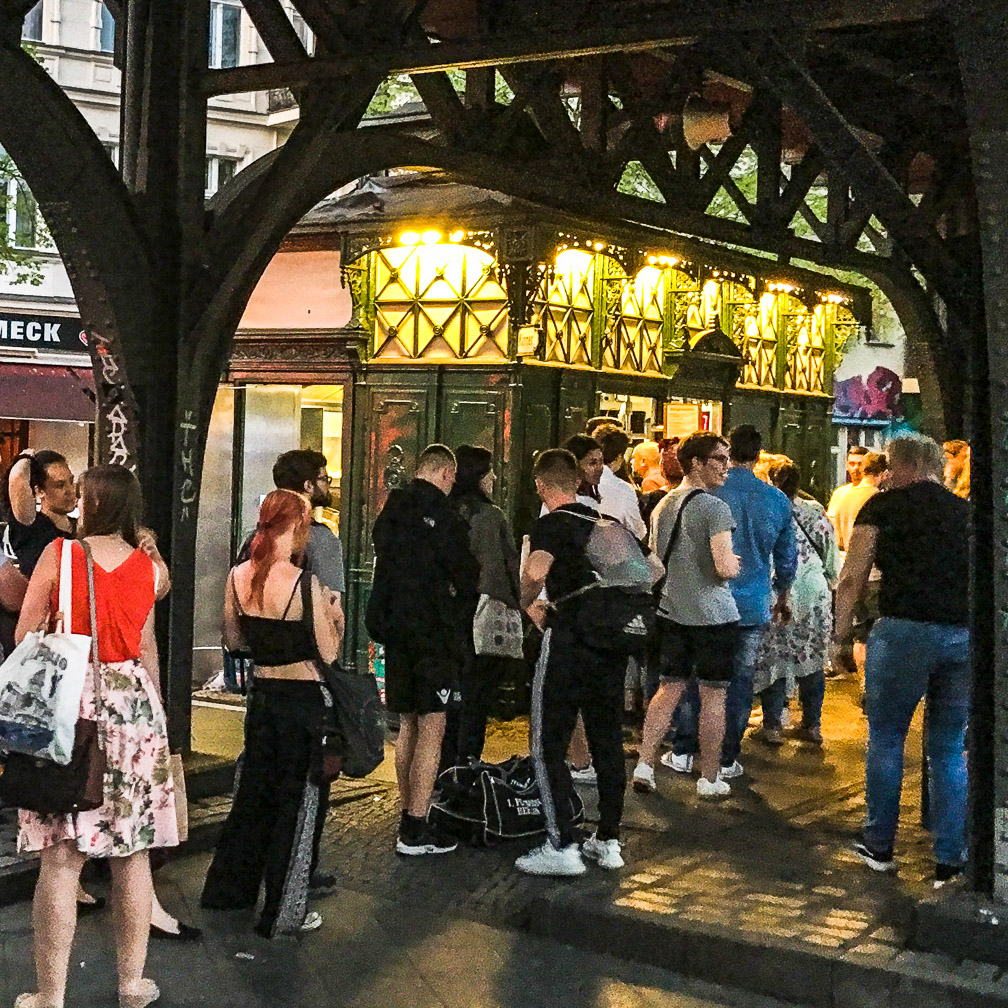 Queue at Burgermeister. Photo: Daniel
The Burgermeister might be credited with started the somewhat awkward "Bürger/Burger" pun, leading to creations like "Burgersteig" ("sidewalk") or "Burgeramt" ("citizen's" – or "burger" – "center"). Besides that, they offered very solid, properly cooked burger for a decent price – and still do. Still, their success was equally based on their quirky location: a disused public toilet house just next to the tourist-busy U-Bahn at Schlesisches Tor.
It was actually one of my usual lunch places for a while, and I still hold on to one of their loyalty cards. At some point, though, the quirky location got so busy that it wasn't worth the wait any more. At the same time, new options like the (sadly defunct) Görliburger popped up, so we just stopped going. The current alternative in the area is Burgersteig; while quite average in terms of their offering they'll serve you right away and also carry a wider selection of veggie options.
Burgermeister is still one of the quintessential Berlin burger things to do, especially if you come at a quieter time. They also opened a new branch at Kottbusser Tor, which may have less waiting time
Practical Details: Burgermeister Schlesisches Tor
Practical Details: Burgermeister Kottbusser Tor
The Bird will fill you up
The Bird is another Berlin classic, and the place to go to get properly stuffed. They are king of the "classic" offerings: "New York style" burgers and steaks, the latter from dry-aged Black Angus, imported from the U.S.
Burgers are cooked to order (though I found it to be a bit more done than expected), and they don't skimp on any of the greasy parts – you won't go hungry for days. Prices are bit on the high side, but you get what you pay for.
Nowadays we'll only head for the The Bird when we have guests that are really into burgers. The place is always full as well, but you can reserve a table: just remember that there's a 2-hour turnaround time. The bird also diversified into a "proper" steakhouse and a BBQ place, although we didn't try them. I'm not quite sure if the Hamburg version is an "original" or a knockoff, though…
Practical Details: The Bird
Meat is everywhere
But those classics aside you'll find grilled beef in a bun around every corner, from the "meat hipsters" at Kumpel and Keule in Markthalle 9 to the newly-launched "Peter Pane" chain. The latter seems quite promising, by the way, if you don't scoff at franchises – while Kumpel und Keule may have very nice meat, but drown it in a very strong sauce (at least on their "standard" burger).
I remember a day when I got a craving while strolling around the Ku'damm area, and found Burger Now two corners away: Little more than a stall, and I was unceremoniously handed a burger that was light years ahead of any of it's franchised brethren. It might even have som cult following in a hipper location.
Current favourite: Shiso Burger
Our current favourite, however, is Shiso Burger. Mainly due to their asian twist to the recipes, which makes it different from the usual fare: You can have the beef burger as a "chili lemon" burger, there's shrimp, salmon, bulgogi and portobello mushroom available. We also enjoy edamame as a different side order; and the portions are actually human-sized: You can continue to explore the city afterwards. They also tend to be quite busy, so be prepared for a little wait. Shiso is setting up branches in other cities in Europe, so it'll be interesting to see where that franchise goes.
The ordinary, less ordinary
Of course Berlin also has plenty of the big chains. In general there isn't much to review about them, as you pretty much now exactly what to expect. There's one of them you only find in Berlin, though:
Burger King has set up shop in the Berlin Pavillon which in 1957 served as the entrance to the Interbau. The architecture was kept intact during the conversion. It is right on the edge of the Interbau area of Hansaviertel – the housing estate where some of the most influential architects of the day, including Le Courbusier and Oscar Niemeyer, had their visions take form.
Practical Details: Shiso Burger
---
Get the newsletter
When you subscribe to the newsletter, we'll keep you up to date on what's new. You can unsubscribe at any time.
---
Share this page
---
What do you think?
Let us know what you think - privately or here for all to see. Simply email us or check our imprint and privacy policy for more info and possibilities to get in touch