August 13, 2019
Our Tokyo Guide
Tokyo always comes in two versions: A real-world city, and one that lives in our imagination. From the slightly surreal world of Lost in Translation and the fluorescent-lit nightscape of Murakami's After Dark to the cyberpunk Neo-Tokyo of Akira it is as much a nexus of global pop culture as the epicenter of Japan. We will take you on a tour – our tour – of Tokyo and show you our version.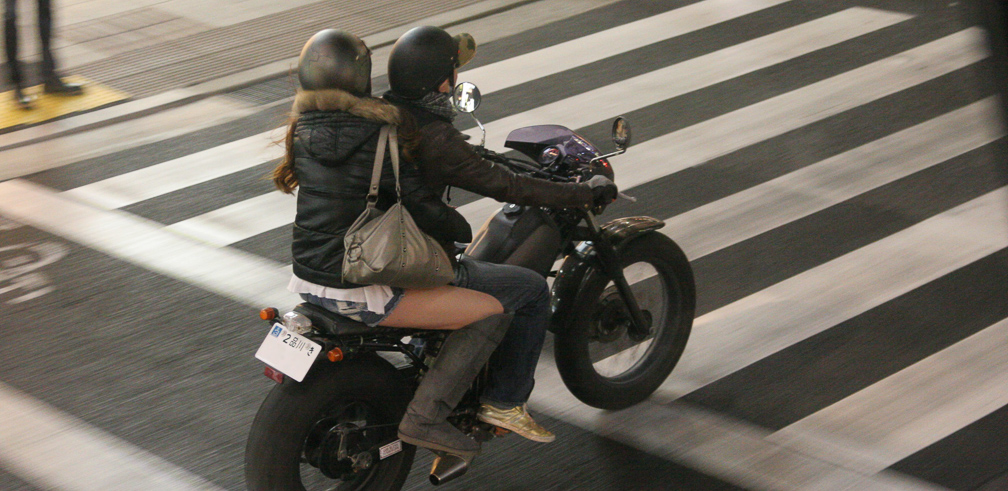 Tokyo always comes in two versions: A real-world city, and one that lives in our imagination. From the slightly surreal world of Lost in Translation and the fluorescent-lit nightscape of Murakami's After Dark to the cyberpunk Neo-Tokyo of Akira it is as much a nexus of global pop culture as the epicenter of Japan. We will take you on a tour – our tour – of Tokyo and show you our version.
Contents
Welcome to Tokyo
When you make your way from Narita airport, leaning back in your seat and watching the rice fields and suburbs zip by, you'll be wondering which place it is that you'll arrive in.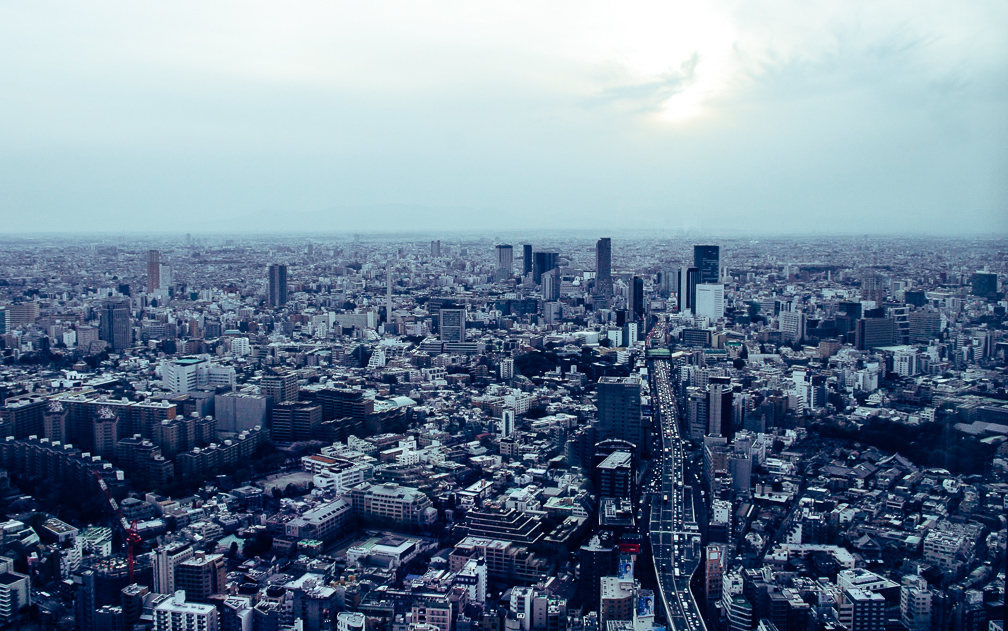 Metropolis. Foto: Daniel
In just 500 years, the swampy fishing village of Edo has transformed into the most populous megacity of the world. The place saw the rise and fall of the Shogun, war, nationalism and the birth of modern Japan. Tokyo burned to the ground twice in the last century alone: First in the firestorms of the Great Kantō Earthquake and then in those of WWII. It came back as a symbol of a modern, democratic Japan and of a postwar boom that only ended when the "bubble economy" of the late 1980s burst in the early 1990s.
Today little remains of old Edo or any previous incarnation of the city. Tokyo continues to change, constantly tearing itself down and rebuilding, often with little regard for the past.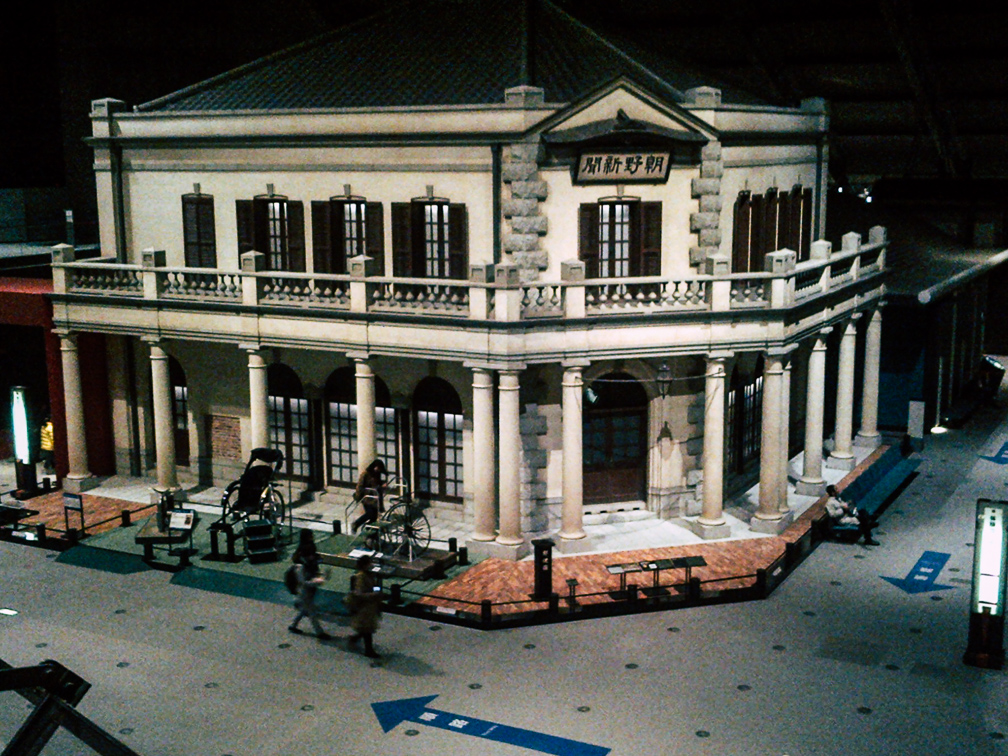 Walk old Edo in the Edo-Tokyo museum. Photo: Daniel
Keeping history around is less important than what you'd expect for a country whose emperor boasts a line of succession that spans two millenia. When emperor Naruhito opens the Olympic games in 2020, it'll be in the same place as his grandfather did 56 years earlier – but not in the same studium. Mitsuo Katayama's 1958 National Stadium – which survived the 2011 earthquake unscathed – was torn down and replaced by a newer, presumably better incarnation.
The old making place for the new appears to be a permanent, unchanging fact of the city: Frank Lloyd Wright's Imperial Hotel – one of the few buildings to survive the firestorms after the 1923 earthquake – was demolished to build the curent, modernist version. The famous modernist main wing of the Hotel Okura is now being "reconstructed" into a new building and Tadao Ando's Omotesand Hills sits on the site of a pre-war Bauhaus-inspired apartment complex. The metabolist Nakagin Capsule Tower is still hanging in there, although it isn't clear for how much longer.
Arriving in Tokyo

Most visitors to Tokyo arrive at Narita airport - it is bigger and has more international flights than its inner-city rival, Haneda.

Narita was built about 80 kilometers outside of the city (it's well worth reading up on its tumultous history). You get to the city either by bus (cheaper) or train (faster and more comfortable) – a taxi would be crazy expensive.

The Keisei Skyliner is faster but only calls at Nippori and Ueno. The Narita Express (N'EX) can be used with the Japan Rail Pass and has direct connections to several stations in and around Tokyo. If you prefer the bus, just check with the information desk at the airport for the correct connection.

From Haneda getting to the city is just a short ride on the Tokyo Monorail.
Tokyo isn't just one place, it's a confusing number of "special wards", districts and areas, each of which is often a city in itself, with its unique flair and character.
From the upscale shopping in Ginza, to hip cafes near Omotesando to the manga-driven otaku world of Akihabara, you'll always find what you came for. You just have to find it.
We will take you on a tour – our tour – of Tokyo.
Yamanote Line

The JR Yamanote line loops around the center of the city: Yamanote is the name for the area where the Shogun had his castle and the warrior caste resided – the heart of Tokyo. This is the area most interesting to visitors, and we'll take you on a loop around the line to discover Tokyo.
Tokyo Station and Marounuchi
Tokyo Station one of those magical places that are much bigger on the inside than the outside. When you look at it, it seems to be just the quaint 1914 station building – restored to its original appearance in 2007 to 2012 – and a few shinkansen tracks behind that.
But when you go through the ticket gates you'll find yourself in an endless maze of people, platforms, interchanges, cafes, restaurants and bento stalls.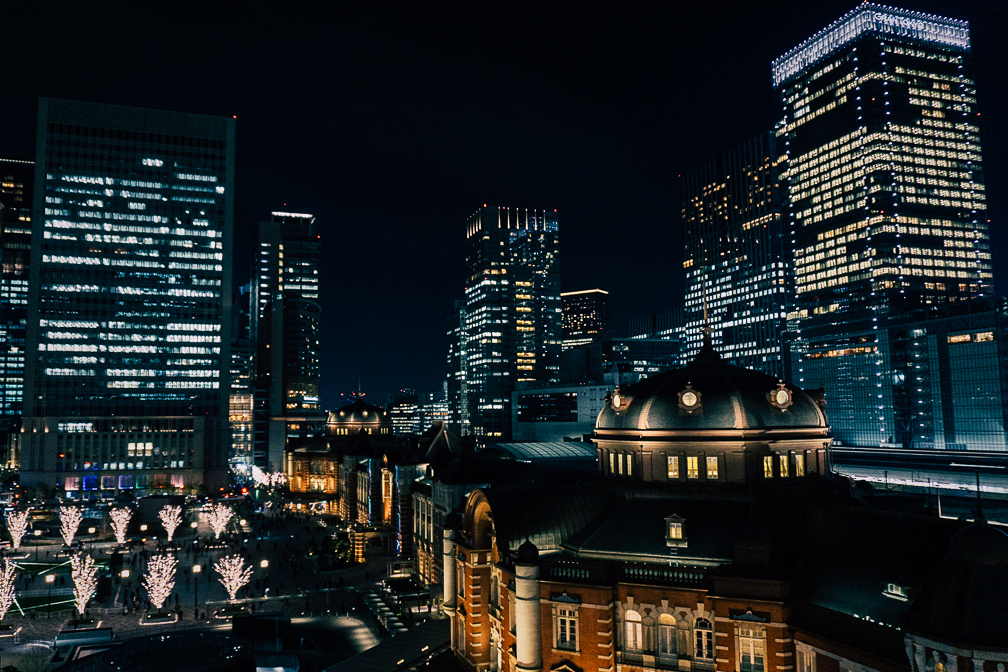 Tokyo Station and Maronouchi at Night, seen from the KITTE rooftop garden. Foto: Daniel.
Tokyo station is where all the major shinkansen lines depart. If you have a Japan Rail pass you can just go up to the platforms and have a look; you may even get lucky and spot JR West's "Doctor Yellow", the train that inspects the shinkansen tracks.
It is also the first inner-city stop of JR's Narita Express, which we usually arrive with, and so we start our tour of Tokyo here.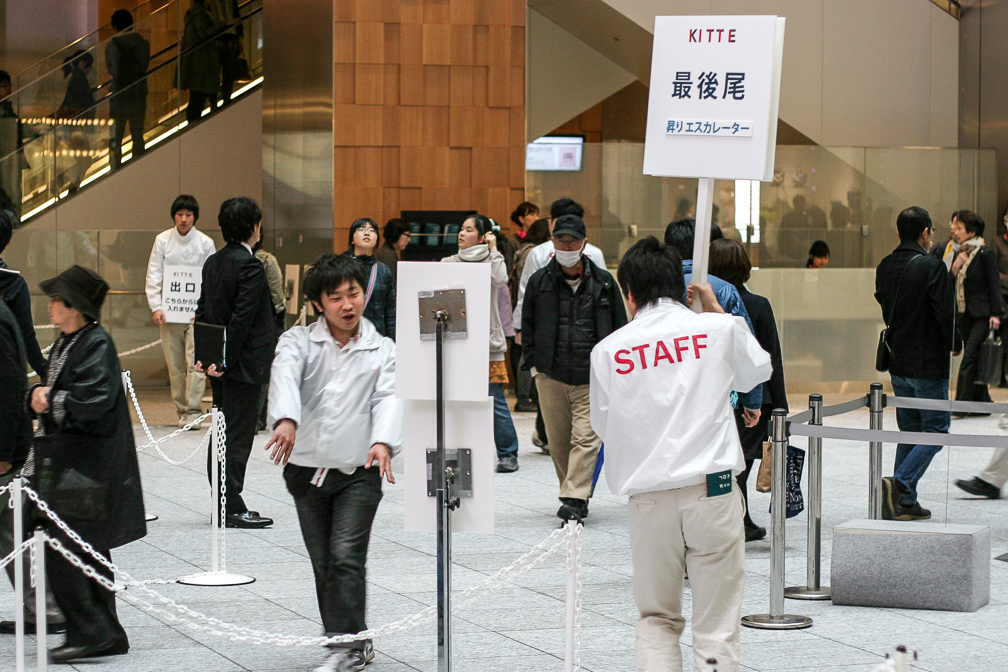 Queuing at KITTE. Photo: Daniel.
West of Tokyo Station is the Maronouchi district, which is mostly about business but has a few upscale shopping options. The best one is probably KITTE – the name is wordplay on 切手 (kitte, postage stamp) – which opened in 2012 in a redevelopment of the former central mail sorting facility of the Japan Post, just next to Tokyo Station. As with most Japanese shopping places, there is a dedicated restaurant floor. It includes a rooftop garden on top of the old central post office building that gives you great views of Tokyo Station and the Maronouchi skyline, especially at night.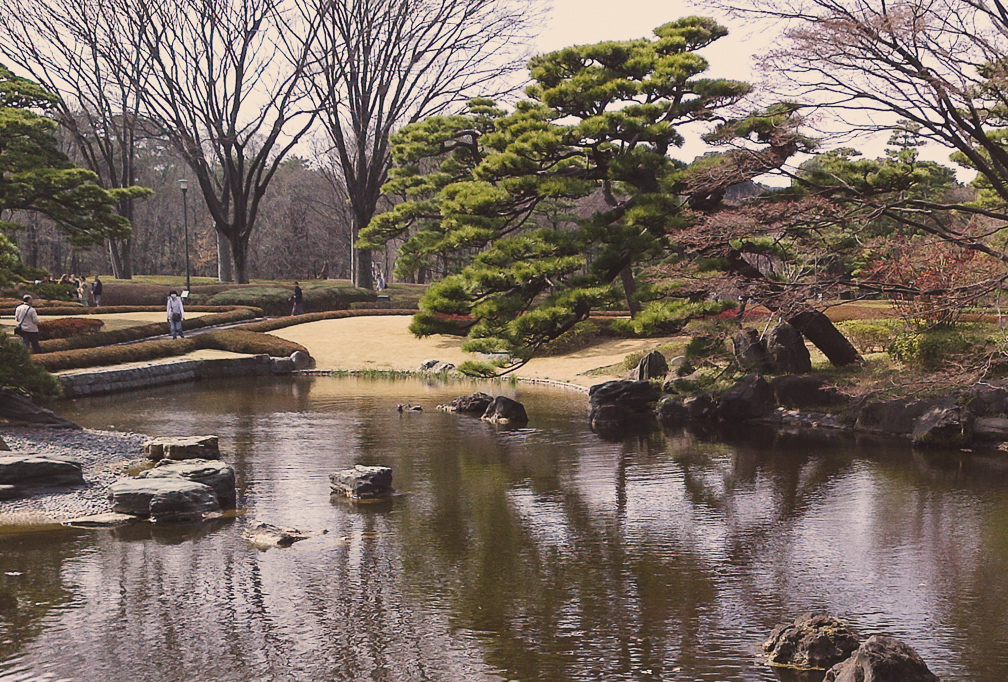 Imperial Palace East Gardens. Photo: Daniel.
When you walk westwards, you'll arrive at the Imperial Palace, residence of the Japanese emperor. The palace isn't open to the public, as the emperor actually lives there. You can have a peek at the grounds on a guided tour, online reservations are now possible.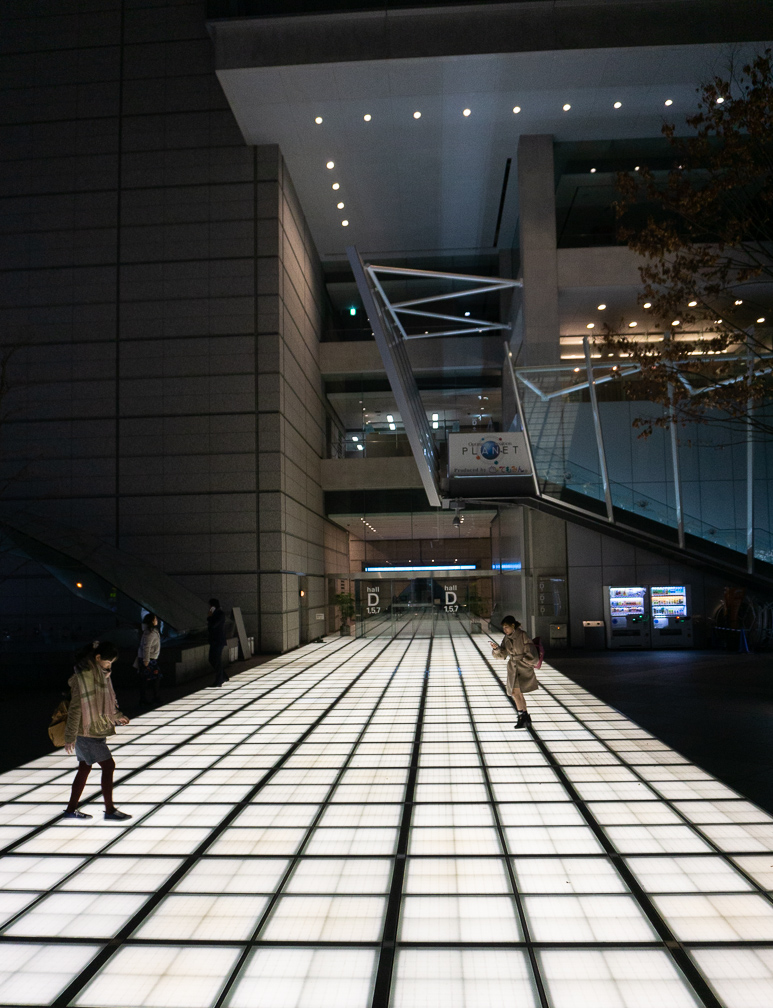 International Forum at night. Photo: Daniel
South of KITTE and Tokyo Station, towards Yūrakuchō station, is the Tokyo International Forum which opened in 1996. Designed by Rafael Viñoly it was one of the first major buildings in Japan designed by a foreign architect in the late 20th century.
Ginza
Ginza is only a small walk from the International Forum; you can pass under the tracks of the Yamanote line somewhere near Yūrakuchō station.
Originally built to mimic the boulevards of European cities, Ginza retains a certain "western" style and is now the poshest shopping district in Tokyo.
You'll find a flagship store for almost any luxury brand that you can name and some of the most venerable depāto (department stores) of the country, like Misukoshi and Matsuzakaya.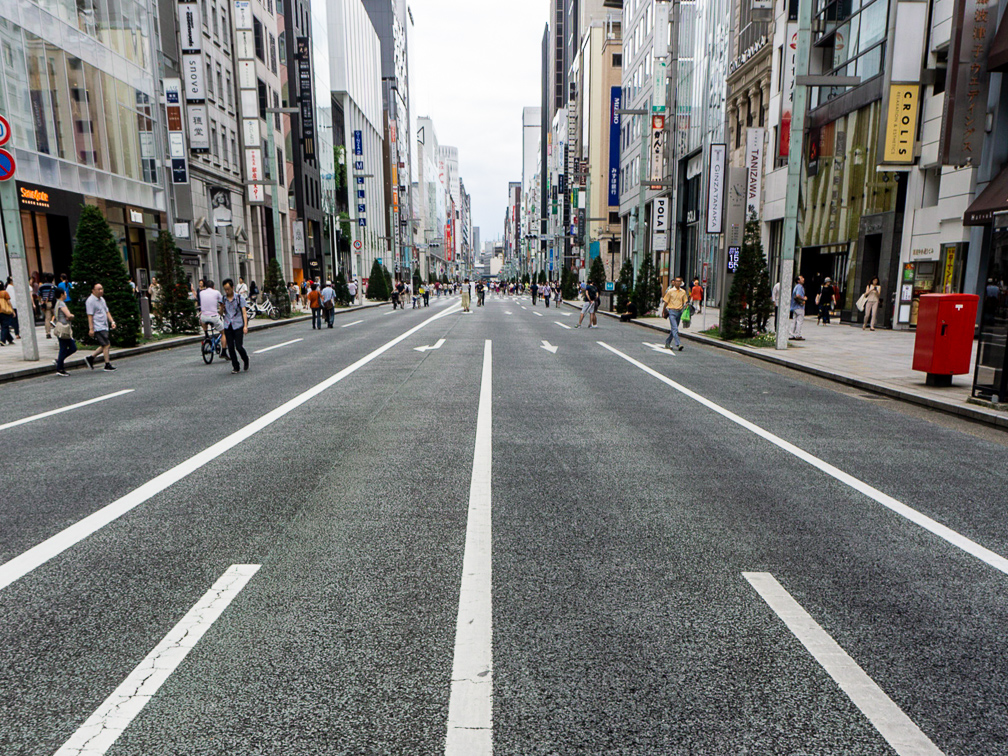 Ginza is a pedestrian zone on weekends. Photo: Daniel
Ginza is great to visit on weekends, when the main boulevard is closed off and turned into a pedestrian zone. You can also head for a cafe – there's a nice one that overlooks the intersection with the WAKO department store.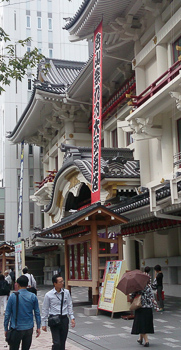 Kabuki returned to Ginza in 2013
And if we feel hungry we'll head for the side streets where you can find some nice enough tempura restaurants.
Ginza is also home to the Kabuki-za, the only dedicated all-year Kabuki theater in Japan. The current incarnation opened in 2013, after the 1930 theater had been torn down and replaced with one with an identical facade, but improved earthquake protection.
Kabuki is the more dramatic of the two traditional forms of theater, originating from the red-light districts of Edo. Noh, the other traditional drama form, was meant for the higher society – it is apparently much more sublime and even the Japanese seem divided about its entertainment value.
A short walk from the Kabuiki-za is the site of the former Tsujiki fish market. The wholesale market and tuna auctions finally moved to Toyusu in 2018, but some of the food and retail stalls of the outer market will remain.
When you get back to Ginza station, you can try to get a peek at Sukiyabashi Jiro, the sushi restaurant made famous by David Gelb's documentary Jiro dreams of sushi. Owner and Chef Jiro Ono is now well over 90 years old and still seems to be going strong. To actually dine there will set you back around ¥300,000, and you'll have to reserve weeks in advance.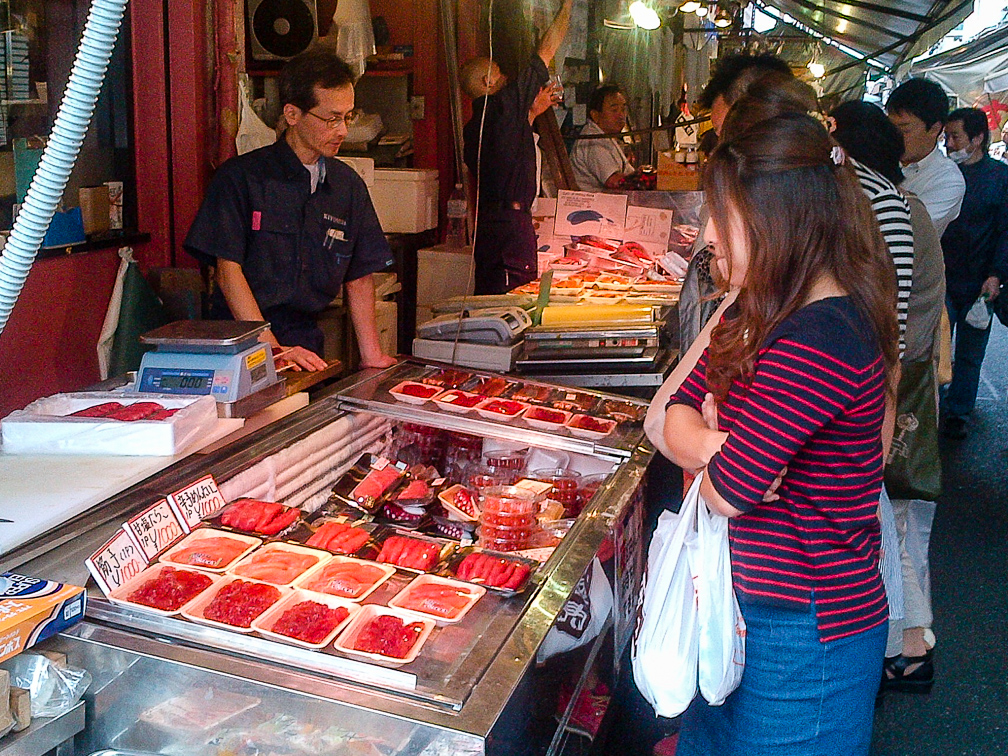 Vendors at Tsujiki. Many remain after the auctions have moved. Photo: Ingrid
Hamamatsuchō to Tokyo Tower
South of Ginza, after Hamamatsuchō station, the Yamanote line will loop through some less visited parts of Tokyo, so you probably want to head more to the west, towards Roppongi.
Hamamatsuchō station itself isn't a particularly interesting place, though it is the Terminus for the Tokyo Monorail from Haneda airport and you take a ferry and the futuristic Sumida river cruise ships from around here.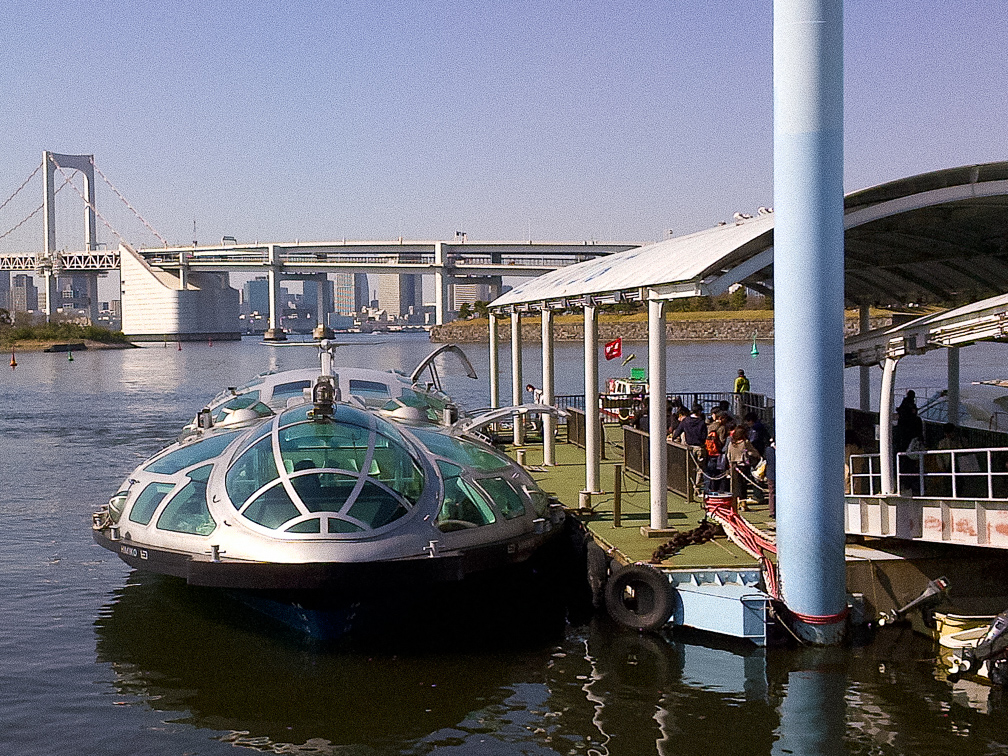 River cruise ship Himiko. Photo: Daniel
Halfway between Hamamatsuchō and Roppongi, still within walking distance of the station, is Shiba park with nearby Tokyo Tower and Zojo-ji Temple.
Tokyo Tower is Tokyo's version of the Eiffel Tower and one of its best-known landmarks. You can go up to the viewing platform if you like, but we never bothered.
High Above

You've got endless options to get a birds-eye view of Tokyo. While Tokyo Tower and the Skytree are the most obvious options, they can get busy during peak hours and the Skytree is also fairly expensive and a bit remote.

Most high-rise buildings in Tokyo include an observation platform, top-floor restaurants or attractions, or a combination of those.

The observatory on top of the Metropolitan Government Building is free to visit, if a bit drab
The World Trade Center building near Hamamatsuchō station has an observation deck (¥620) with great views in all directions.
A visit to the Mori Art Museum will include panoramic views from the top floor of Mori tower as well.
You can do the Lost in translation thing and have a drink at the Park Hyatt's New York Bar in Shinjuku. Food and drinks may be a bit expensive, but the view is free.
Roppongi
The busy district of Roppongi is one of the most "international" places in Tokyo; it is the place where foreigners and expats hang out.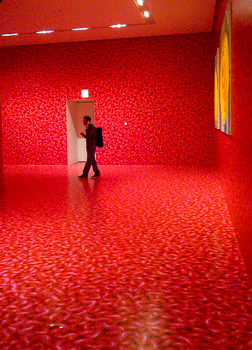 Mori Art exhibition. Photo: Ingrid
Roppongi is famous for its night life. While this isn't really our kind of thing, you can head here if you want to enjoy the city after dark. We guess that most establishments are used to western customers – just take care not to get ripped of.
During the day there are a number of contemporary art museums to visit in and around Roppongi. Note that none of the ones mentioned here has a permanent exhibition: Be sure to check their web sites to see what's on display, or be prepared to be surprised.
The Mori Art Museum is on the top floor of Roppongi Hills Mori Tower, admission will include access to the observation deck as well. The museum shows contemporary art, mostly by Asian artists – when we were there it had a quirky exhibition by artists that you don't easily find elsewhere.
We never saw an exhibition at the National Arts Center, mainly because the exhibtion at the time wasn't that interesting. We did check out the public spaces of Kisho Kurokawa's museum building, though.

21_21 Design sight. Photo(s): Ingrid
Close to the Arts Center is 21_21 Design Sight, which came out of a collaboration between Tadao Ando and Issey Miyake; Ando's 21_21 building is worth a visit all by itself. During our visit the exhibition was about Christo and Jeanne-Claude – nice, but a bit less ambitious than what we had at the Mori Art Museum.
Ebisu and beyond
We'll skip the southern loop of the Yamanote Line – Shinagawa through Gotanda – and jump right to Ebisu. The whole area was originally developed around what was originally a brewery, famous for their Yebisu beer. The brewery itself has moved elsewhere, but Sapporo Breweries' headquarters are still here and you can tour the Museum of Yebisu Beer.
Some of the area has been redeveloped into "Yebisu Garden Place", directly connected to Ebisu station. We didn't find the Garden that interesting, even though it is marketed as a major attraction and sometimes used for special events.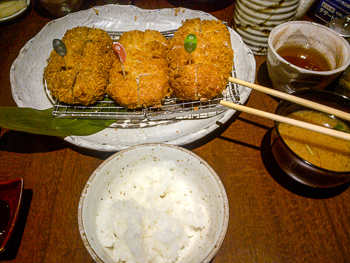 Kimkatsu. Photo: Ingrid
The area around Ebisu station is also a great place for going out; it feels a bit more relaxed than the nightlife districts of Roppongi or Shinjuku. When we are in the area, we sometimes head for Kimkatsu, probably because we went there on our first big tour of Japan. They put a nice twist on their tonkatsu by "assembling" it from thin slices instead of serving up the usual, solid schnitzel – though be warned: The place is in the Lonely Planet and draws the usual crowd.
You can trek west from Ebisu, towards the neighborhood of Naka-Meguro. Although Naka-Meguro is not a tourist destination, we stayed there simply because it was one of the last Airbnbs still available that summer and enjoyed it. Most of the area is a quiet an residential neighbourhood, sprinkled with interesting shops here and there; it's especially nice if you take a stroll along the little river.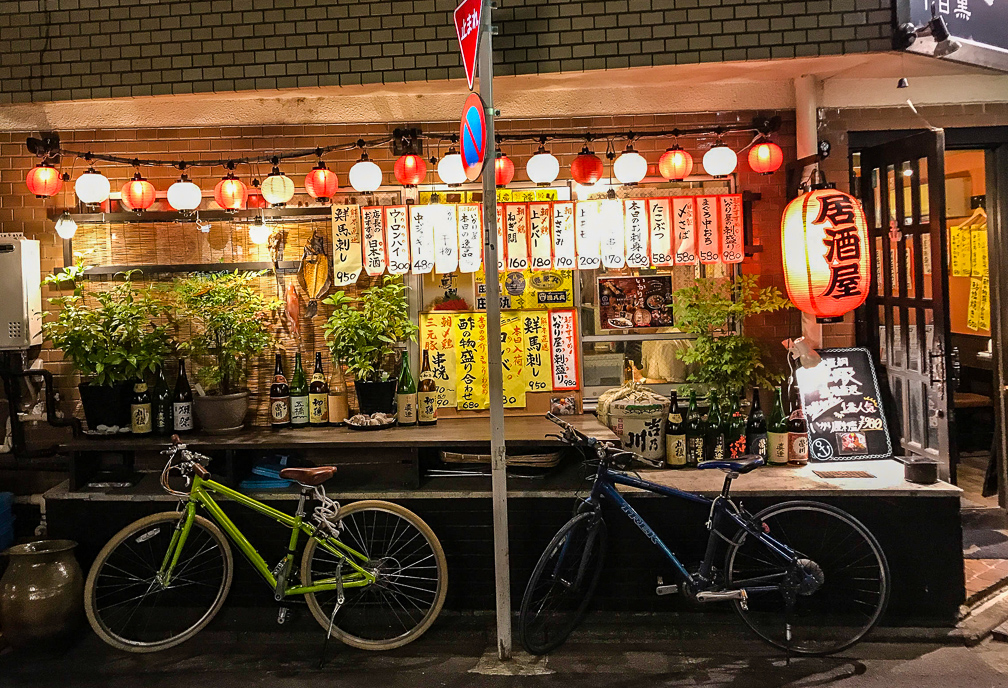 Out in Naka-Meguro. Photo: Ingrid
Not far from Naka-Meguro is Sarugakucho, where you can shop for fashion or books, or just take a walk and watch. The Monocle Guide Tokyo has a good walking tour of the area; but you can also explore on your own. In either case make sure you don't miss out on Tsutaya Books – the store is huge, and well-stocked in English language books as well.
Walk: Shibuya to Harajuku, via Omotesandō
Shibuya, together with Shinjuku, is Tokyo from the movies. You can step out from Shibuya station directly onto the famous Shibuya crossing and join the scramble of thousands of people when the lights turn green. Or watch the scene from a vantage point in the station or the Starbucks on the other side of the crossing, though the latter is often crowded for obvious reasons.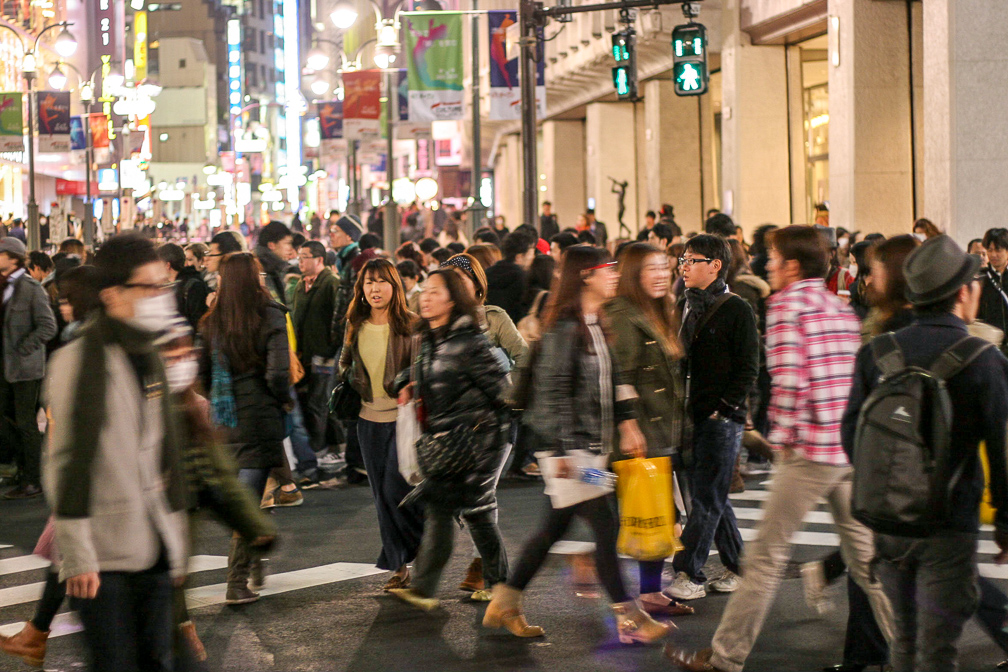 Join the scramble at Shibuya crossing. Photo: Daniel.
Shibuya is all about shopping and raw consumerism. It isn't refined, it's loud and hectic and is where the kids head for a pair of sneaker or a shirt. Shibuya is also the home of the first and original Tokuy Hands store; a giant DIY-themed department store. While the Shibuya branch doesn't have a cat cafe, you can still get a nice cup of coffee on the top floor.
If shopping gets you hungry, the most apt place to eat is probably one of the local branches of Genki/Uobei Sushi. This is the modern, "robotic" take on kaiten zushi (conveyor belt sushi). You'll be assigned a seat number, order from the touch screen in front of you, and the grub will arrive on a little automatic trays that stop right in front of you. Unlike at a "traditional" kaiten zushi dishes here are made to order, and Genki/Uobei is one of the better of their kind.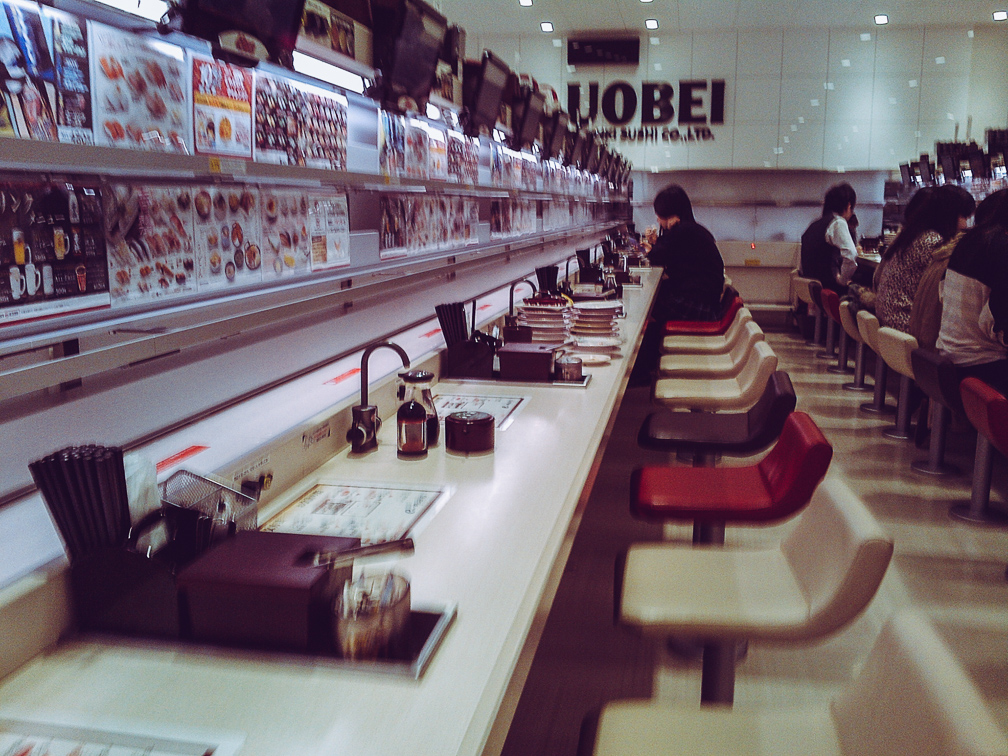 UOBEI Sushi Shibuya. Photo: Ingrid
When we've had enough of Shibuya, we usually make our way to Omotesandō on foot. At Shibuya crossing, simply walk east away from Shibuya and make your way uphill along Aoyama-dori.
Along the way you'll pass the UNU Farmers Market that opens on Saturdays, Sundays and public holidays. Like Markthalle 9 in Berlin, they offer a mix of local produce – from Aomori apples to peaches from Fukushima – and "authentic foreign food", such as currywurst or German bread.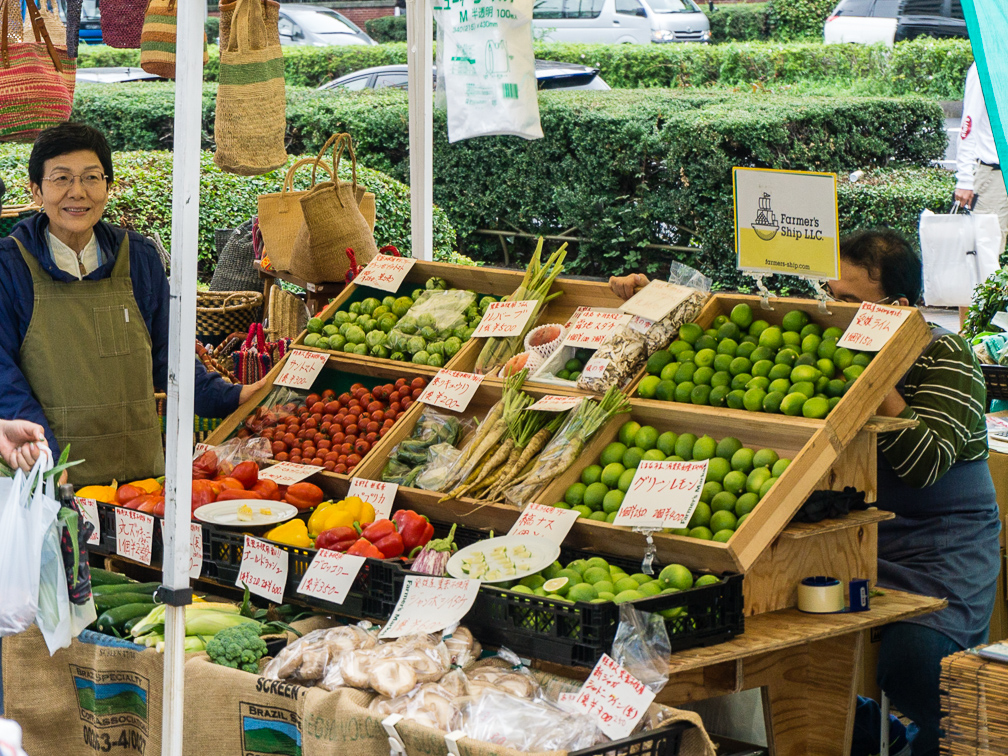 Famers Market @ UNU. Photo: Daniel
Omotesandō
After you've passed the UNU market, you'll end up at the Omotesandō metro station. You can either turn right left into Omotesandō itself or to its extension towards Aoyama on the right.
The whole area is only a little less posh, and much hipper, than Ginza. Big international brands have brought in big-name architects for their flagship stores, turning the main thouroughfare into an architectural showcase.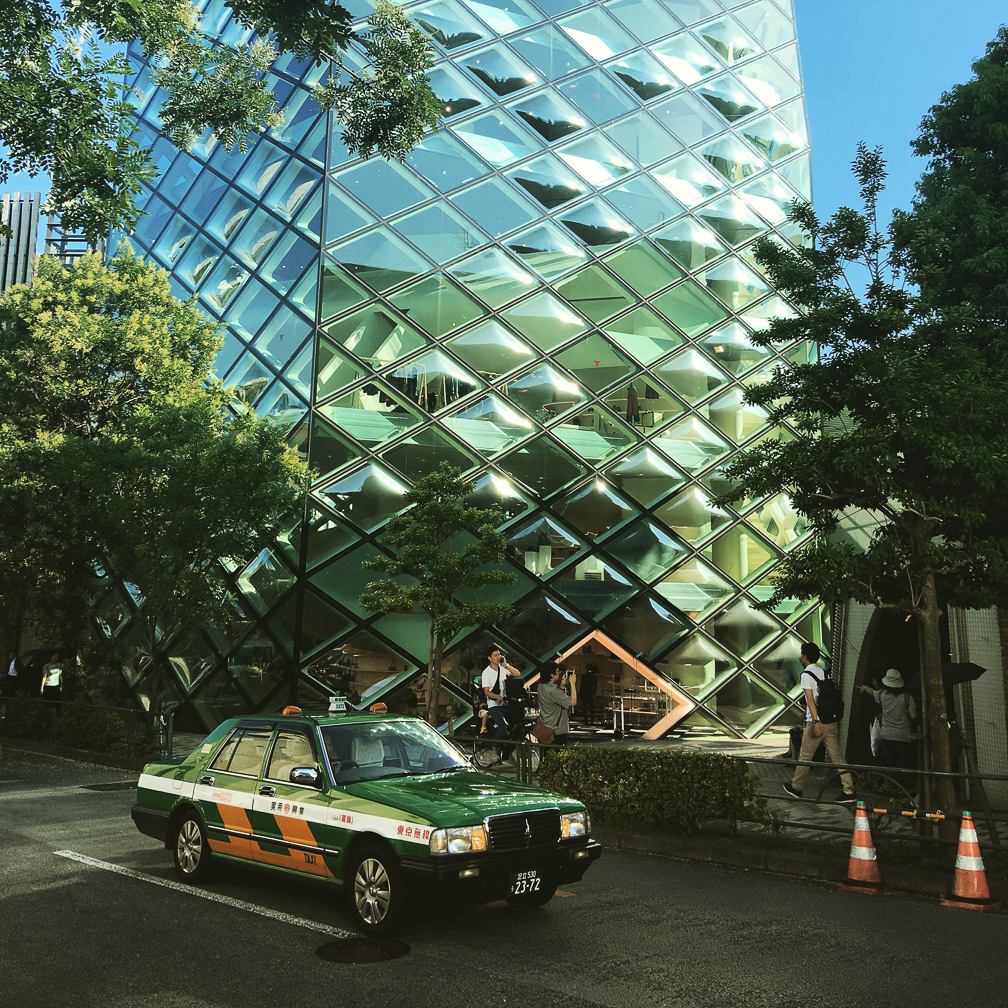 Prada Aoyama. Photo: Daniel
While Prada may have the better architecture, try the Yoshida Porter store for a quintessentially Japanese brand. They're mostly about hight-priced (hand-)bags for guys, though both I and Ingrid found great stuff there.
The centerpiece of Omotesandō is Tadao Ando's Omotesandō Hills, which you should check out even if you don't intend to buy anything. The basement houses the Tokyo branch of Pass the Baton, a somewhat peculiar secondhand store: All things come with a small plaque that tells your something about the history of the item and the previous owner. Unfortunately the stories are always in Japanese, so I never figured out why there was an old picture on sale that showed a German butcher's fair in the 1920s…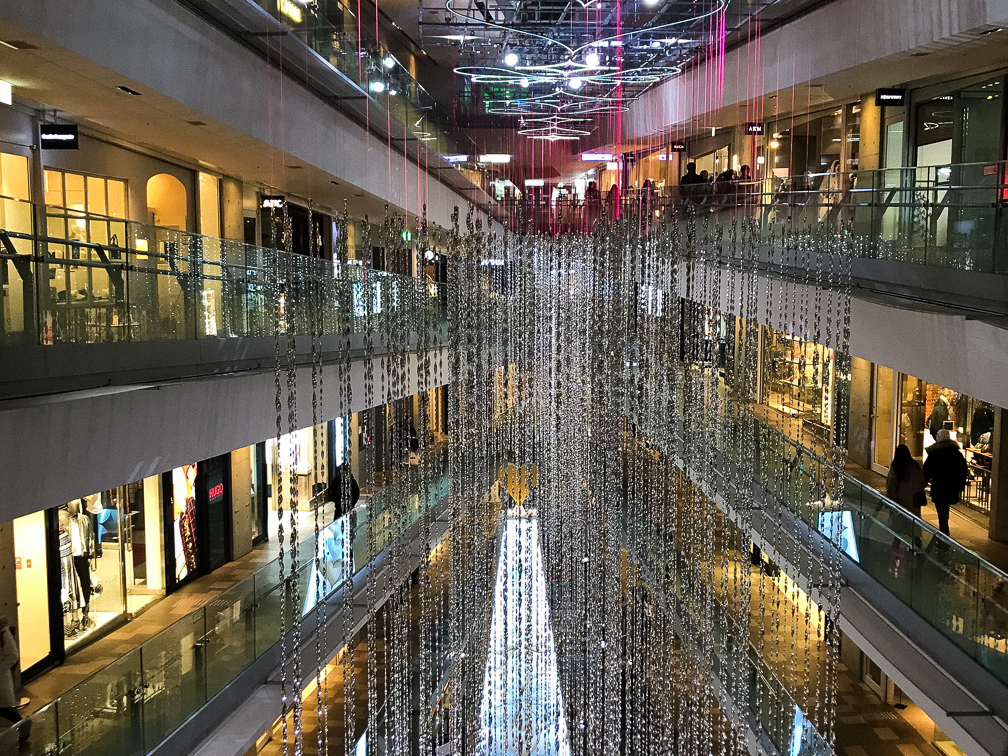 Inside Omotesandō Hills
Don't forget to explore the small side streets around Omotesandō that have a laid-back vibe and are full of small shops, upscale homes, and small businesses.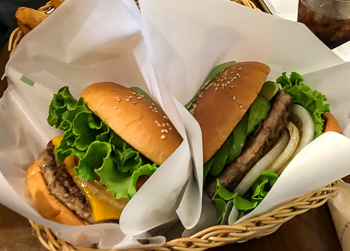 Freshness Burger. Photo: Daniel
One of Ingrid's favorite things in Tokyo is to head for Yocca and get a haircut. It's around ¥6,500 and you will look slightly Japanese afterwards. The stylist will try to make conversation in whatever language you can manage and otherwise give your hair more than an hour of their uninterrupted attention; there'll be a head massage as well.
For food check the restaurants in Omotesando Hills or take a stroll back down the Cat Street towards Shibuya and end up at the Freshness Burger there. Heiroku Sushi near Omotesandō Hills was nice when we were there in 2013, but we returned and it now seems subpar and chock-full of tourists.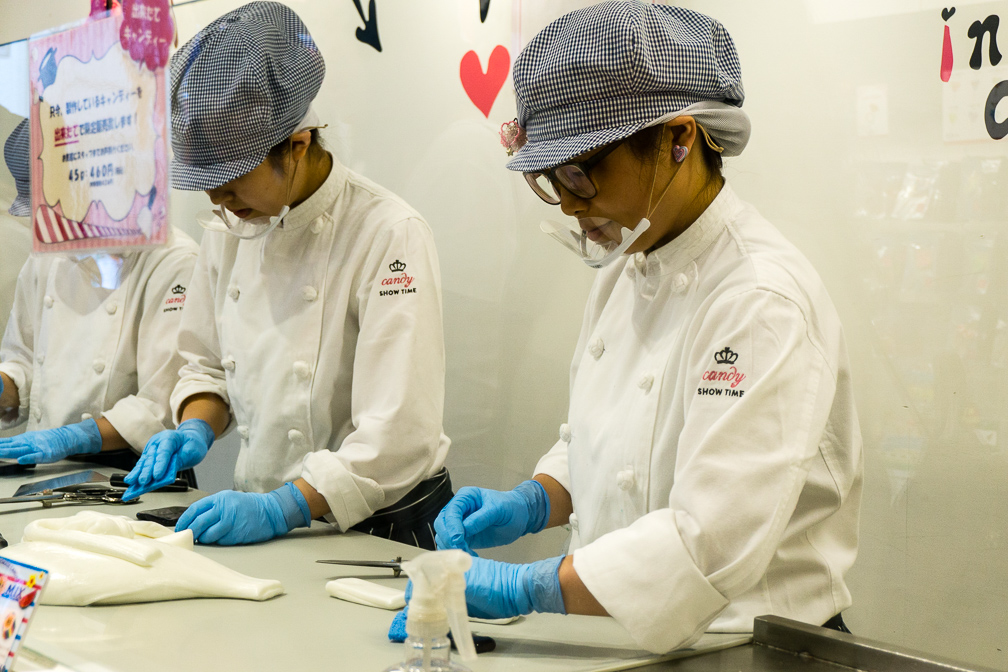 Candy Show Time near Cat Street. Photo: Daniel
Harajuku
After walking down Omotesandō, you'll see the glitzy Tokyu Plaza Omotesando Harajuku near the Meiji-Jingumae (Harajuku) subway station. This is where you cross over into Harajuku.
Harajuku includes the side streets off Meiji-Dori on both sides, and blends into the the Omotesandō east of Meiji-Dori – where you can find the original B-Side Label store where I'll always pick up some stickers as a souvenir (The stickers are also available in almost every Tokyo Hands store, though).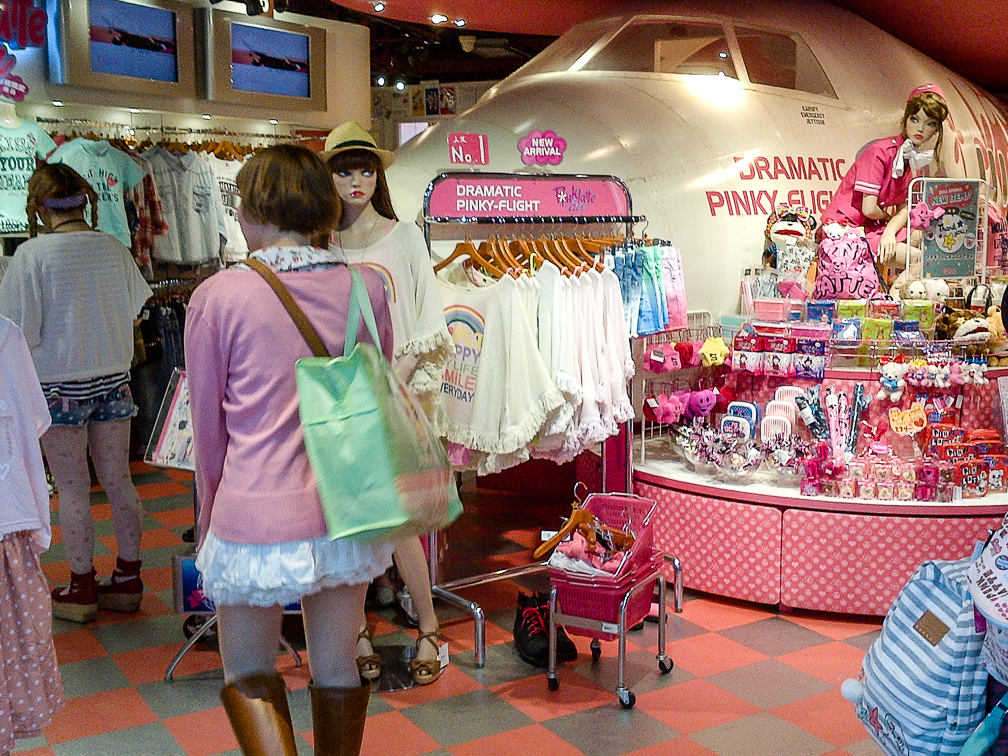 Go Pink in Takeshita Street. Photo: Ingrid
The pop-cultural heart of Harajuku is Takeshita Street street. You'll want to see this if you're in any way interested in Japanese pop culture; although to really appreciate Takeshita Street you'll have to be a teenage girl or her boyfriend who likes the color pink a lot. I've also got to admit that for us the highlight was often a visit to the Daiso ¥100-store on on the Harajuku station side, to stock up on anything from cheap souvenirs to stationary and dog toys.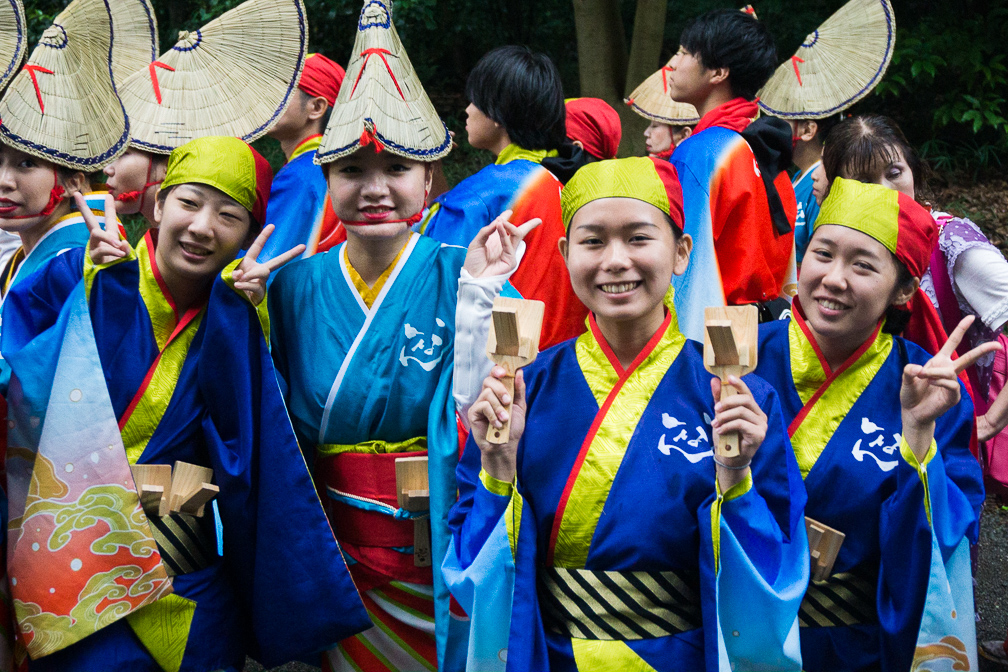 Yokosai dancers at a festival in Yoyogi park. Photo: Daniel
To get out of the hustle of Harajuku and Takeshita street, have some hearty udon and a cold beer at Zen, a place that we found a short way up the street from Harajuku station, or take a walk in Yoyogi park which begins behind Harajuku station on the other side of the Yamanote line.
Yoyogi park is home to the Meji shrine, dedicated to the deified sprits of Emperor Meiji – the one who pushed Japan into the industrialized age – and Empress Shōken. Meiji shrine is a somber affair, but you'll often run into a shinto wedding around there. Kenzo Tange's Yoyogi National Stadium is just outside the park and next to Harajuku station. Build for the 1964 Olympics it is one of the surviving buildings that'll be used again for the 2020 games.
Shinjuku
Over 3 million people pass through Shinjuku station, daily. When you step out of it, you'll be in the world of Lost in Translation, bright neon lights included: West of the station are the high-rise offices and hotels of Nishi-Shinjuku, including the Park Hyatt where Bill Murray had his drinks above the cityscape as Bob Harris. One of the skyscrapers is Kenzo Tange's iconic Tokyo Metropolitan Government building, which has a free observation deck and a lot of tourist information on the ground floor.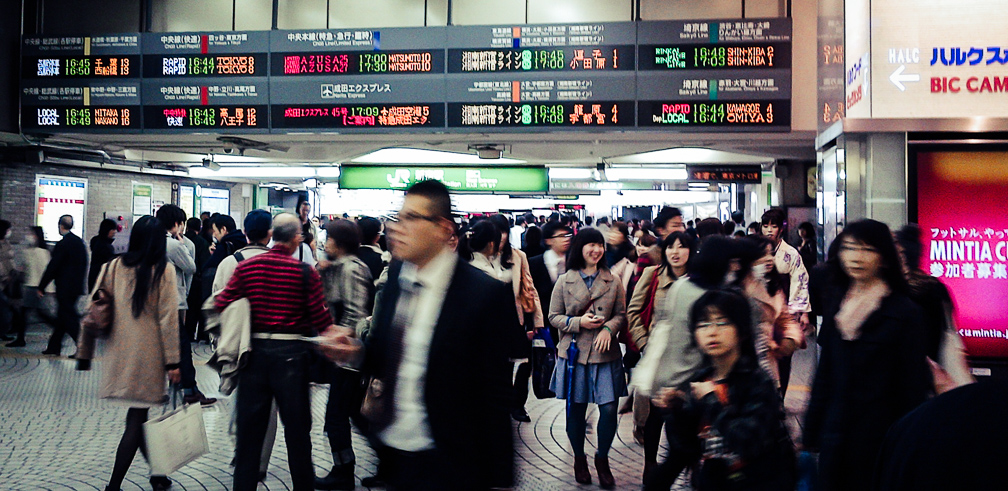 Shinjuku Station. Photo: Ingrid
Navigating Shinjuku station

Shinjuku station isn't actually a station – it is three railway and two subway stations, a bus terminal and several department stores, all wrapped into one.

The JR station is the largest one, but the private railways have their own tracks and facilities. If you arrive with the Yamanote line and want to take Odakyu's Romance Car service to Hakone, you'll have to leave the JR part of the station and enter the Odakyu station with a different ticket.

When arriving at Shinjuku station, the most important question is wether you want to go to the east or west side – make sure you know beforehand and follow the signs.
West of the government building is Shijuku Central Park and The Knot Shinjuku, a Hotel that we enjoyed to stay at the end of 2018. The park itself is mostly a place for the office workers to spend their lunchtime and for the homless to spend the night.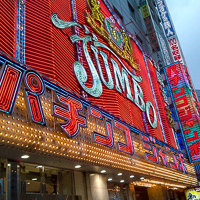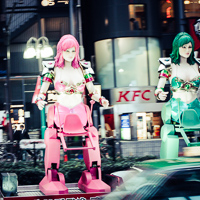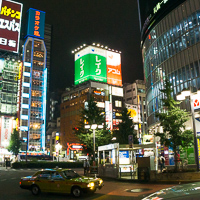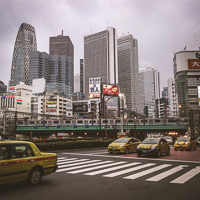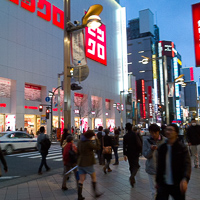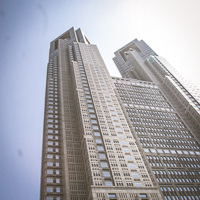 East of Shinjuku station is the entertainment district – presumably more authentic and less foreigner-friendly than Roppongi. The southern part is all about shopping. Not quite as posh as Ginza or as hip as Omotesandō, but you'll find all the famous depāto stores; which are a place to go in Japan, and you'll see the well-off couples that dress up for the occasion.
Food floors

Shinjuku station's department stores are great for sampling food: While Japanese department stores usually have restaurants on the top floor, they often also have "food floors" in the basement. Those will sell everything from groceries and fresh produce to bento boxes, snacks, tea and cake.

Many of the sellers offer free food samples, so you can just go to browse and snack on the offerings.
We like the BICQLO (BIC Camera and Uniqulo) combo store: You get cameras, computers, rice cookers, air conditioners, t-shirts, fashion, underwear and even mountaineering equipment, all under one roof in on 8 floors.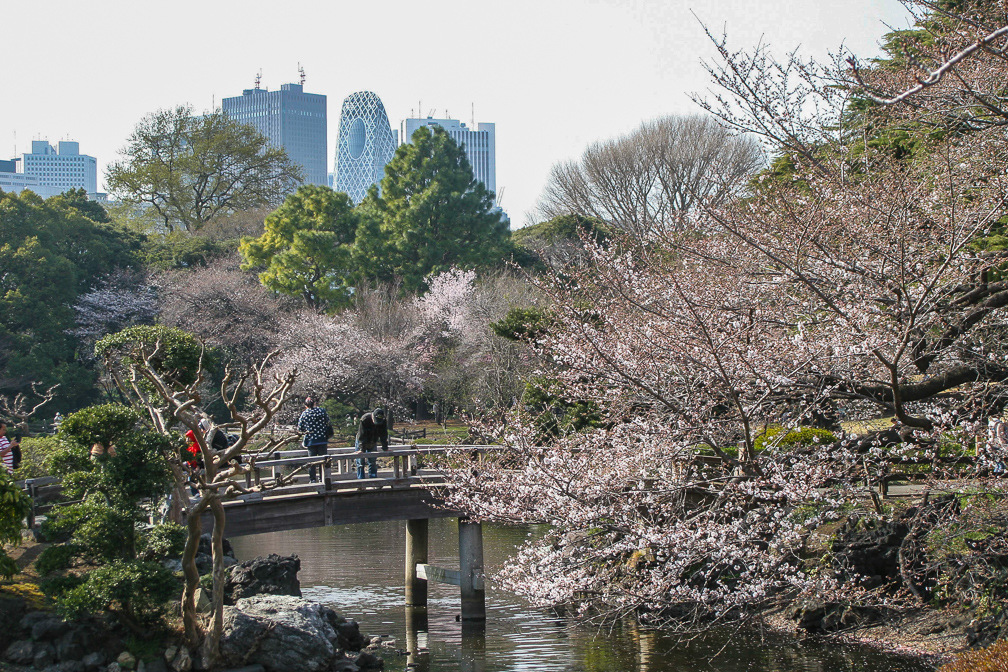 Cherry blossom in Shinjuku Park. Photo: Daniel
From the shopping district you'll eventually drift into Shinjuku Gyoen, one of the largest city parks. The park is large enough to get lost in and to pretend you're in a remote nature reserve, and if you turn around the a corner you see the gardenscape with a backdrop of Nishi-Shinuku's skyscrapers. The park has a small entrace fee of ¥200, if you have an IC card you can just touch in. It's also one of the places to go cherry blossom viewing in case you're lucky enough to arrive during that season.
Northern Tokyo: Shinjuku to Ueno
When you take the Yamanote line from Shinjuku to Ueno, you may not take much notice of the districts in between; but there's a lot to discover away from the main attractions.
Ikkebukuro
Ikkebukuro station is another major commuter interchange and a commercial district has grown around it. While not as famous as Shinjuku and Shibuya we still liked to check out the Toyoku Hands – which features a cat café – and maybe have a cup of udon in one of the local shops.
Sunshine 60 is presumably the main attraction, a high-rise shopping complex which features a nice aquarium, a planetarium and stunning views over central Tokyo.
Toden Arakawa line
We were lucky enough to ride the Toden Arakawa Line (now also named the "Tokyo Sakura Tram") during cherry blossom season.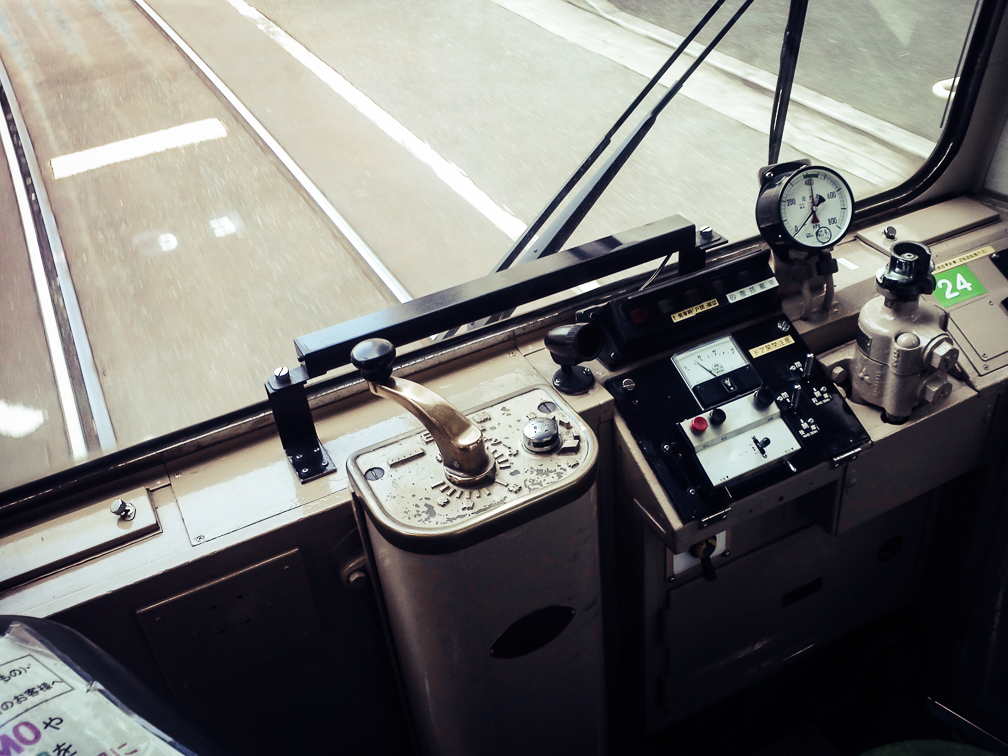 Riding the Toden Arakawa line. Photo: Daniel
Tokyo's last surviving streetcar line winds its way through residential back alleys, along several parks and a few smaller shopping areas. The line starts at Minowabashi north of Ueno and loops around the northern parts of Tokyo in about 50 minutes before arriving at Waseda station between Shinjuku and Ikkebukuro. You don't have to take the whole trip, there are several interchanges with the rest of the city's transit system.
You either pay a flat fare when getting off (have your IC card or exchange ready), or you buy a day pass and get on and off at will.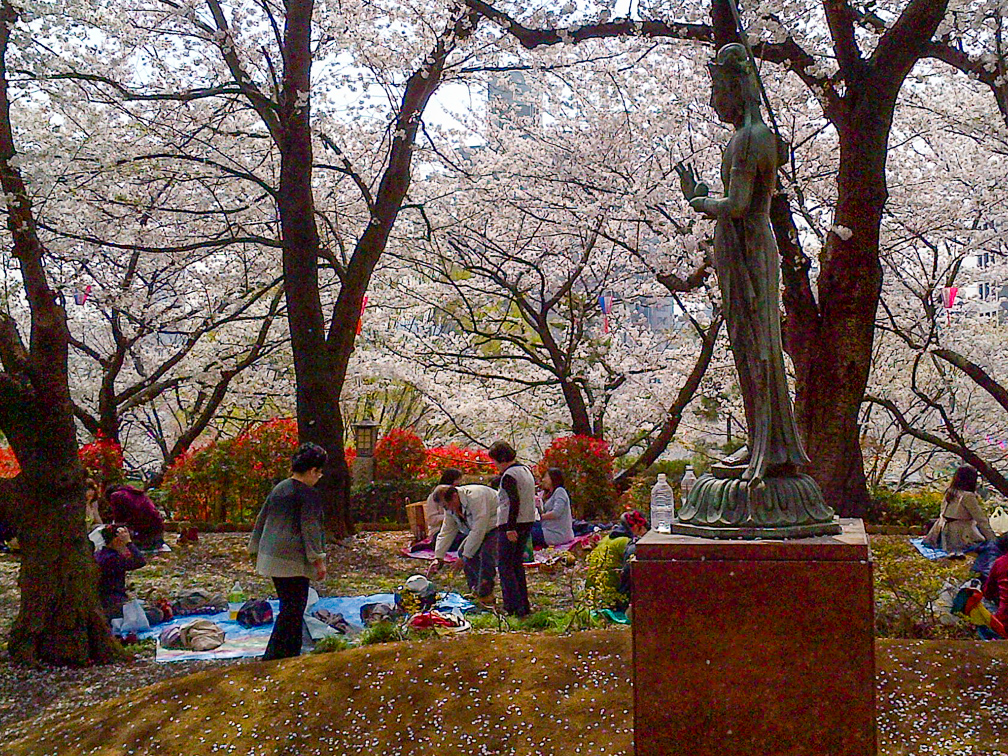 Sakura picnic in Asukayama park along the line. Photo: Ingrid
East of Nippori station
We found this one as a walking tour in our Monocle guide as well, but you can really just go to Nippori station and make your way west, passing Tennoji temple and go towards Yanaka.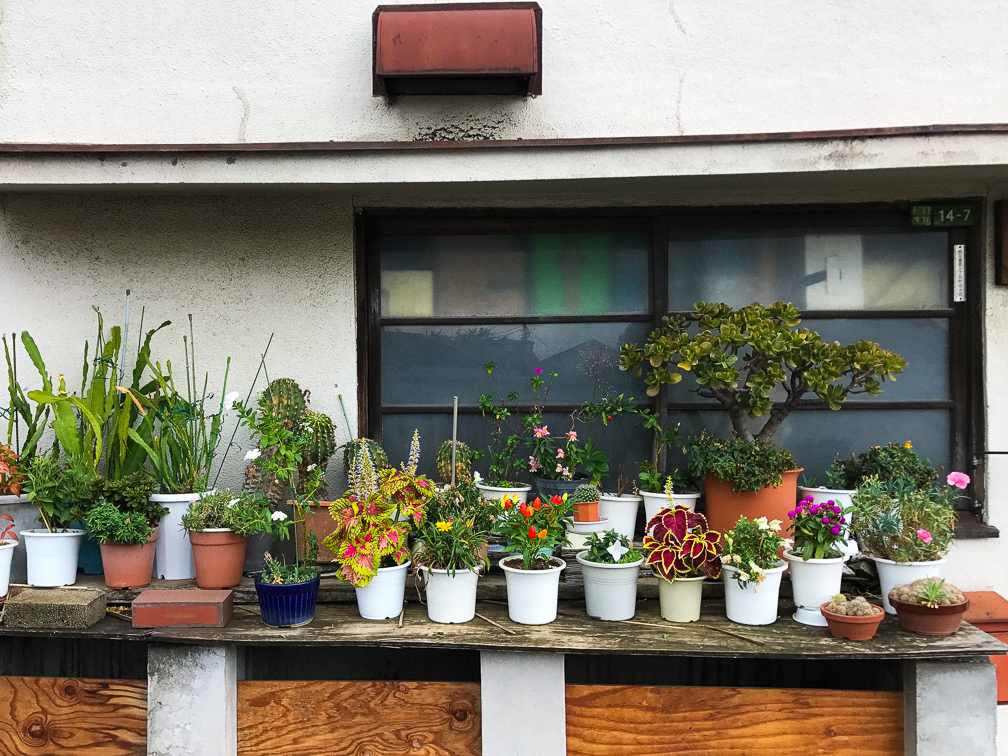 Streelife around Yanaka. Photo: Ingrid
When you stroll around the streets, you'll find small shops, food shops, restaurants and cafes with some small museums sprinkled in. Much of the area has a "hip" vibe, but does not seem to draw the big tourist crowds.
You can also walk here by continuing north from Ueno park – if you're not drawn in by the attractions there.
Ueno
Most of what is interesting in Ueno is grouped inside and around Ueno Park, and that includes many of Tokyo's most interesting museums.
Ueno park itself is a big patch of green in the middle of the city and another popular spot for cherry blossom picnis. It contains Ueno zoo, Tokyo's oldest and one of Japan's largest zoos with more than 400 species of animals and a small monorail to move around.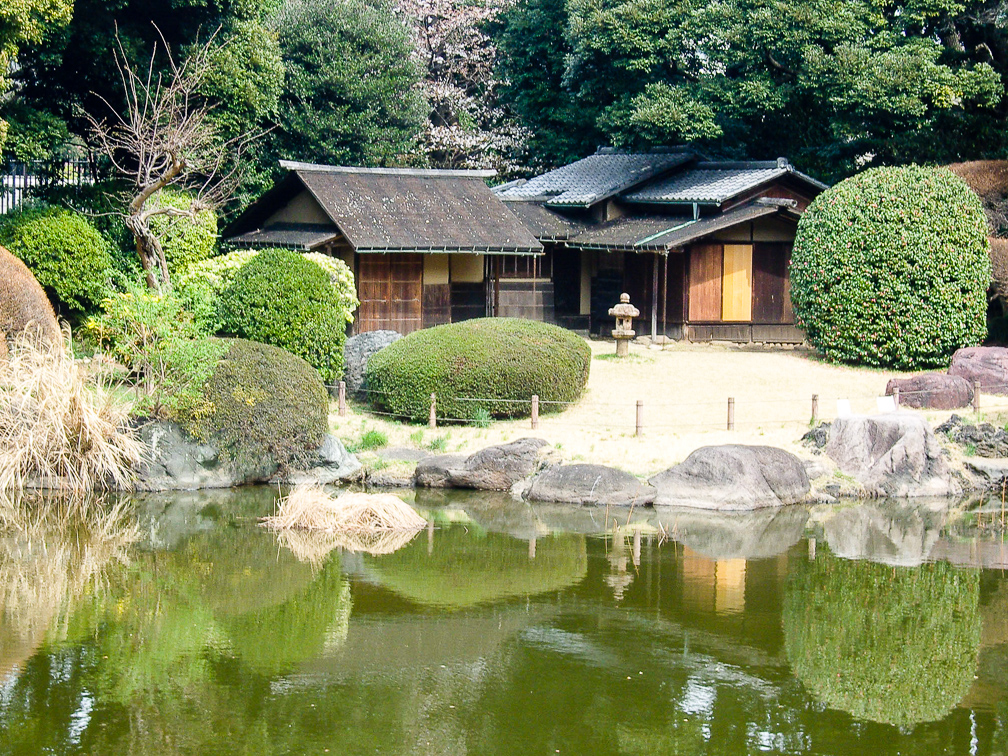 Garden at the National Museum. Photo: Daniel
Tokyo National Museum is Japan's oldest national museum that goes in-depth on Japan's history. The museum's buildings are some of the few that remain from the early 20th century, the original main building (honkan) even survived the Great Kantō earthquake of 1923.
The National Museum of Western Art is not only about the art itself, but also about Le Corbusier's 1959 building, his only major work in the Far East.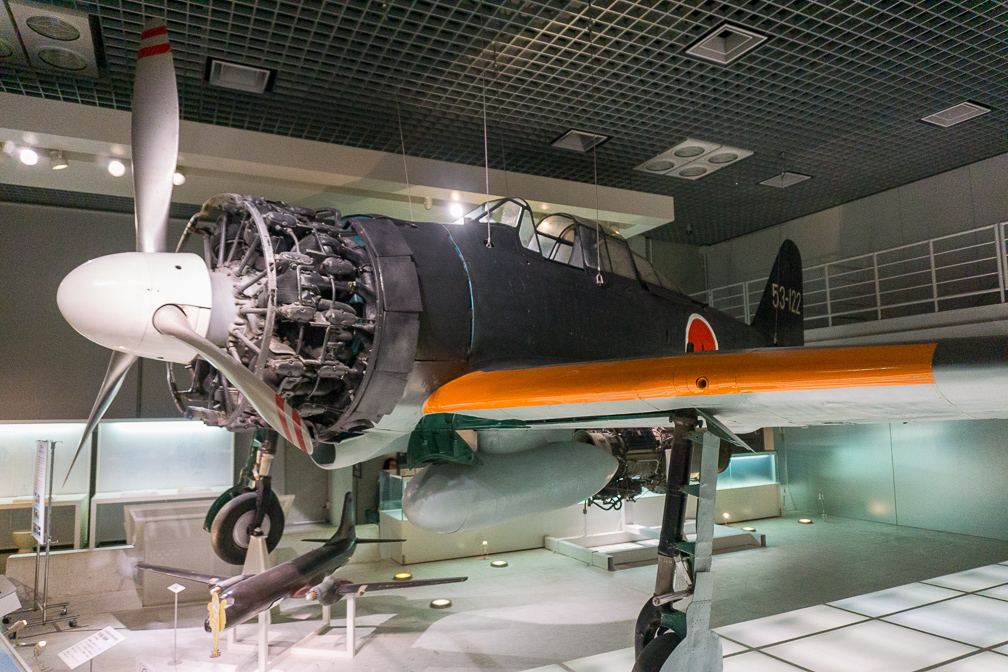 'Zero' fighter in the science museum. Photo: Daniel
Just next to the station is the National Museum of Nature and Science, which features exhibits about technology and natural history and a few stunning high-tech video visualizations. The museum also shows stuffed Hachikō, the dog who had waited nine years for his owner at Shinuku station.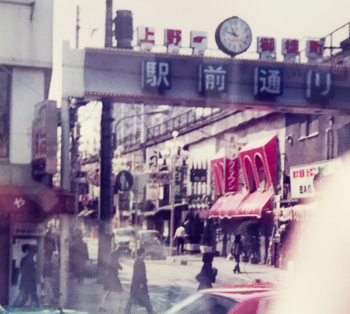 Shopping street in Ueno, 1976. Photo: Herwig Kloss
Other museums in Ueno park include the Shitamachi museum and the Tokyo Metropolitan Art Museum
If you come to Ueno for shopping, or food, you're probably looking for Ameyoko, a market and shopping street that runs parallel to the Yamanote line from Ueno to Okachimachi station. It is filled with small shops, stalls and vendors that sell about everything. For us the main draw was to stroll, watch the crowds and grab some street food once you get hungry.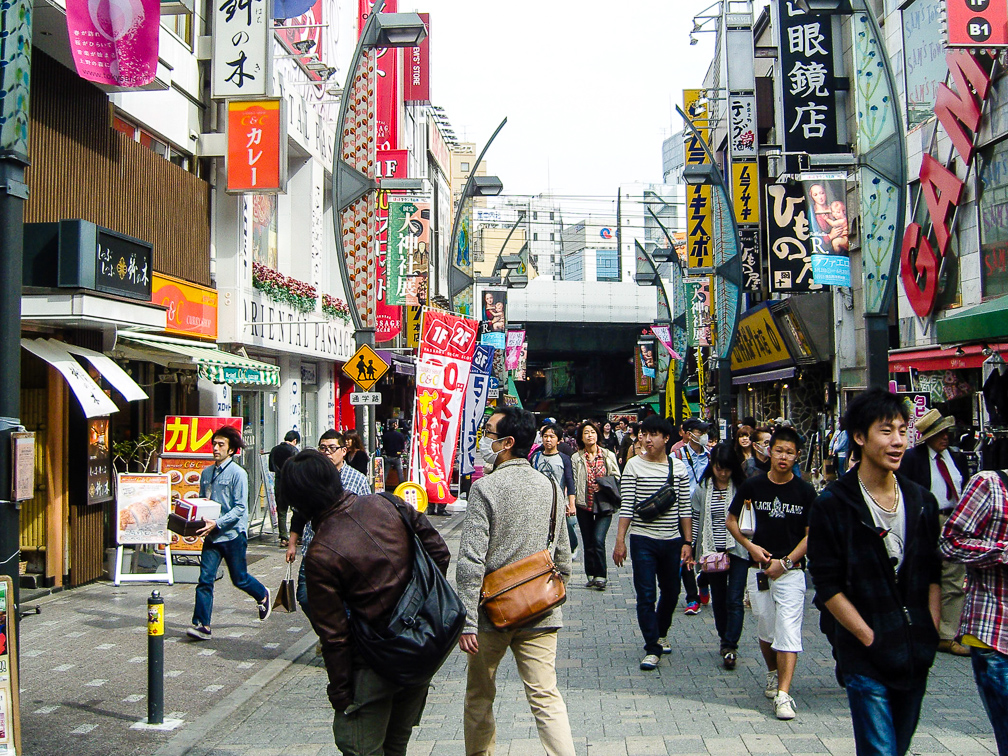 Ameyoko. Photo: Daniel
Asakusa and beyond
Asakusa is home to Senso-ji temple and is as close to the "classical" Japan as you'll get in Tokyo. The temple complex is vast and fun to explore. You'll usually approach the temple from the south, through lanes of small stalls that sell all kinds of stuff, and there are also food stalls and some nice simple restaurants in the area.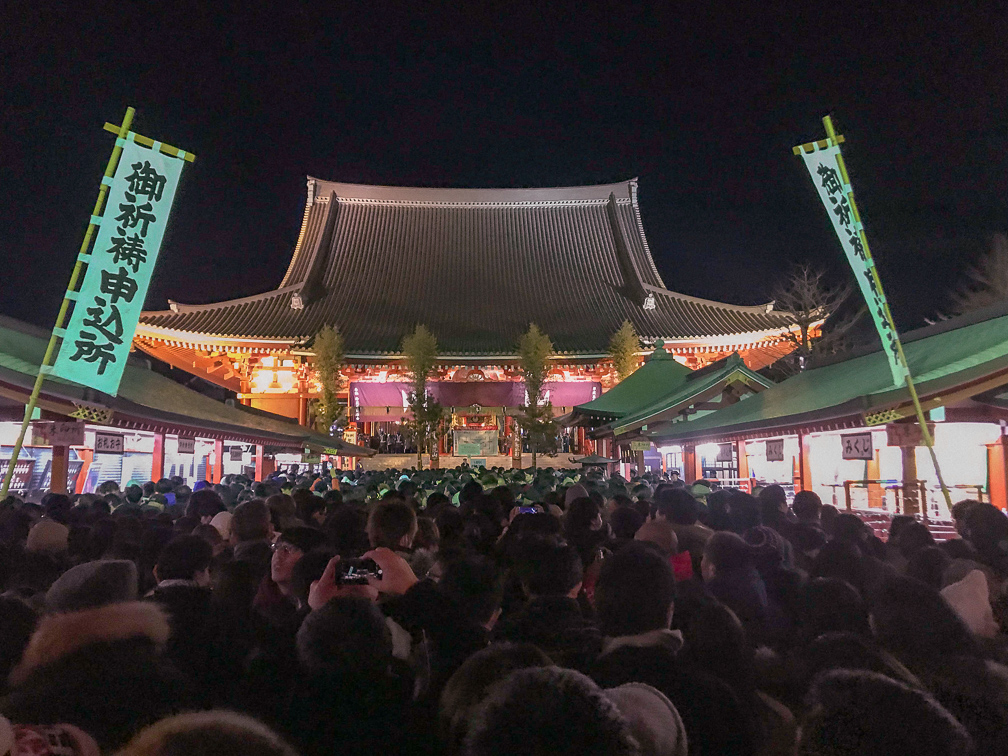 New Year's crowd at Senso-ji. Photo: Ingrid
Leaving the temple area towards the west you reach the banks of Sumida river. The riverbanks have been redeveloped around here and it is one of the few nice places in Tokyo to walk along the river. Sumida river cruises (see above) start from the same area and can take you back to Hamamatsuchō.
You'll also have a good view of the Tokyo Skytree from the river banks. The tower itself is still quite a bit away in Sumida, though we never went there.
Akihabara
Akihabara is the place to be for any otaku, Japan's variety of "nerd". During the golden age of Japanese consumer electronics "Akihabara Electric Town" was the place where eletronics giants would often field-test new devices and where you could find the newest gadgets in the world, including game consoles, video cameras, home computers and the newest Walkman.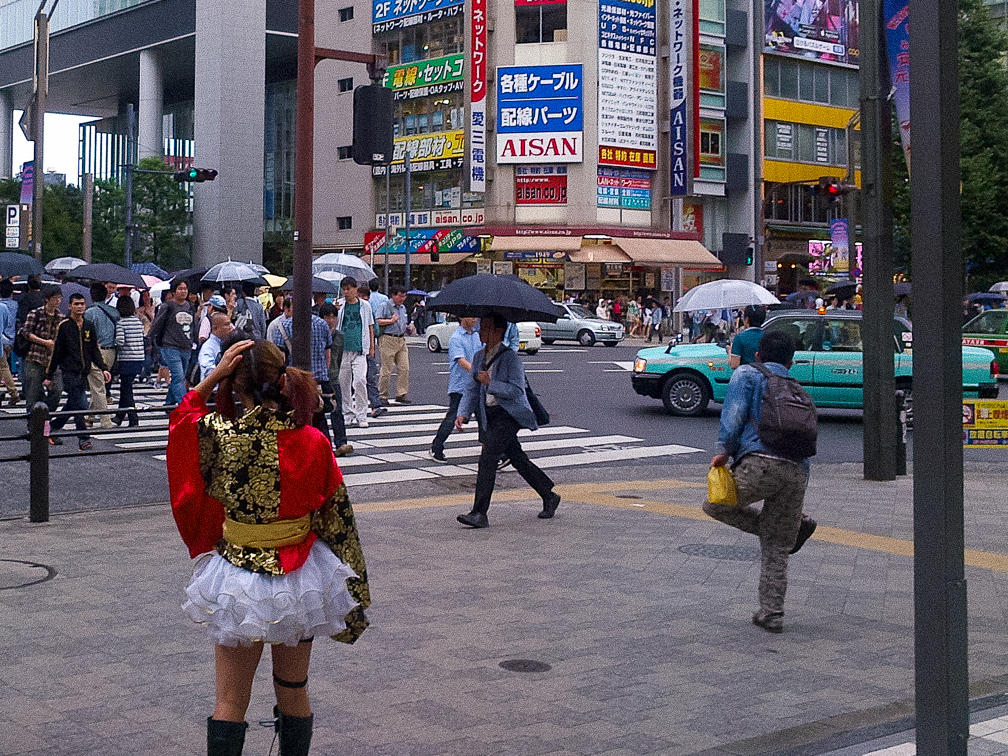 Akihabara. Photo: Ingrid
While the focus in consumer electronics has since shifted elsewhere, the otaku spirit has stuck around. You'll still find shops specializing in game consoles of all eras, or amateur radio, or used computer parts – as always, things tend to get more specialized in the back streets.
Manga shops and manga cafes are everywhere, ranging from mundane to soft-porn and plain weird. If you're looking for something specific, and you can read Japanese, this is the place to go.
If you see young girls in scant phantasy uniforms they are probably touts for maid cafes. Other than what some of our friends assume, they do not offer anything sexual. The whole thing is perfectly legal and the main proposition is that you'll be served overpriced coffee by a deferent girl in a maid uniform that calls you "master".
Edo-Tokyo museum
The Edo-Tokyo museum is in Sumida, just across the river from Akihabara, and is definitively worth a visit. The museum is all about the history of Tokyo and includes life-sized streets scenes from old Edo. It has enough English-language explanation so that you can understand how the sumarai city of Edo turned into modern-day Tokyo.
Ghibli museum
The Ghibli museum is still on our bucket list, as it is a bit outside and you need to pre-buy the tickets. We still don't want leave it unmentioned, as it is a must for any fan of the films of Ghibli and Hayo Miyazaki.
Get out
While you can spend weeks exploring Tokyo, you may need a break from city life and constant commercialization. Fortunately there are enough places within reach for a day trip.
Yokohama
Yokohama was one of the harbors opened to foreign trade after Commodore Perry bullied the Shogunate out of its seclusion. Even though it is still often seen as an "attachment" to Tokyo, Yokohama is actually Japan's second-largest city all by itself.
Notable attractions include the harbor, the large chinatown and they even boast a pot noodle museum.
Kamakura
Kamakura is something like Tokyo's seaside resort. Nestled between hills and sea it is very popular with locals and tourists alike – and actually a pretty expensive place to live. Kamakura was quite important in historic times and has a history that goes further back than that of Tokyo itself.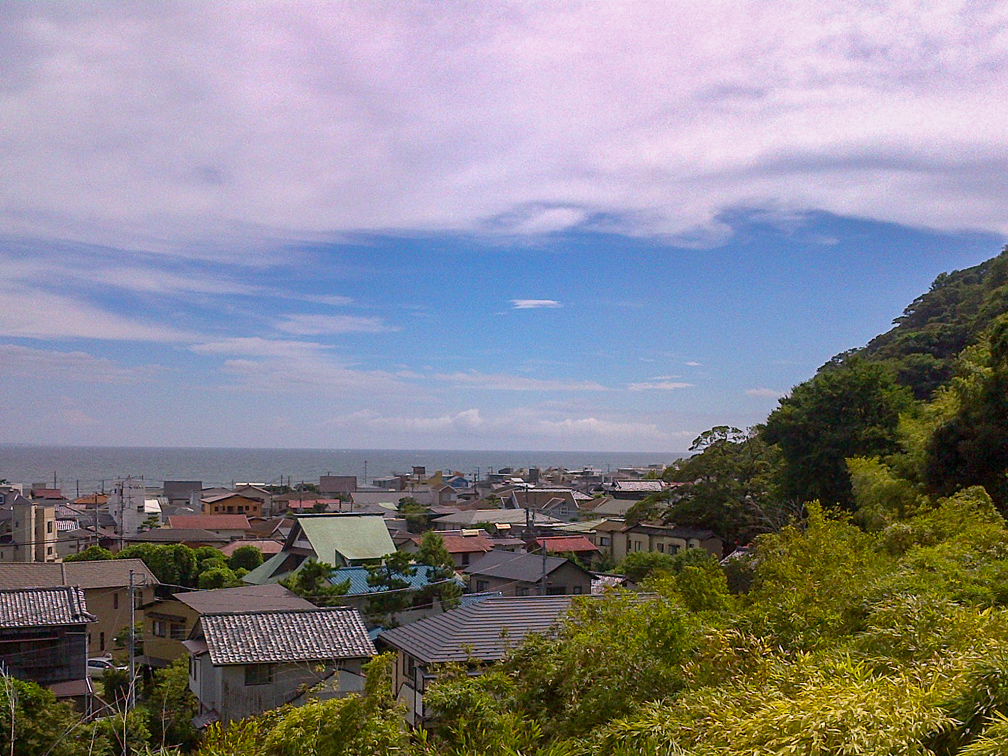 Kamakura. Photo: Ingrid
Today Kamakura has a laid-back "surfer" vibe along the beach and plenty of temples to visit along the hills. Hase Dera at the end of the beach is one of our favourites, but the most famous sight is Kamakura's daibutsu (giant buddha).
Nikkō
Nikkō is some of the most famous shrines and mausoleums in Japan, wrapped in a beautiful landscape. During the Meiji period the area was a popular retreat for travelers and foreigners living in Japan. Nikkō is a trip into the heart of traditional Japanese culture and if you can make just one day trip from Tokyo, this should be it.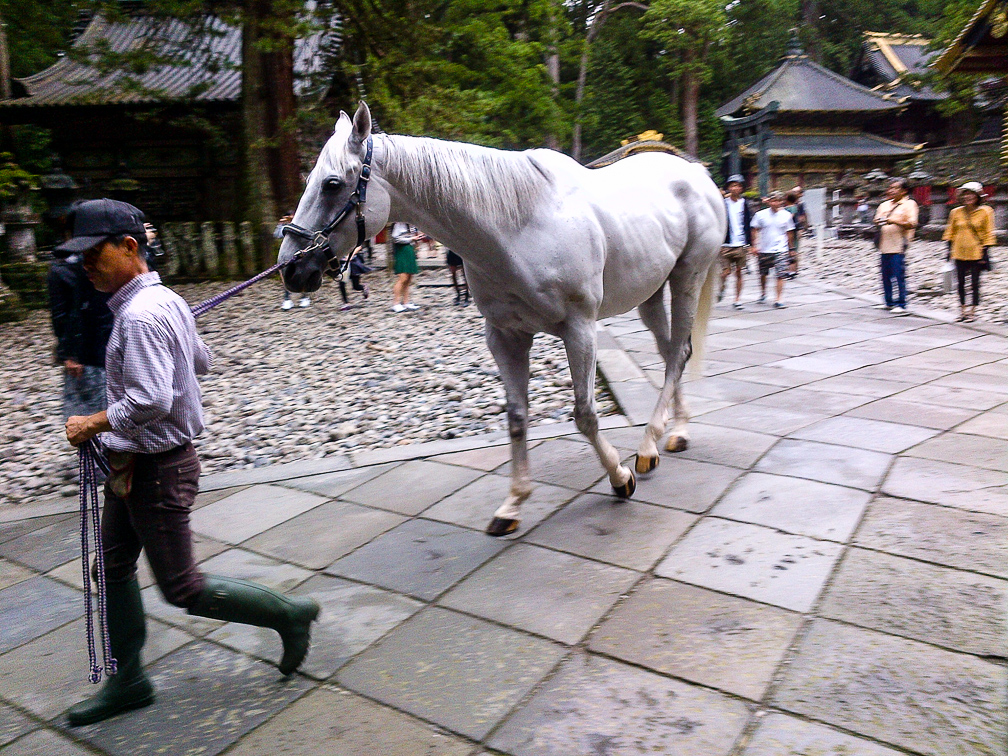 Sacred horse at Nikkō Tōshō-gū. Photo: Ingrid
You can reach Nikkō directly from Asakusa via the Tobu line. Rail pass holders have to take the the shinkansen to Utsunomiya and the JR Nikkō line from there.
Hakone
The Hakone area is one of the most popular trips from Tokyo. If you get a day pass, you can cruise the beautiful landscape there using a lot of different options (ship, cable car, train, bus). Some of the local tourist stuff is a bit tacky – say, fake pirate ships for example – but the landscape is worth it and on good days you get to see Mount Fuji.
The easiest way to get to Hakone is to buy a Hakone Free Pass package from Odakyu and use their Romance Car train from Shinjuku. If you have a Rail Pass, you could theoretically go to Odawara on JR lines and buy a Hakone Free Pass without the Romance Car ticket; but it doesn't seem worth the hassle.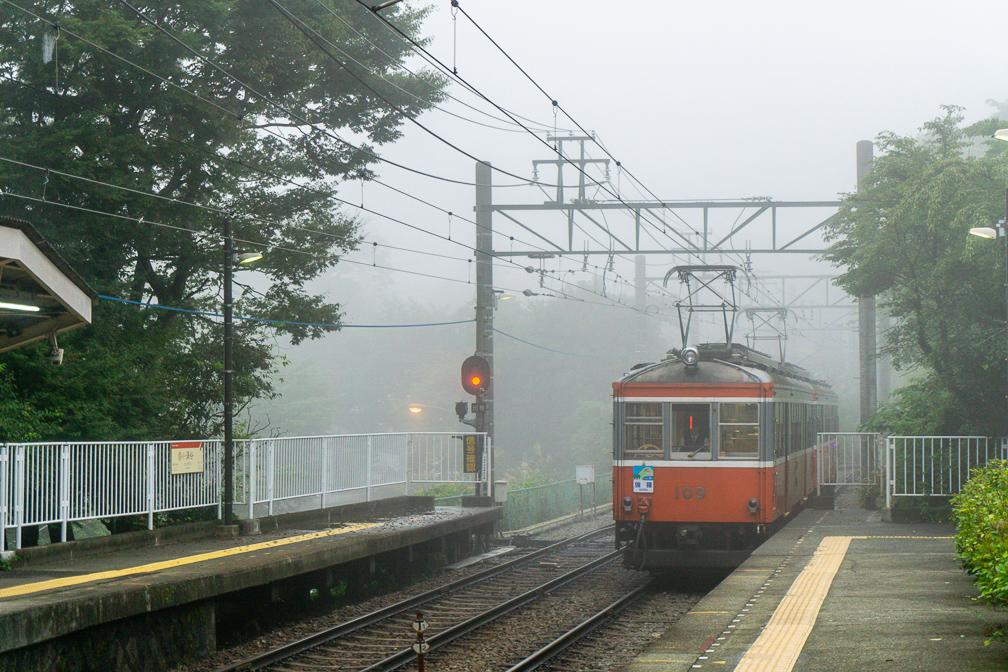 Hakone Tozan Railway. Photo: Daniel
Skiing in Yuzawa
In winter a shinkansen can take you directly into the Gala-Yuzawa ski resort in undern an hour. Yuzawa is the setting for Yasunari Kawabata's novel Snow Country, with a story involving a lot of snow, geisha and mountain resort life at the beginning of the 20th century.
Prices for skiing a steeper than elsewhere, due to the fact that you can be back at your hotel in Tokyo after the day out in the mountains. However if you have a Japan Rail Pass, the shinkansen itself is included.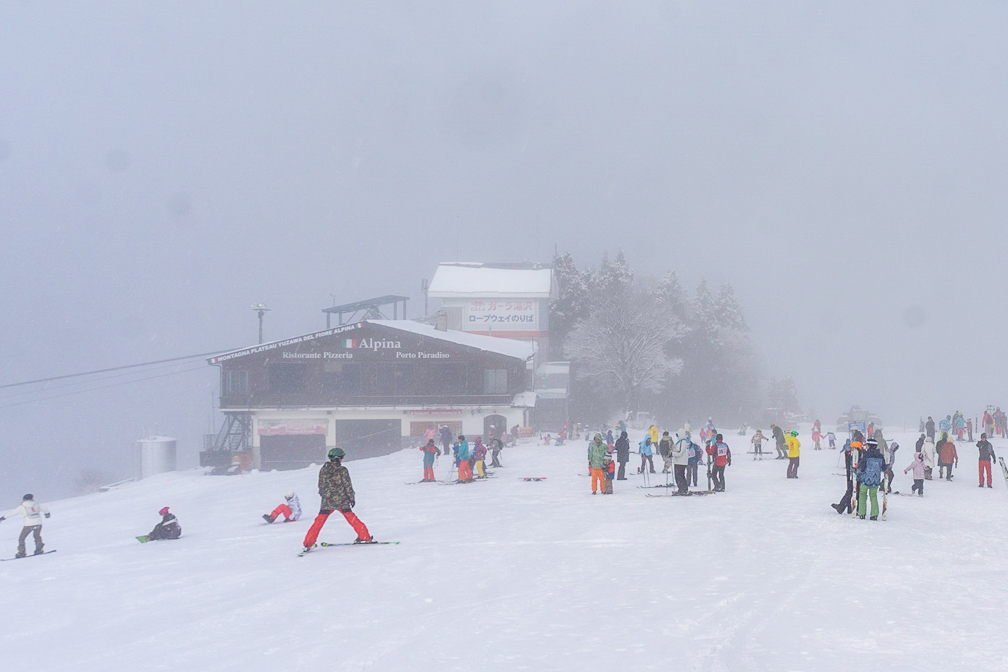 Skiing in Yuzawa. Phtoto: Daniel
Do you need a Rail Pass?
While we love the Japan Rail Pass, there is no need to have one if you're only going to visit Tokyo.
Local transport is cheap, about ¥120 to ¥160 for most inner-city trips and less than ¥1000 for local trains like the one to Kamakura. Even the N'EX to the airport and trip packages to Hakone and the like are just ¥4000 ot ¥5000 and there's no need to for a ¥29,000 rail pass unless you plan to take a shinkansen trip to places like Kyoto, and back.
Local Transport
Besides the Yamanote line, Tokyo has two subway operators, several more JR commuter lines, a number of private rail operators and buses. Still, getting around is fairly easy once you have the basics down.
You'll almost always use either the Yamanote line, or one of the subways
Get a free subway map, which also includes the Yamanote line
Get an IC Card (se below)
Citymapper as an app for local transport
Hyperdia for trains out of town
If you haven a Japan Rail Pass, you can use it on the Yamanote line, but not on the subways.
Day passes for the metro system only make sense if you take at least 5 trips every day – must of the time you'll be best off paying per trip.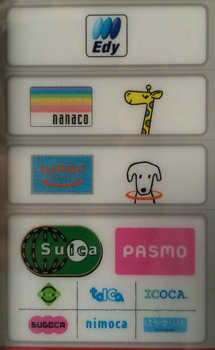 IC Cards in Japan
A prepaid IC card like the Suica is by far the easiest way around. You simply touch in and out at the ticket gates, and the correct amount is deducted automatically; you get a small discount for using the IC card. The cards can also be used for payments at shops, luggage lockers and vending machines, especially in and around train stations and in chain stores. Onboard vendors on most trains and even taxis also accept IC card payments.
The IC cards can be used (more or less) interchangably in all of Japan, even if they are from a different city, so it doesn't really matter which one you buy. We usually recommend Suica for no other reason that it has a cool penguin mascot and can be used as an virtual card in an iPhone as well (8 and above, compatible Android phones are sold almost exclusively in Japan…).
You can buy and top up your IC card at ticket machines in subway (Pasmo) and JR (Suica) stations. Again, the cards can be used interchangably, so the machines will happily top up cards other than their "own" ones.
There's a ¥500 deposit on the card, you can get that back by returning the card to a ticket office – or you just keep it as a souvenir or for your next trip: The card remains valid for 10 years.
Guidebooks
There are some guides, both online and offline, that can be useful:
---
Get the newsletter
When you subscribe to the newsletter, we'll keep you up to date on what's new. You can unsubscribe at any time.
---
Share this page
---
What do you think?
Let us know what you think - privately or here for all to see. Simply email us or check our imprint and privacy policy for more info and possibilities to get in touch