March 17, 2019
The Japan Rail Pass (updated Jan. 2023)
Did we mention we love trains? Japan has some of the finest in the world, and with the Japan Rail Pass almost all of them are yours. Here's what you need to know.
Did we mention we love trains? Japan has some of the finest in the world, and with the Japan Rail Pass almost all of them are yours. Here's what you need to know.
By the way: This post is part of a series on travel to Japan
News flash: The pass will get a giant price hike in October 2023. This page still has the current prices, which are valid until then.
Taking the train from Tokyo to Kyoto for the first time is a revelation: You make your way through the busy maze that is Tokyo Station and go up to the Shinkansen platform, where the sleek bullet trains are departing in ten-minute intervals.
As Tokyo is the last stop on the line, you can watch how it is turned around for the journey back: A small army of pink-uniformed cleaning staff will take position a the platform. Once the train arrives, the will swoop in and go through each of the sixteen cars with choreographed efficiency.
Every seat is turned around to face in the direction of travel, armrests are swiped, trash cans emptied. It only takes ten minutes, and then you're invited to board.
Once you take your assigned seat, you realize that you get more legroom than in most European first class carriages. You can recline without annoying the person behind you.
Within less than an hour, you'll be passing by Mount Fuji. In less than two and a half, you're pulling into Kyoto station.
Discover the Japan Rail Pass
When we first came to Japan, we didn't know much other than that the shinkansen exists, and Ingrid really wanted to ride it.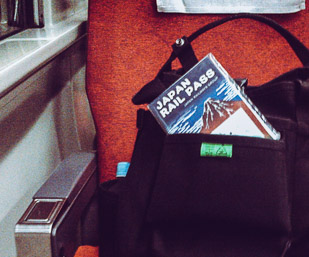 Rail Pass. Photo: Ingrid
We decided to go to Kyoto and went to Tokyo station to check for tickets: The full fare came out at over ¥25,000 (€200) per person, round-trip. There are some ways to get discounts on single tickets, but usually not more than around 10%.
That is when we discovered the Japan Rail Pass: For around ¥26,000 (€210), you get unlimited use of the whole JR rail network for 7 days.
The Rail Pass is valid for 7, 14 or 21 consecutive days. Once you activate the pass the clock is ticking; so don't activate it before you need to.
For us, the Rail Pass became an indispensable part of travel in Japan. We always get one, unless we travel to places where the rail network is sparse or non-existent, like Okinawa or rural Hokkaido.
The Japan Rail Pass is an idea of the JR Group, the successor of the long-defunct national railway of Japan. It is valid on all JR routes, including the shinkansen, with only a few exceptions and also works on a few JR-run busses and ferries.
Purchase
After trying around a bit, we now buy our passes from Japan Experience. They usually ship within a day or two via FedEx and include some useful goodies like a map and a small guidebook.
Standard Rail Pass prices
| | | |
| --- | --- | --- |
|   | Regular | In Japan |
| 7 days | ¥29,650 | ¥33,610 |
| 14 days | ¥47,250 | ¥52,960 |
| 21 days | ¥60,450 | ¥66,200 |
We usually only have a rough idea where to go and make up our schedule on the fly once we're in Japan.
Infants and children up to age of 5 don't need a pass, but they are not entitled to a seat. Children between 6-11 get a 50% discount on the rail pass.
You're meant to buy the Rail Pass in your home country before you leave. JR is now selling the passes in Japan on a "trial basis", but it's more expensive than buying at home.
When you buy a Rail Pass, you'll receive a voucher ("exchange order") that cannot be used for travel directly. You have to exchange that voucher for the "real" pass at any larger JR station and most international airports.
You'll have to fill out a small form, and they'll check you passport to make sure that you're actually on a tourist visa. You'll also be asked to set the "start date" (the first day on which the pass is valid).
The process is easy: You show your exchange order and passport, and fill out a small form. You'll also have to set the date on which the pass becomes active. You can activate it for the same day, or select a future date. You cannot change the activation date afterwards, though.
We usually don't exchange the pass until we actually intend to use it or make our first reservation; this gives us maximum flexibility.
Hit the road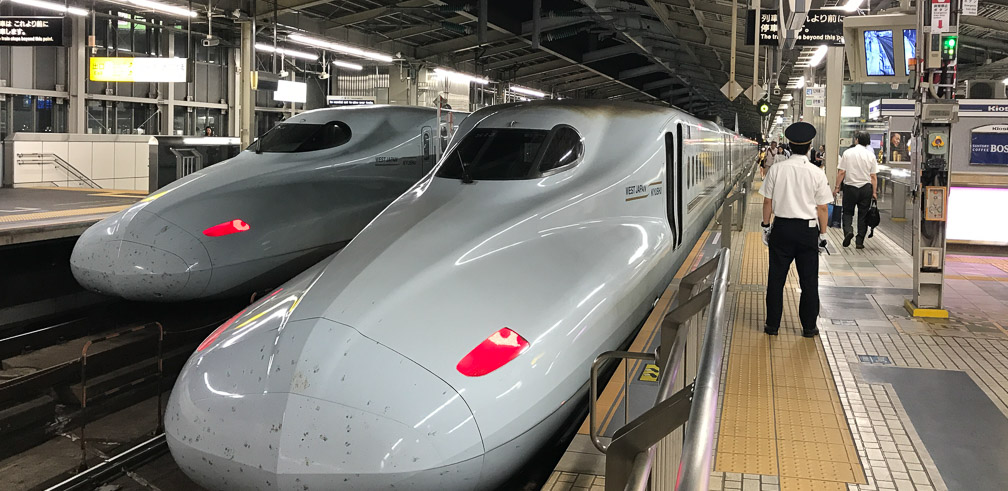 Shinkansen. Photo: Ingrid
When we activated our first Rail Pass, we thought we'd just make a quick trip to Kyoto, maybe on to Hiroshima and just look around a bit. We went to Tokyo station, proudly showed our Rail Passes to the attendants at the ticket gates, and made our way up to the shinkansen platform.
Since 2020 you can now also use the automated ticket gates with your rail pass, you don't have to pass through the crewed gates any more (though you still can) and feel like a proper native.
When we settled into our seats, there was a poster in front of us advertising the beauties of Kagoshima – the southernmost tip of mainland Japan. That's when it hit us: We could be there today, or the next day, in a few hours, just by choosing to get on the train. And we did.
Validity
| | |
| --- | --- |
| any JR train, including shinkansen | valid |
| JR trains on private tracks | surcharge (rare) |
| Nozomi and Mizuho shinkansen | not valid |
| private Railways | not valid |
| Yamanote and Tokyo suburban lines | valid |
| N'EX to Narita and Haneda Monorail | valid |
| Tokyo Metro | not valid |
The pass is valid on almost any JR train, but not on private railways.
Nozomi and Mizuho are the top-tier shinkansen that run their route with few stops. You can use the second-tier Hikari and Sakura services on the same routes – the difference is only a few minutes. You can use the top-tier Hayabusa service between Shin-Hakdoate and Tokyo.
It doesn't make sense to buy (or activate) a pass just for getting around Tokyo. Tickets on those lines are cheap, and you'll never break even.
Timetable
The Hyperdia website is the one and only online timetable for Rail Pass users. It has an English interface and knows the timetables and fares for all trains, JR and private, from shinkansen to local services, and even some flights.
The site is fairly straightforward to use. If you have a Japan Rail Pass, make the following settings:
Uncheck 'Airplane', 'Private Railway' and 'Airport Shuttle Bus'
Setting 'NOZOMI / MIZUHO / HAYABUSA (SHINKANSEN)':

Uncheck when traveling south of Tokyo to avoid the Nozomi and Mizuho
Leave it checked if traveling north of Tokyo to include the Hayabusa
Hyperdia has fairly usable mobile site by now, and there's also an app, which is only available in select countries.
Neat Tricks
When we were in Japan last winter, we wanted to take the train from Kanazawa on the north-west coast and go to Takayama in the Japanese Alps. We had been to the ticket office in Kanazawa the night before and picked up our reservations.
When we got to the platform in the morning, we noticed that the far end was jam-packed: That was the place where the "unreserved cars" would stop, and there was a lot of tourists (Rail Pass users, most likely) who just showed up and hoped to get lucky.
Our "reserved" end of the platform, though, was mostly empty. We queued in the designated spot with two Japanese families; when we boarded our car it was more than half empty.
Japanese trains are strictly divided into "unreserved" and "reserved" cars: If you don't hold a reservation, you can only ride in the "unreserved" ones. All people with reservations ride in their designated seats in the "reserved" cars.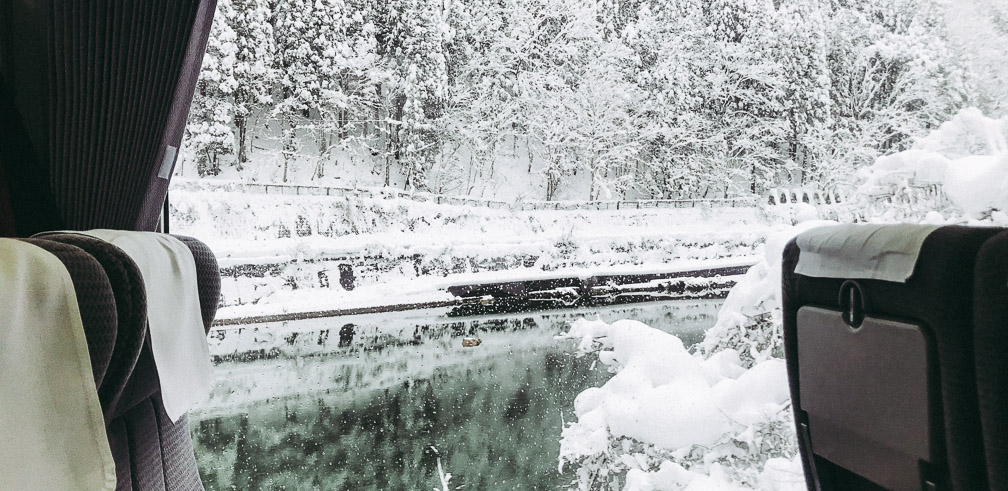 Passing through the snow. Photo: Ingrid
In our "reserved" car to Takayama, there was plenty of space for our bags and we could freely move about and take pictures of the snow-covered winter landscape that was passing by outside.
Reservations
Reservations are free for Rail Pass holders, and you can make one from one month in advance more or less up to the departure of the train.
Self-service reservations are possible since 2020: You can make reservations at the self-service ticket machines in the stations. And there is even an online reservation tool though we didn't have the chance to test that out.
But you can also still go to the nearest ticket center (midori no madoguchi), show your Rail Pass, and ask for a reservation.

Ticket Center sign. Source: Wikimedia
Agents will speak enough basic English to make the reservation, but you can also show the Hyperdia timetable if you want a specific train. If you look western and have a Rail Pass, they'll also print the reservation tickets in English.
While making online reservations does not seem like a big deal, in Japan it was unheard of (except for a very cumbersome system from JR East). Today that has changed a bit, for the shinkansen there is even a fancy [app and online service](https://smart-ex.jp) that includes loading your tickets onto your IC travel smart card. Note that this one is not for rail pass holders - you can only use it to buy regular tickets.
You reservation will show the seat and car number; the car numbers are indicated on the platform so that you know where to get on – Japanese railway cars will always stop in their designated position.
If you don't know what to do: Just show your reservation to a member of staff, and they'll direct you to the right place.
Luggage
In Japanese stations we often see tourists pushing around multiple oversized suitcases – per person. We're not entirely sure sure what they have in there, but riding the train with them will be bothersome at best.
Japanese trains don't have much space for luggage: The idea is that you only have carry-on-sized luggage on you. We usually travel light, so this doesn't bother us.
Many trains don't have much dedicated luggage space, and people are expected to use the overhead racks. And even if – at least in the shinkansen – these fit relatively large bags, you still have to haul your stuff up there.
But if you're the type who cannot leave home without a full wardrobe, consider doing what the Japanese do and use a delivery service for your luggage. Yamato Transport is the market leader for this "Takkyubin" service, and most hotels should be able to help you make arrangements.
From June 2020, shinkansen on JR Central, West and Kyushu will require a reservation for "oversized luggage"; or make you pay a feed of ¥1.000 if you don't have one. "Oversized" means that the sum of the measurements (width+height+length) is more than 160cm. Most "large" suitcases available in Europe will still fall below that, though.
In addition, sports equipment like bikes or ski equipment always needs a reservation as well.
If you travel with supersized suitcases (or your golf bag): The number of seats for oversized luggage is somewhat limited: Only the last row of seats in each car is for "overized baggage". So reserve early – or travel light.
Luggage with combined dimensions of more than 250cm are completely banned - though that is a truly ginormous size that commercially available suitcases won't reach.
Bento Boxes
Ekiben (literally "train station bento") is one of the best things about train travel in Japan. With ever-shorter travel times dining cars have gradually disappeared, but thanks to the bento box dining on a train is still very much a thing.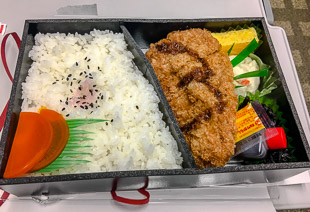 Bento on the train. Photo: Ingrid
Before boarding a train, we always take a pick from the endless varieties of ekiben at the station. Boxes start at around ¥800 (€6.5) for basics and go up to ¥3,000 (€25) and even more for luxury items.
There's also a cart service with a selection of bentos and beverages on most trains; though the selection is much more limited than at a station.
Scenic routes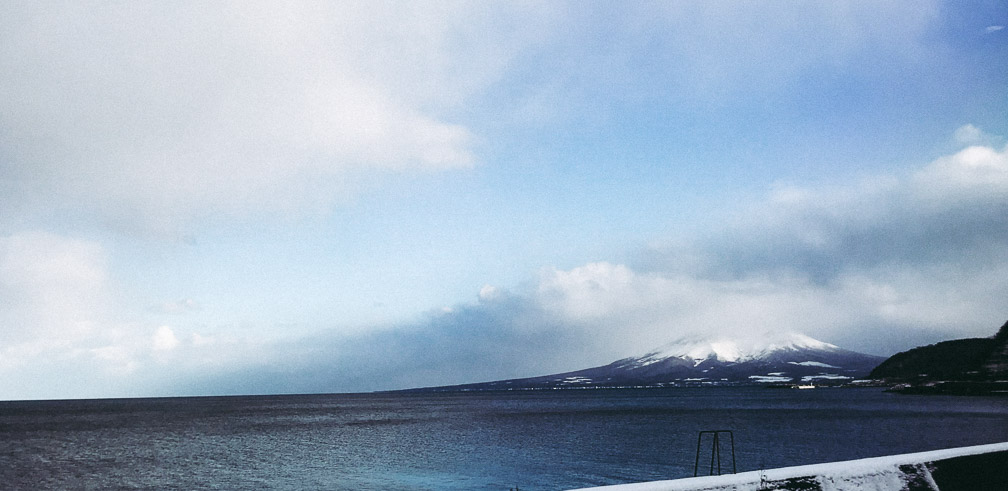 On the way to Sapporo. Photo: Ingrid
While the bullet train experience is great, they don't offer the most scenic views. Fortunately, there are a lot of great rides on Japan's "standard" narrow-gauge railways. Here are some we tried:
The Super Hokuto between Shin-Hakodate and Sapporo follows the coastline for most of its journey before turning towards Sapporo. The "Mountain Route" to Sapporo via Niseko is supposedly even nicer, but has no through service for much of the year.
The Japan Alps offers a number of scenic train routes. The Super Azusa from Shinjuku to Matsumoto is already pretty nice once you cleared Tokyo, but the (Wide View) Shinano from Matsumoto to Nagoya is pretty awesome.
From Nagoya you can also take the (Wide View) Hida to Takayama and on to Kanazawa – the whole journey is as scenic as it gets.
The Marine Liner, from Okayama to Takamatsu, is great in that it'll take you over the Great Seto Bridge with views of the inland sea. From Takamatsu you can also take ferries to Naoshima and other islands in the inland sea.
There are many scenic routes elsewhere that we didn't try yet.
Joyful (Tourist) Trains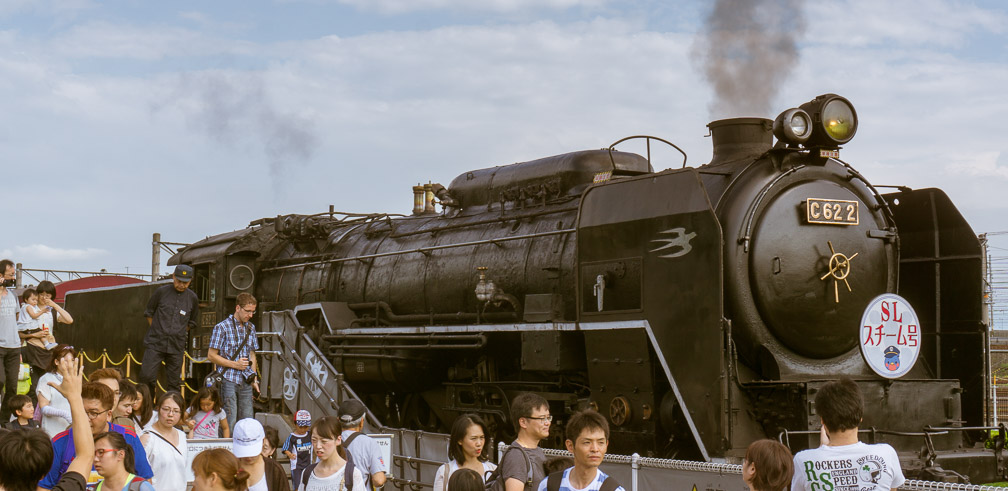 There are many types of trains (Kyoto Railway Museum). Photo: Daniel
When we're in Japan the next time, we'll probably try out one of the "Joyful Trains". These are touristic services, where the journey itself is the main attraction.
Those trains often feature special cars with panoramic windows, lounges, tatami seating, artwork and other extras – there's even a shinkansen with an onboard onsen. Many also offer bento boxes with regional specialties.
Most of the "Joyful Trains" run on a regular or semi-regular schedule. As you can't really search for those in Hyperdia, you'll need to search the JR websites for the timetables.
The Japan Rail Pass is valid on "Joyful Trains" that are regular services. It doesn't cover chartered and "cruise" trains which are only sold through travel agents.
For luxury trains like the Seven Stars in Kyushu you'll even have to enter a lottery before you're allowed to spend several thousand euros (or dollars) on a train trip.
Night Trains
The Sunrise Seto/Sunrise Izumo is the last remaining night train after the night services between Ueno and Sapporo were cut in early 2016 when the Hokkaido shinkansen went operational.
The Sunrise Seto travels between Tokyo and Takamatsu, while the Izumo goes to Matsue and Izumo. The two run as a single train between Tokyo and Okayama.
The train has private sleeping compartments and open sleeping compartments called "nobi nobi". Travel in the "nobi nobi seats" is included in the Rail Pass; but supplements for private compartments are not. The supplements are between ¥9,500 and ¥17,000.
We haven't tried this one yet - the train can book out early, and making reservations in advance from outside Japan isn't that easy; though a specialized travel agent may be able to help.
More information
Note
Prices and conversions to Euro are of March 2019.
---
Get the newsletter
When you subscribe to the newsletter, we'll keep you up to date on what's new. You can unsubscribe at any time.
---
Share this page
---
What do you think?
Let us know what you think - privately or here for all to see. Simply email us or check our imprint and privacy policy for more info and possibilities to get in touch