January 11, 2020
Japan Winter Wonderland
In 2018, we went to Japan just before Christmas. We didn't know exactly what to expect, but we wanted a break. We picked up some plane tickets and a Japan Rail Pass and went with minimal planning.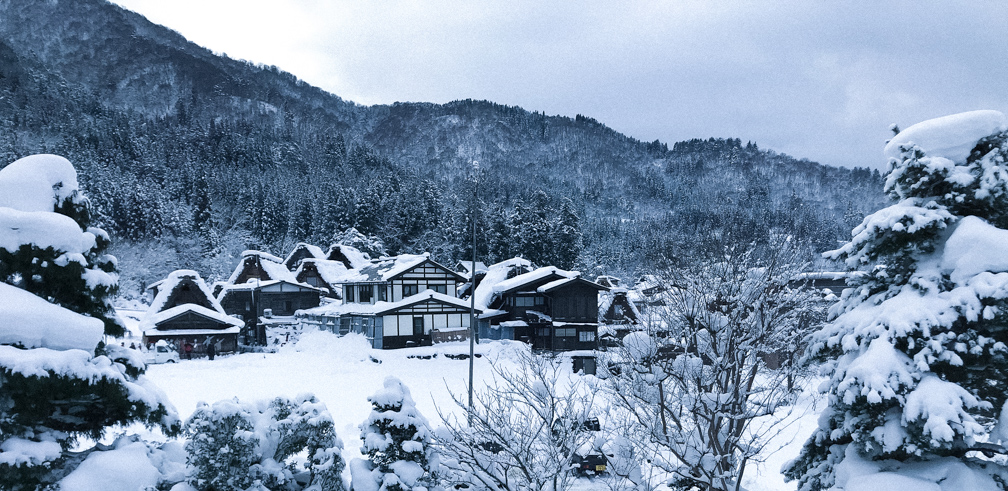 In 2018, we went to Japan just before Christmas. We didn't know exactly what to expect, but we wanted a break. We picked up some plane tickets and a Japan Rail Pass and went with minimal planning.
We ended up using The Knot Shinjuku as a base for our trips, and discovered much more than we expected.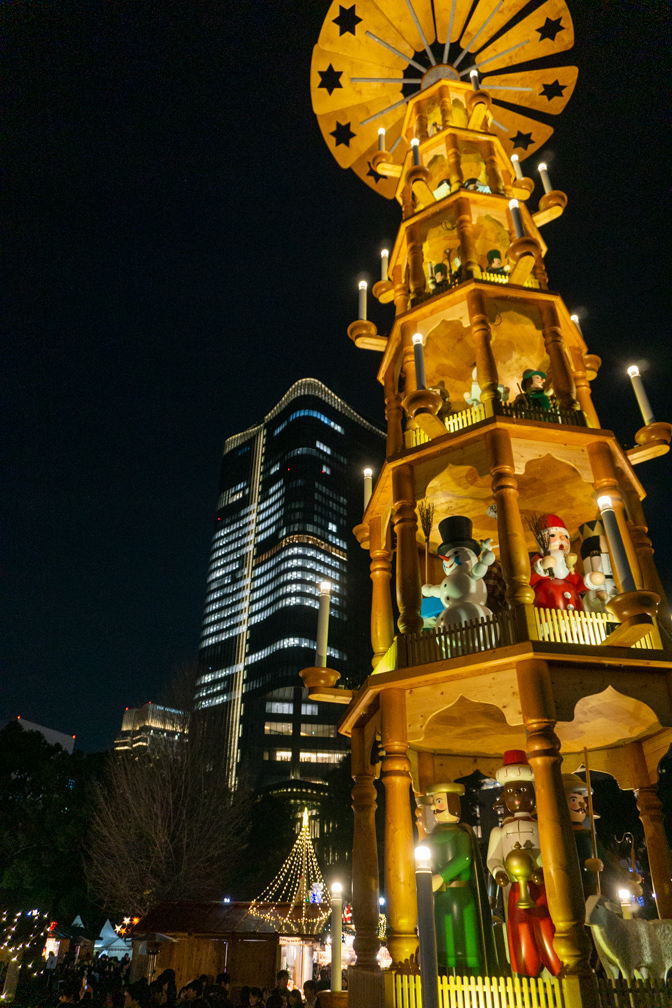 Christmas Pyramid. Photo: Daniel
Tokyo
Come winter or summer, Tokyo is always itself and the ever-present christmas markets and winter illumnations added a new theme to discover the city by.
During our trip we saw a spectacular light installation at Tokyo Midtown and visited the world's largest German christmas pyramid at the Tokyo Christmas Market in Hybia Park.
We could also, within an hour of train ride, be either on the sunny beach front of Kamakura or the ski slopes of Gala Yuzawa.
Hokkaido and Sapporo
The best part of our Hokkaido trip started around Aomori: It started snowing.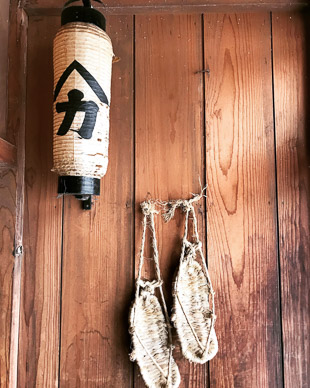 In the Historic Village. Photo: Ingrid
As the Hokkaido shinkansen doesn't run all the way to Sapporo – the line is supposed to open in 2030 – we changed into an express train that made its way up the coast between snowy hills and the stormy Pacific: Time to pick up a book and relax for a few hours before the train turns inland for Sapporo.
When we arrived, night had fallen and it was snowing again. The central Ōdōri Kōen was lit with festive illuminations; we stopped at the Sapporo "Munich" Christmas market for some sauerkraut and bratwurst.
Sapporo is a pleasant place, though in four days we could barely scratch the surface of what Hokkaido has to offer: As we didn't jump through the hoops necessary to rent a car, we were limited to the places in reach of our Rail pass – this time.
Still, we can report that you can't beat butter ramen on a winter's day and that the Hokkaido Historic Village runs a horse sled when it snows.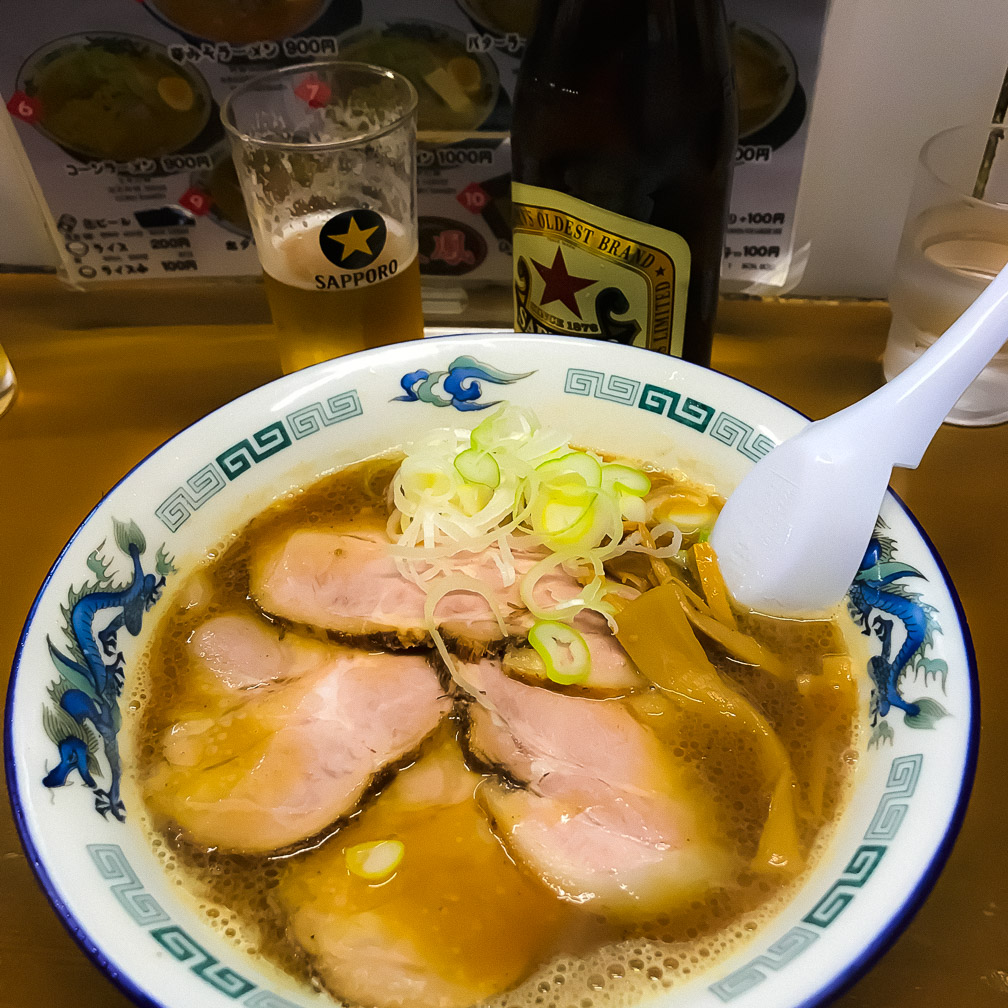 Hearty Ramen in Sapporo. Photo: Ingrid
Otaru
Otaru is a 25 minute train ride from Sapporo – close enough for quick day trip. It's old town turned out to be a fairly touristy place: They have some beautiful buildings from the turn of the 20th century, all turned into shops for kitschy music boxes.
Beyond Otaru is the famous ski town of Niseko, which we didn't make on this trip.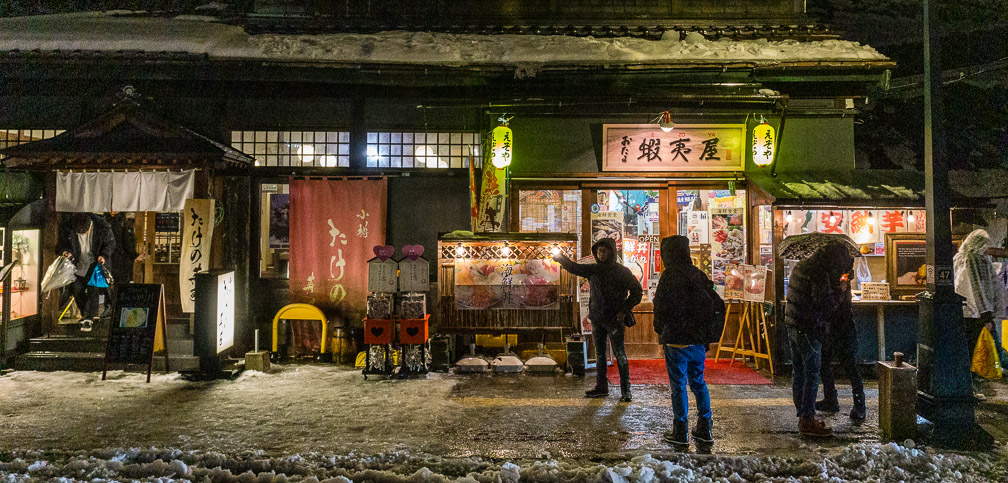 Otaru. Photo: Daniel
Hakodate
As the current terminus of the Hokkaido shinkansen, Hakodate makes a natural stopover between Hokkaido and the rest of Japan.
You will absolutely take the cable car up the Mount Hakodate to see the night panorama; though we found that the experience didn't really live up to all the buzz.
On your way out we took a stroll along the numerous "western" buildings – remnants from a time when Hakodate was on of the few ports open to western trading at the end of the 19th century – and grabbed some fresh seafood at the morning market next to the station.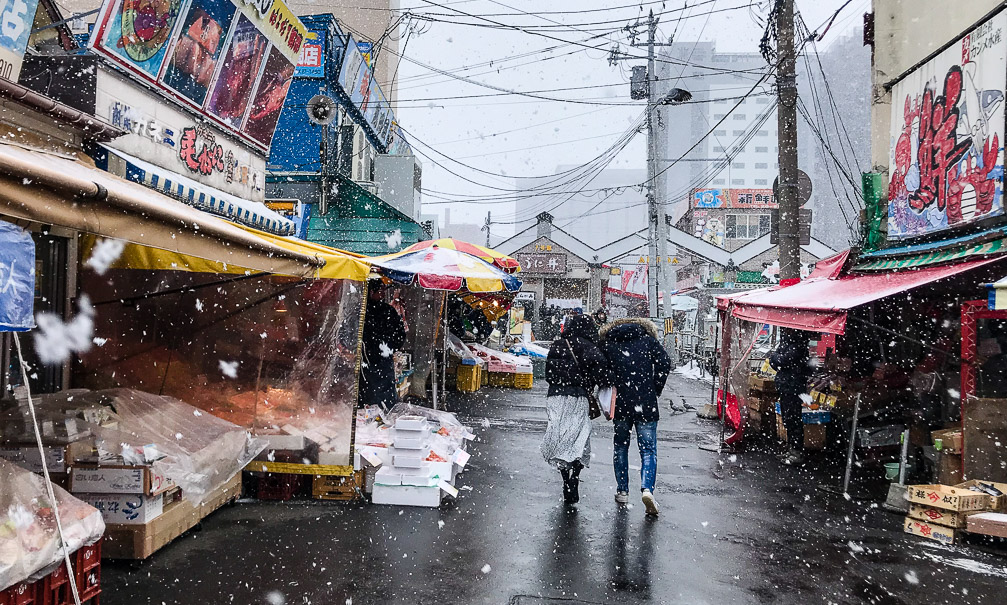 Hakodate Morning Market. Photo: Ingrid
Christmas in Japan

Christmas is a novelty event in Japan. It isn't a traditional holiday, but you cannot escape its presence either: Decorations, Christmas markets and themed ads are everywhere.

It's also a popular date night. On Christmas day, Christmas markets were filled with teenage couples and restaurants well booked.

Apparently other Christmas traditions include a cream-heavy "Christmas Cake" and a proper Christmas meal from KFC.
Gala Yuzawa and beyond
During ski season, trains run from Tokyo directly into Gala Yuzawa, the only ski resort in Japan boasting its own shinkansen station. You can get from Tokyo station onto the slopes in less than an hour, though prices there are a bit steep.
We skipped the skiing part and explored the area for a day: This is the Snow Country from Yasunari Kawabata's novel of the same name. The book is a good read for the train and will get you into the mood, although you won't meet many onsen geisha these days.
If you don't care for skiing, the town itself has a number of nice restaurants and onsen to chose from. We still bought a ticket for the Kogen ropeway and spent a few hours up the mountain and in the snow.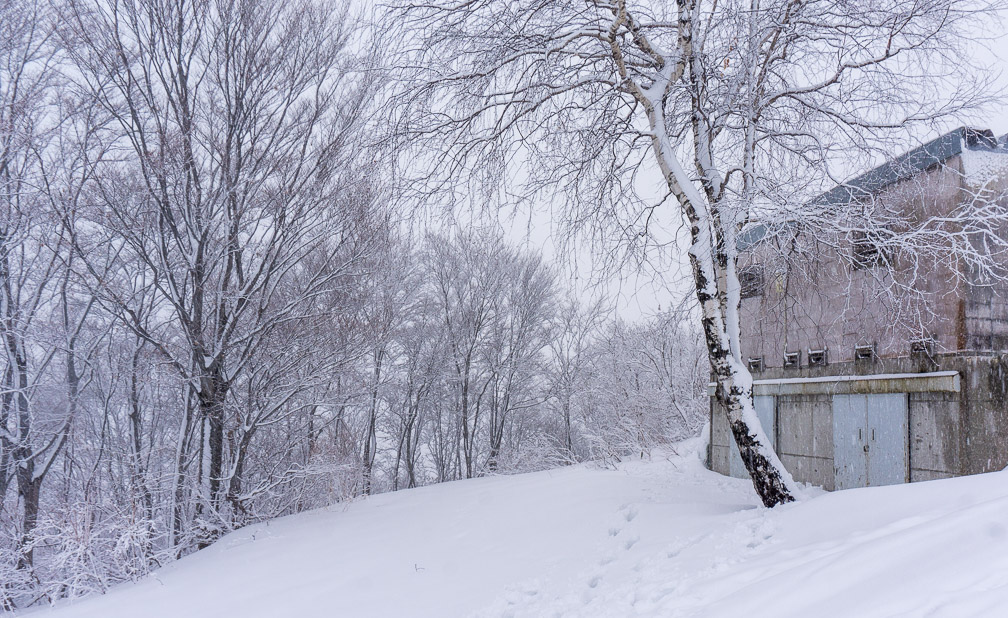 Snow Country. Photo: Daniel
We only stopped in Niigata for the night: The city didn't really get a chance present its best side on a rainy winter's night. We moved on using the scenic train route along the coast instead of the shinkansen; though we unfortunately we missed out one the Koshino Shu*Kura sake train.
Kanazawa
Kanazawa, former stronghold of the Maeda clan, boasts a partly reconstructed castle, original samurai villas, traditional architecture, geisha districts and Kenroku-en – one of the three great gardens of Japan.
We arrived to more snow, taking the chance to take strolls along the city's historic streets and enjoying the hustle and bustle of Ōmichō market in the days before the New Year's holidays – along with an excellent fill of seafood.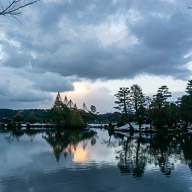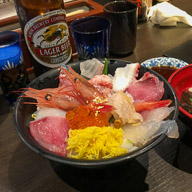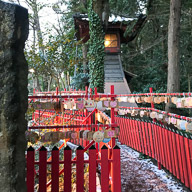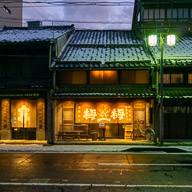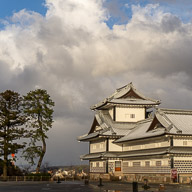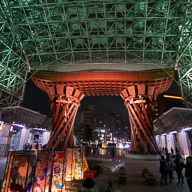 Takayama and Shirakawa-Gō
Our best stroke of luck came when we boarded the Wide View Hida from Toyama to Takayama. The train headed just into the snowstorm, and we enjoyed a ride through a powdery, spectacular montainscape.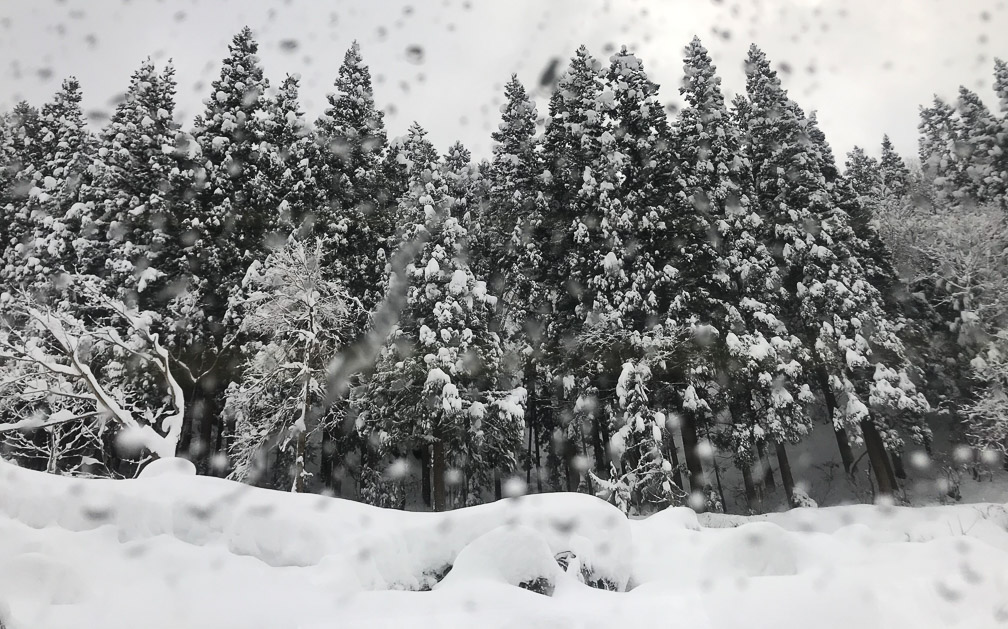 Passing through the snow. Photo: Ingrid
Train tip: Don't forget your reservations

On the way to Takayama we were surprised to see how few people seem to take advantage of the free reservations that come with the Rail Pass.

We enjoyed our spectacular ride in an half-empty car, while the "unreserved" end of train was completely packed…
Takayama, or Hida-Takayama, (as takayama literally means "high mountain" and is used in other places as well) is a pictureque if touristy spot, but snow and winter lights turned it into a magical place.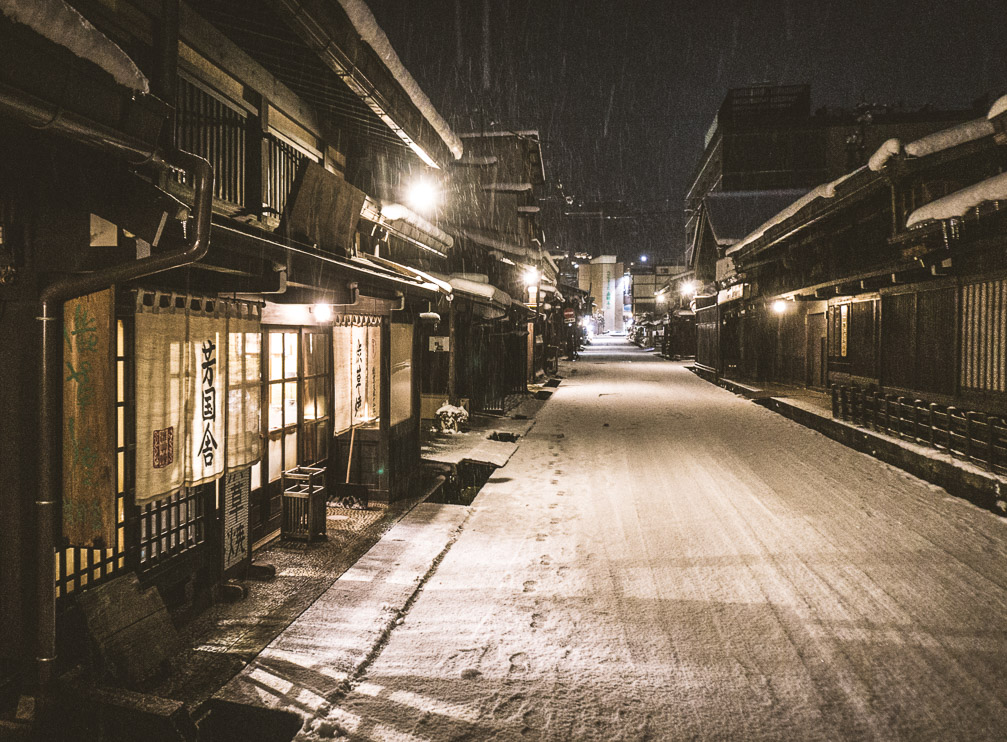 Wintery Takayama. Photo: Daniel
The town is easily explored by foot; the main attractions are the old town and a number of interesting temples. A folk village is nearby, though we didn't visit.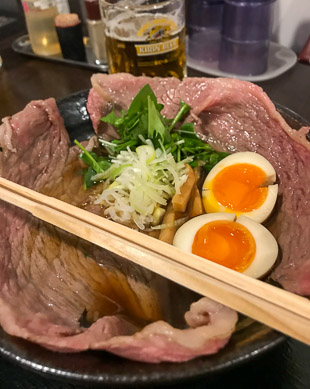 Hida Beef. Photo: Ingrid
The region's signature dish is Hida beef, a variety of Wagyū that rivals the fame of the Kobe variety and is sold in many variations: Croquettes, steamed buns or veritable steak. We went for the Hida-topped ramen and were not disappointed.
We visited the historic village of Shirakawa-Gō as a half-day trip. The region is famous for its traditional gasshō-zukuri ("praying hands") houses, and Shirakawa-Gō is the most popular place to see them. The village gives you an insight into the mountain life of a century ago is about 45 min by bus from Takayama.
If you have enough time there are other villages in the region, which are less overrun. Still, Shirakawa-Gō is the easiest to access: there are lots of buses and organized trips from Takayama.
We were lucky on two counts: Not only did we come with what was almost the first snowfall of the season, but also on one of the first buses of the day. When we arrived the village was still almost deserted and under a a pristine snow cover. At the time we returned, around noon, we already had to fight our way back against busloads of tourists streaming in.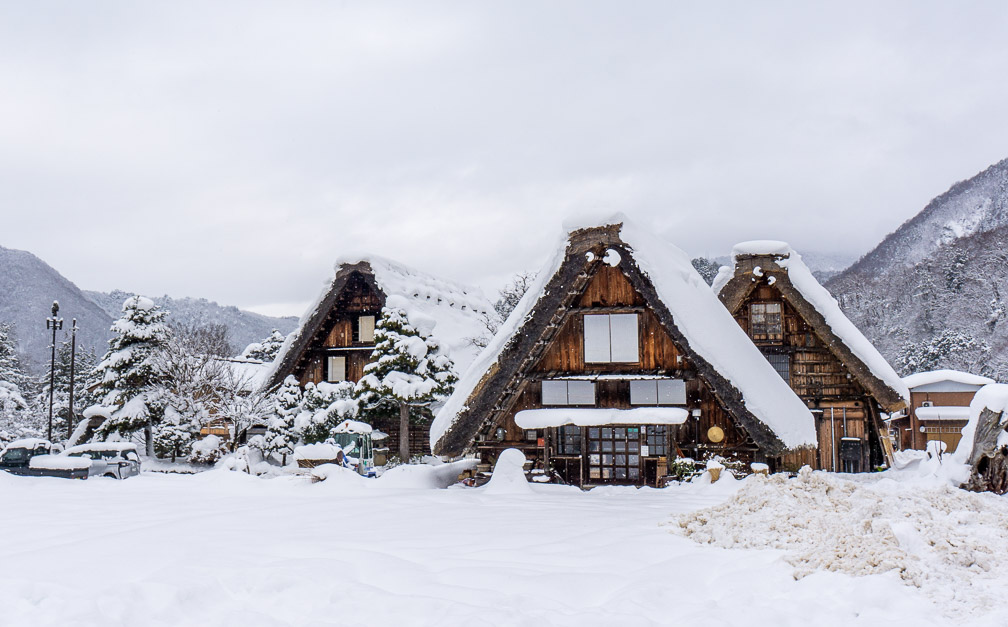 Gasshō-zukuri houses in Shirakawa-Gō. Photo: Daniel
New Year

For the Japanese, the New Year is what Christmas is for westerners: A holiday where the whole family comes together for a feast at home.

This also means that there is very little in terms of public celebration or fireworks.

It is possible to book a dinner at a "western" luxury hotel, or go clubbing and to meet the crowds on Shibuya Crossing. (There is even a bizarre "Tokyo Figh Club" event with live cage fighting, if that strikes your fancy.)

At the end we went out to the Senso-Ji shrine in Asakusa with loads of other visitors and locals. It was quite a crowd, and we were lucky enough to show up far enough in advance to be let into the main event. After paying our respects at the temple, we grabbed some takoyaki and beer from one of the food stalls set up for the occasion.

In the first two or three days of the new year everybody goes to the temples; even hyperactive Tokyo comes to a standstill. If you want you can also burn some incense, ask the gods for a favor or have your fortune read; there will be street food aplenty.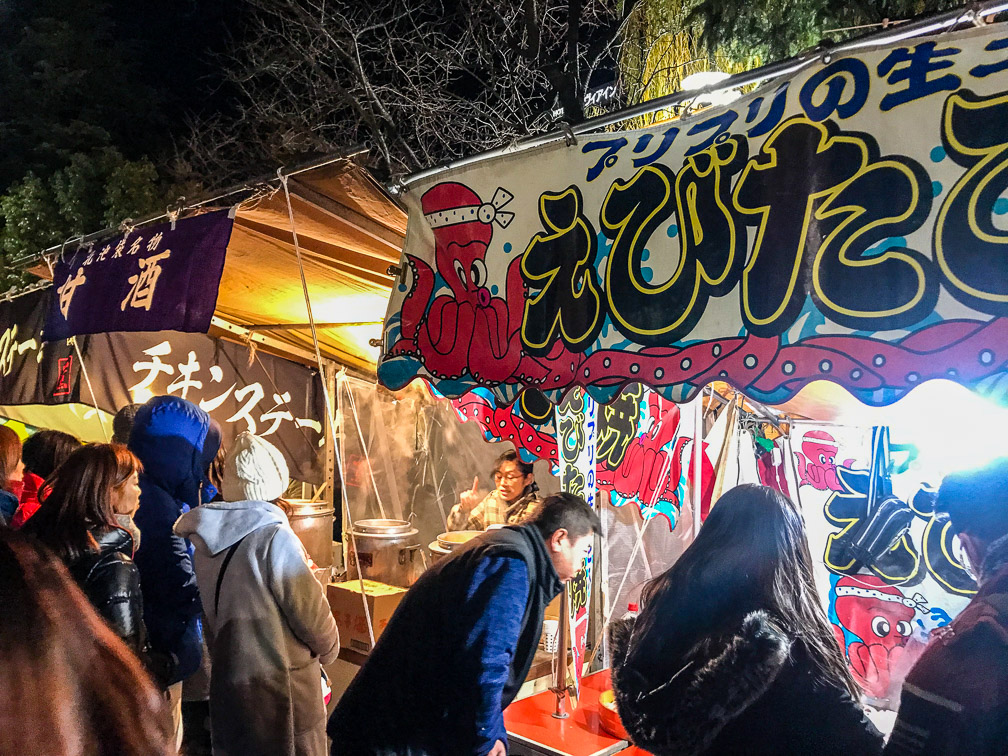 New Year's crowd near Senso-Ji in Tokyo. Photo: Ingrid
Kyoto
Kyoto is the place to go for New Year and the following days: If you go you'll go with the crowds. Reserve your train tickets well in advance and expect to share the city with lots of visitors, as we did.
On the plus side, the holiday season was on in full force: Streets and alleys around the temples were packed with street food vendors and there was no shortage of new year's fortunes.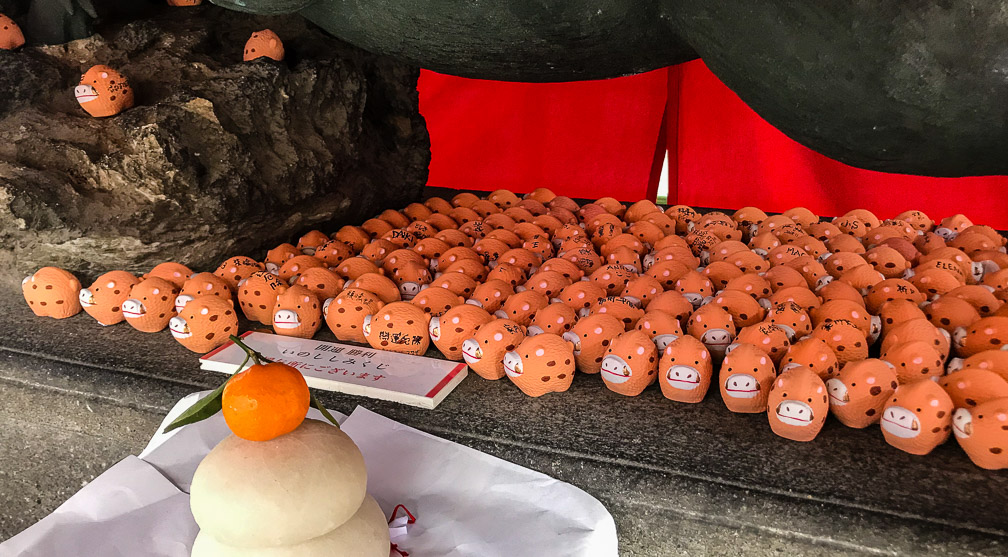 Ringing in the year of the Earth Pig. Photo: Ingrid
Our hotel, Kiyomizu Gion, served Japanese-style breakfast with traditional New Year's specialities – after checking thrice if we foreigners would actually eat them.
At the end we skipped the Fushimi-Inari shrine and found some respite from the crowds in the hills above Arashiyama.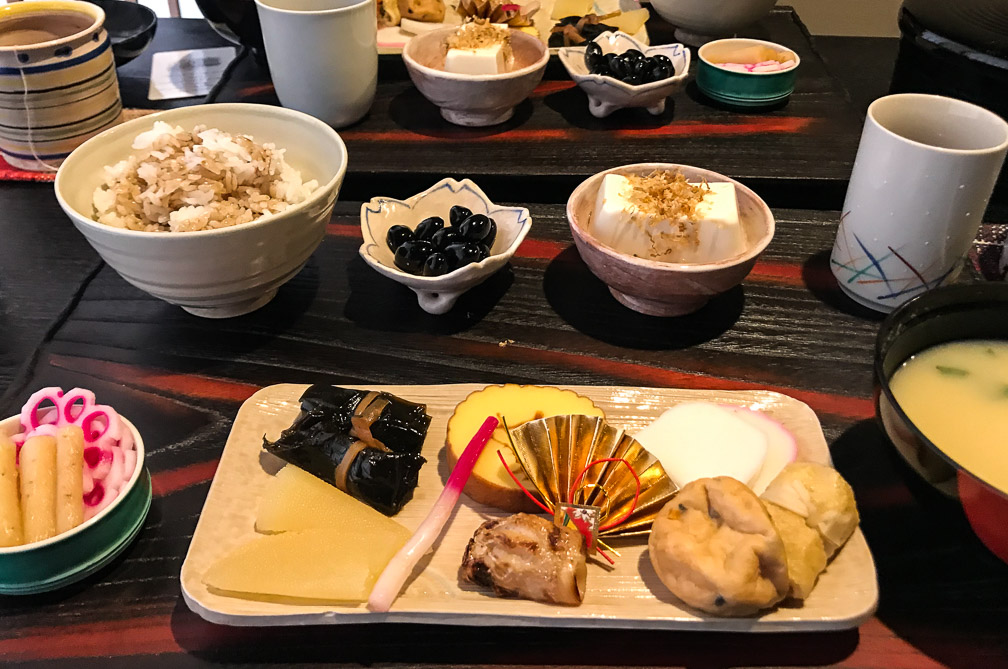 New Year's breakfast in Kyoto. Photo: Ingrid
---
Get the newsletter
When you subscribe to the newsletter, we'll keep you up to date on what's new. You can unsubscribe at any time.
---
Share this page
---
What do you think?
Let us know what you think - privately or here for all to see. Simply email us or check our imprint and privacy policy for more info and possibilities to get in touch