October 28, 2023
Europe's Rail Pass (Interrail/Eurail)
The Japan Rail Pass, was one of the first things that I covered here - after all, this site was originally planned to share our experiences going to Japan.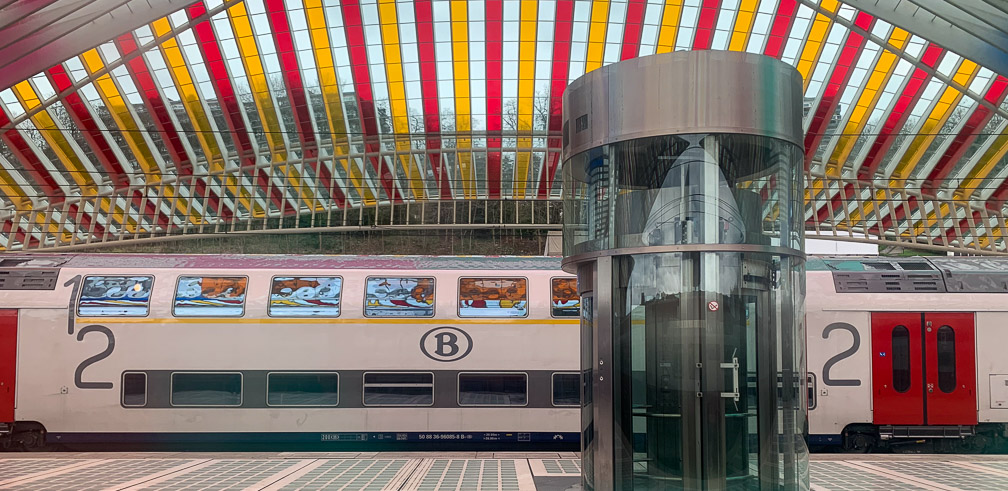 The Japan Rail Pass, was one of the first things that I covered here - after all, this site was originally planned to share our experiences going to Japan.
But Europe has it's very own rail pass with the Interrail and Eurail passes. Unlike in Japan, they are even available to the locals (with a little catch). And while not everything is quite as straigthforward as with the Japanese pass, there's an even bigger world of possibilities, with 33 countries to explore.
What is covered?
Interrail and Eurail passes cover the entirety of western and middle Europe, (except Albania). It covers everything between the North Cape and Turkey, from the western tip to Romania, Poland and the Balkans.
Countries covered by the global passes. Source: Wikimedia
That said, as the railway landscape in Europe is quite complex there are a few caveats that you need to be aware of:
Not all railway operators in those countries are covered by the pass.
If you live in Europe, your country of residence is not covered (for the most part)
On some routes there are surcharges and reservation costs.
A "global pass" covers the entire area, while a "one country pass" is only valid for national routes in a single country.
Interail? Eurail? What's the difference?
Interrail is the offer that most Europeans are familiar with. It's for people resident in one of the countries that are covered by the pass. The main limitation is that you can make only two journeys within your country of residence, and they must be to or from an airport or border station.
This limitation is meant to assure that the pass is used only for tourism. Europeans who reside in the area must get an Interrail pass.
Eurail passes, on the other hand, are valid in all countries without restriction. However, they are only available to non-Europeans – meaning everyone who comes from outside the Interrail area.
People who reside in Europe but have an overseas passport can chose either pass.
Is it only for young folks?
No - if you tell Europeans, especially older ones, that you use Interrail, they will often be slightly bewildered and ask if you can really do that as an adult.
Interrail was in fact conceived as an offer for young people in the 1970s, and used to be a rite of passage for many making their first independent trip(s).
However, the pass has been available for any age since 1988 – you just have to buy the "adult" version.
If you're 27 years or less, you still get a substatial discount, though. The current price tiers are:
| Age | Tier | Price |
| --- | --- | --- |
| 0-11 | Child | Free(*) |
| 12-27 | Youth | About a third less than "Adult" |
| 28-59 | Adult | Full price |
| 60+ | Senior | About 10% less than "Adult" |
(*) Children aged 11 and below get a free pass, but they must be accompanied by a guardian who has bought a pass of the same type.
What is the restriction on travel in your home country?
If you buy an Interrail pass, you have to provide your country of residence. Ticket inspectors may ask you to verify that (e.g. by having an appropriate passport) - although, very often, they will just ask for the ticket itself.
You can only travel in your country of origin on two days – regardless of the validity duration of your pass – and make one outgoing and on incoming trip.
A "trip" can include intermediate train changes, but they must end or begin at a border station or an airport.
For all other travel in your home country, you must purchase separate tickets.
What passes are there, and what do they cost?
You can find all the passes on the Interrail and Eurail home pages. There is a huge number of combinations, and the price depends on:
Age tier (see above)
Travel class (passes come in 1st and 2nd class)
Type of pass (global or single country)
Validity period
In general the more expensive passes have a better value (price per travel day) than the cheaper ones.
Global vs. One Country Passes
A global pass is one that is valid in the entire travel area of 33 countries, while a "One Country" (unsurprisingly) is valid in only one country.
As Interrail isn't valid in one's home country, Interrail users cannot buy a One Country Pass for their own country.
Validity period
Passes can be fixed-duration or "flexible" - the fixed duration being exactly what you expect: The pass is valid for one, two or three months. During that time you can travel as much or little as you want. This is very straightforward, and the only thing to keep in mind is that on Interrail you are limited to two trips in your home country, as described above.
The "flexible" passes give you a number of "travel days" during the validity period: You get 4, 5, 6, 7 or 10 days within 1 month, or 15 days within 2 months.
For example, if you buy a "5 days in a month" pass, it is valid a month from activating it, but you can only travel on 5 days during that month. This makes the rules a bit more difficult, but you don't "waste" any days while you aren't traveling.
Travel class
All passes come in first or second class versions. A first class pass allows you to travel in first or premium class. However it does not include "business" offerings that exist on some trains such as the Eurostar. First class travel may also not include all the frills that regular first class passengers get, such as lounge access.
First class reservations can be more expensive in some places; though you can also travel second or economy class on your first-class ticket if you chose to – or on trains that don't have a first class in the first place.
A second-class pass puts you in standard, 2nd or economy class - whatever the basic offering is called on the respective operator. In practice, most "2nd class" seats are still pretty comfortable. You may get a little less space or legroom, but that's about it.
Paper or electronic pass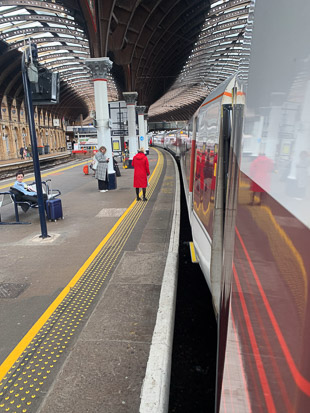 King's Cross Station (Photo: Daniel)
You can still get the classic paper Interrail ticket if you want, for a surcharge. Most people these days opt for the electronic version, that you can use with the Rail Planner App (iOS or Android). Note that – unlike with other rail tickets – you must use the app to show the pass. There is no file that you could save or print out.
The app allows you to activate your pass, look for connections, activate travel days for flexible passes and to show the ticket for inspection.
It needs an internet connection to activate travel days or passes. In theory the ticket should then be available "offline" even when you don't have a connection, but this does not always work: It is definitively much safer to have cellular data available in case you are using the electronic pass.
The Rail Planner App does not allow you to make reservations - though it provides some information on how to do so.
As an additional limitation, a pass can only be active on one device at a time; though you can have multiple passes on one device, if you are traveling with a partner or group.
Reservations
In some countries, like Germany, you can simply hop on any train and find a seat. You can still make reservations if you want a guaranteed seat, but you don't have to.
With other trains, such as the French TGV or the Eurostar, reservations are mandatory and the fees can be substantial (a single Eurostar reservation is €30 in Standard class, for example).
Making reservations
You can make reservations through the website (but not the app), or directly with the rail operator.
There may also a limited quantity of reservable seats for Interrail users, so it makes sense to check in advance.
When making the reservation through Interrail, there will always be a fee; and prices will vary depending on where and how you make the reservations.
Reservation Examples

You can make Eurostar reservations through the Belgian rail or the Interrail website - but not through the Eurostar website. The Belgians will charge a 6 Euro fee on top of the reservation fee, while Interrail charges 2 Euros.

UK reservations cost 6 Euros through Interrail, but are free if you get them in person at a National Rail office; and LNER also gives you free online online reservations.
The Interrail reservations site is not connected to their app, so your reservations will not show in the app (itinaries will also not sync between app and website).
Finally, the Interrail site will only work if you have a pass, which means you cannot check availability before buying.
Night train reservations
Your pass will cover night train travel, but will not include sleeping accomodation. If you want a place in a sleeper car or couchette, you need to pay a surcharge. This is cheaper than the regular ticket, but more expensive than other reservations: On a trip from Berlin to Vienna on an ÖBB nightjet a couchette berth will start at €33 (in a 6-berth compartment), a bed in a 3-person sleeper compartment at €52.50 and it's €140 if you want a sleeper compartment all to yourself.
Validity days
A flexible pass has a limited number of days on which you can travel - you need to "activate" the day before your first departure. You can select your active days in advance, or activate the pass for travel on the day itself.
However, once a travel day has started, the activation cannot be undone - you can only cancel a travel day until midnight on the day before.
If a train departs before midnight, but arrives on the following day, you only need to use one travel day - for that train. If you use any additiona train on the next day, you will still need to use another travel day.
Is it worth it?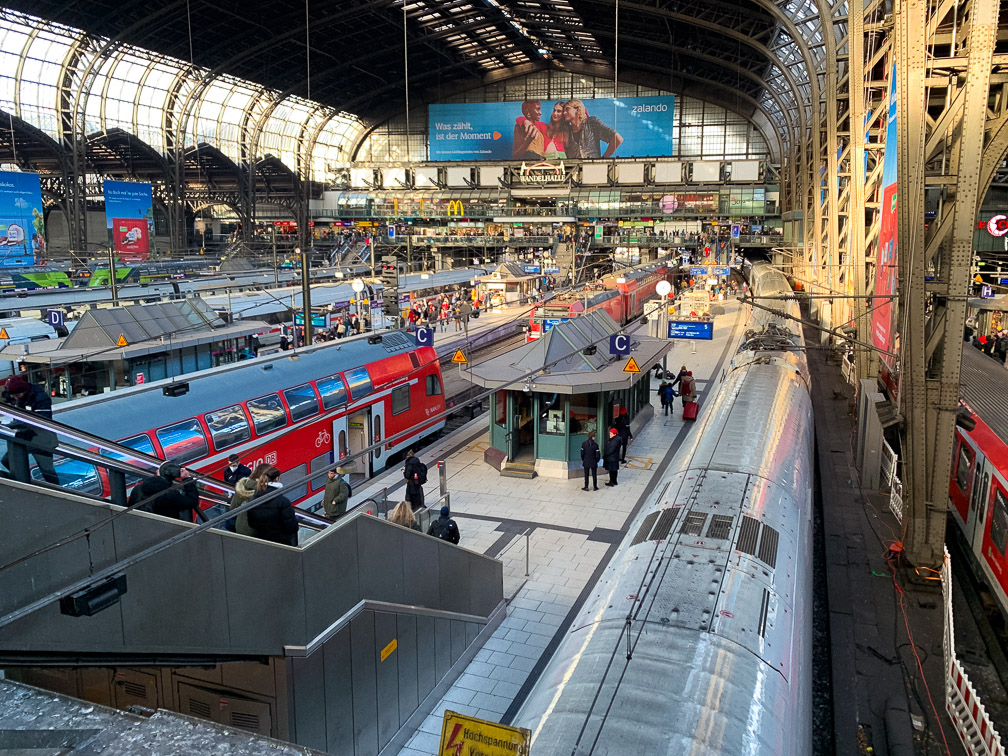 Hamburg Hauptbahnhof (Photo: Daniel)
The passes, or at especially the short-duration adult passes, are actually quite expensive: Currently the cheapest Interrail pass (4 days in a month) is €258 for an adult.
This comes out at €64.50 per travel day. In many cases, this is considerably more expensive than the cheapest fare on a route.
However, Interrail gives you great flexibility. The cheapest fare often needs to be booked far in advance. With the pass, even if you need a reservation, you can usually get that on relatively short notice.
Pricing examples

If you want book a ticket from Brussels to Edinburgh less than two weeks in advance, you may only get a Eurostar ticket for €120, and a service from London to Edinburgh for £80. In that case, €64.50 plus a €30 Eurostar reservation is actually a bargain.

On the other hand, if you don't need a specific train you can usually book a ticket from Berlin to Warsaw for less than €40 a week in advance (and often for less than €60 for one or two days in advance). And tickets in Eastern Europe tend to be even cheaper than that.
The "bigger" rail passes are cheaper per day, though:
| Travel days | Validity | Price | per travel day |
| --- | --- | --- | --- |
| 4 | 1 month | €258 | €64.50 |
| 5 | 1 month | €296 | €59.20 |
| 7 | 1 month | €352 | €50.29 |
| 10 | 2 months | €421 | €42.10 |
| 15 | 2 months | €518 | €34.53 |
Continuous passes are cheaper per day - but you pay for each day, regardless of wether you travel or not.
| Continuous days | Price | per day |
| --- | --- | --- |
| 15 in a row | €465 | €31.00 |
| 22 in a row | €544 | €24.73 |
| 1 month in a row | €704 | €23.00 |
| 2 months in a row | €768 | €12.60 |
| 3 months in a row | €947 | €10.30 |
---
Get the newsletter
When you subscribe to the newsletter, we'll keep you up to date on what's new. You can unsubscribe at any time.
---
Share this page
---
What do you think?
Let us know what you think - privately or here for all to see. Simply email us or check our imprint and privacy policy for more info and possibilities to get in touch