February 21, 2019
Japan Travel Basics
I admit that we've been to Japan a few times. That hardly makes us experts on the subject. Still, people have kept asking about those trips; so we decided to share what we know.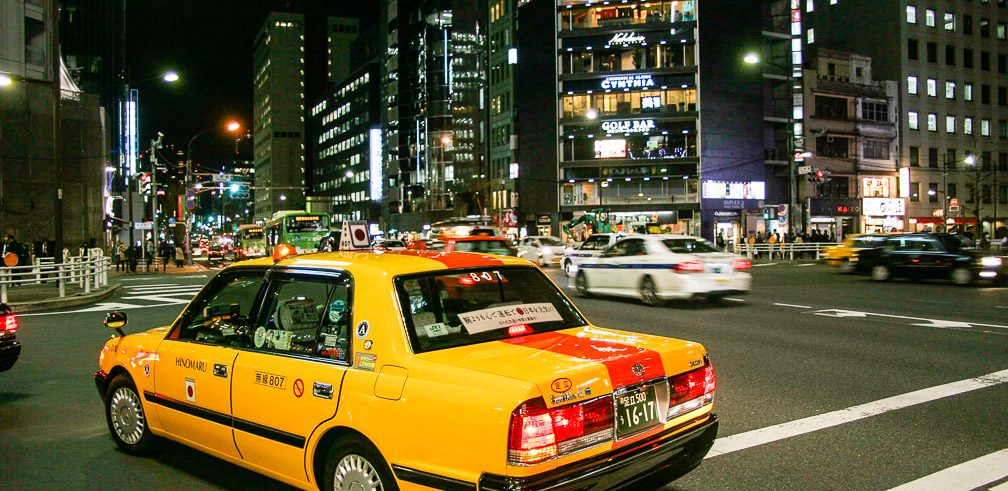 I admit that we've been to Japan a few times. That hardly makes us experts on the subject. Still, people have kept asking about those trips; so we decided to share what we know.
By the way: This is part one of a series, there is more to come.
Why go?
The first time we went because the place is fascinating: It is somehow familiar, with pop culture and products having spread around the globe, but still a bit of a mystery.
We returned because we really enjoyed our travels: There is actually a lot of things to do, many which we didn't expect before our first trip. While there are a lot of temples to pick from, and Tokyo really is what its neon-lit image promises, you can just as well go on a road trip or hiking in the mountains.
We know that Japan is seen as exotic and "different" by many – fans and natives alike – but the truth is that, in many respects, it is enough like home to feel comfortable.
Plus the food is great, everything is very well organised and hey, even Steve Jobs came here to relax.
When to go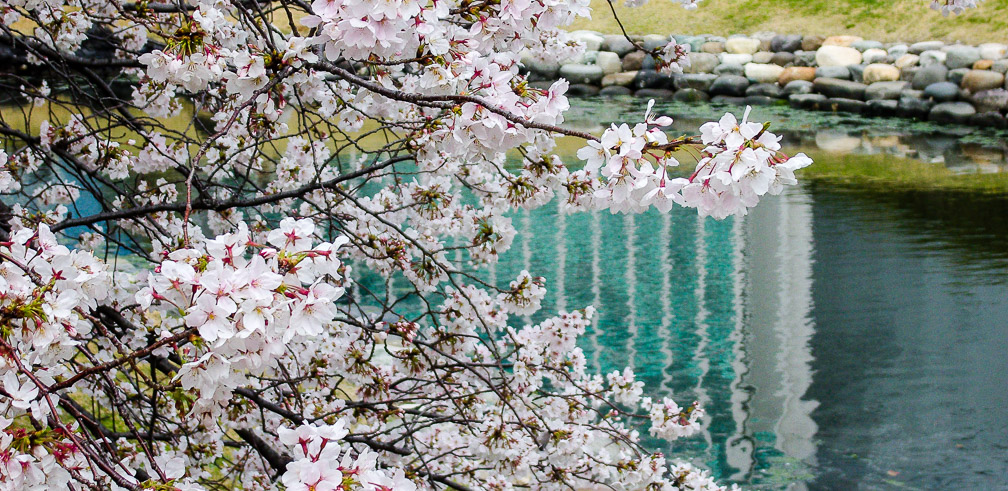 Cherry blossom season. Photo: Daniel
Ask anyone for the best time to go to Japan, and they will tell you cherry blossom season (roughly around March, depending on the location). And they have a point: Trees light up spectacularly and every park will be full of sake-fueled picnics. It is the quintessential Japanese thing.
But any time of the year can be great:
While summer can can be hot and humid, but also has a lot of festivals – including Kyoto's Gion Matsuri, the most famous of all. And if you want a break from the heat, head for the national parks of Hokkaido.
Autumn has foliage season, almost as famous as the cherry blossoms in spring, something we still have to see; and in winter you can chose between pleasant temperatures in Okinawa or powdery snow in the Japanese Alps and Hokkaido.
Seasons for outdoorsy activities tend to be the same as in Europe: You go mountain climbing in late summer and skiing in winter.
Just watch out for local holidays - domestic tourism is big and hotels and trains fill up quickly when all of Japan is taking their yearly break.
What to do
What you want to do is up to do: Wether you set yourself adrift in neo-lit megacities, plung into the nightlife of Roppongi or have a quiet time in a rural ryokan: Everything is possible.
Here is a small list of things that we did:
Grab a Tokyo Travel Guide and visit the gardens of Tokyo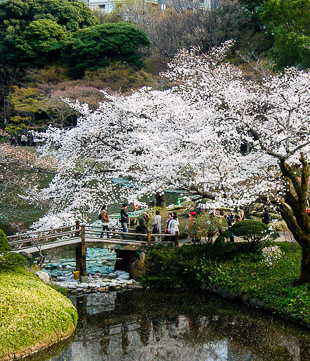 Tokyo is full of great gardens. Photo: Daniel
When we first came to Tokyo, we grabbed a free "Tokyo Handy Guide" (now rebranded the "Tokyo Travel Guide") from a subway station, a small guidebook from the Tokyo government that you'll find in many public places.
It has maps and pictures of the main attractions, neatly organised by district, and also a section on parks and gardens. We ticked off most of them – this way we go explore most of the districts and would end up in beautifully maintained gardens that were little oases, surrounded by the skyscrapers of the city.
This was obviously doubly awesome during cherry blossom season when everyone was out to view the trees, but as long as the weather is fine this is a great plan on any day of the year.
(Showing the guidebook will give you a tiny discount in most parks. There is also an online version – but for us part of the fun is to go hunting for it in the Metro stations)
You'll find the online version an more Tokyo info on the gotokyo.org website.
Go to Aomori for a day, just because you have a Rail Pass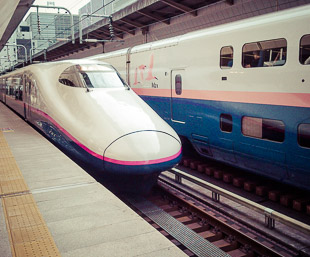 The Rail Pass takes you everywhere. Photo: Ingrid
The Japan Rail Pass is one of the most awesome japanese inventions, right after the bullet train. With the pass you can use the ultra-convenient railway network – including bullet trains – for free and as much as you want.
On a hot summer day, we actually went to from Tokyo to Aomori, at the most northern tip of Honshu. We saw the Nebuta museum, the ferry memorial museum, had some Aomori apple cake on the waterfront and took the shinkansen back home the same evening.
Just because we had the Rail Pass, and we could. Granted, it was 3 hours and 700 km in each direction, but riding the train is a fun thing in itself: You grab a bento box from the station, take your favorite book and make yourself comfortable while the landscape rolls by outside.
The Rail Pass is an indispensable part of our trips, and it's so good that we have it covered in another post.
If you want to buy one: We usually buy one through Japan Experience. When you mail order, they usually FedEx the thing within a day.
Spend a day on Naoshima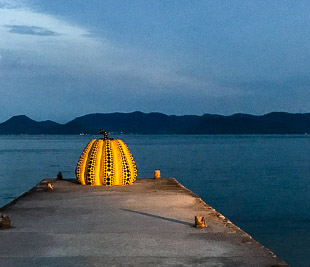 Naoshima is worth the detour. Photo: Ingrid
Naoshima is in every guidebook, but still easy to pass over because it takes a bit of effort to get there. But if you're into contemporary art, this is a must-see: Island, artwork and architecture are blended into one experience – no changing exhibits, but artwork that is integrated into the landscape and museums that were built around specific works.
Naoshima can only be reached by boat, and you should plan at least one day for a visit. If you want to splurge, stay in the Benesse Hotel for one or two nights: The hotel, designed by Tadao Ando, is part of the experience itself; you virtually get to stay a museum.
If your budget isn't that big you can stay in a nearby city and take the ferry from Okayama or Takamatsu.
Visit a random isakaya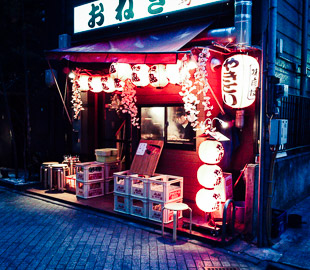 Yakitori is a popular night snack. Photo: Ingrid
An isakaya is to the Japanese what the pub is to the British: A place to have a beer and a snack and hang out with folks. People will come here after work, and it's a great way to see the locals.
The best experience is probably to head for a somewhat nondescript basement instead of the more tourist-oriented main street bars. You can also check around the main commuter rail stations, where the salarymen go after work.
At a traditional place the menu will be posted on the walls (in Japanese, obviously), but if you're lucky someone will help you with placing your order.
For snacks, yakitori are very popular, which translates to "parts of chicken on stick". All parts of the chicken are fair game: Gizzards, lungs and other organs are quite popular.
For drinks you can always start with beeru before deciding to move to the harder stuff – if you get in touch with the locals they might want to test what those foreigners can handle.
See the temples at Nikkō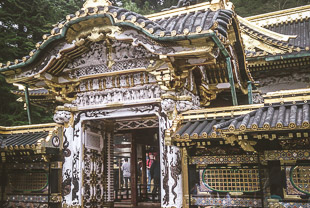 Nikkō is all about history. Photo: Daniel
If you just make one day trip from Tokyo, make it Nikkō. The city, about 1 hour outside of Tokyo, and is full of historical sites. They include the burial site of Tokugawa Ieyasu, the founder of the Tokugawa shogunate which ruled Japan for over 200 years. It makes a great place for a day out, and after visiting the shrines you can take a relaxing stroll along the river, and there are a lot of onsen (hot springs) in the area as well.
Getting there from Tokyo is easy: Tobu Railway has more direct connections but you can also use your Japan Rail Pass, just take the shinkansen to Utsonomya and change to the Nikkō line there.
You'll want to spend a whole day there; and get the "all inclusive" entrance ticket for the major sites.
Go to an udon and yosakoi festival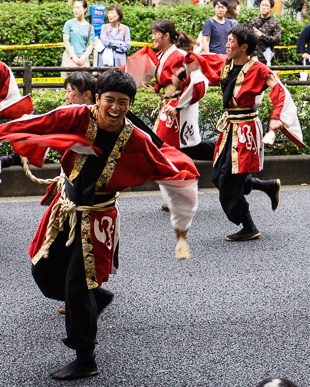 Festival Fun. Photo: Daniel
When we stayed near Omotesando, we wandered into a yokasoi dance festival just outside Yoyogi park, which was conveniently combined with a udon "competition".
It was great fun to watch, and the udon were some of the best we ever had (and well worth the 20 minute queue). The festival was not specifically for tourists, and apparently most of the participants were in for the sheer fun of it.
While you may not be able to see the exact same thing, there are a lot of festivals and processions going on during the summer months. Many are just neighborhood affairs connected to the local shrine, others are huge and hugely popular. The best-known is probably the Gion matsuri in Kyoto, but each town and region takes great pride in their local celebration.
The best thing about those festivals is that you can randomly wander into one, without knowing in advance that it is on. And even the ones without an udon cooking competition there'll be usually a good selection of street food to chose from.
Some of the festivals are famous for their spectacular floats, which may also be on display if the festival isn't on: If you come to Aomori, don't miss the Nebuta museum.
Frequent questions
When we tell people that we've been to Japan, there are a few questions that come up all the time:
Is it expensive?
Holidays in Japan are about as expensive as in any other industrialized country. Overall restaurants and accomodation were a bit more expensive than in Berlin, but cheaper than in Paris. Tales of high costs are mostly an echo of the Bubble Economy of the late 1980s when real estate and other prices skyrocketed.
You'll also find a lot of ramen shops and other cheap eateries that offer excellent value.
However you should note that space is still at a premium in Tokyo. You should expect hotels rooms to be somewhat more cramped than comparable ones in Europe; and you will pay extra if you need more space.
On the up side even simple place are usually neat and tidy in Japan.
Economy ticket from Europe, offers start from 600 EUR
Japan Rail Pass, starting from ¥29,100 (€320) for one week
Simple bowl of Ramen, or a sandwich from a convenience store starting at ¥600 (€5), going up to €15 for fancier stuff.
Filling meal at a restaurant, €20-30 including beer
Conveyor belt sushi, €1-7 per item/mini plate
Dorm room in a hostel, starting at around €20 slightly outside the city, even €12 if you go 10km outside.
Airbnb: From €30-50 for a room, €70-120 for an apartment, per night
Hotels: Start at around €40 EUR, a japanese "business hotel" is around ¥8,000-9,000 (€60-75), our new favorite place in Tokyo from €100 a night, upmarket places start at around €200
Note that accommodation prices for a semi-random weekday, they can go up in high season.
Did you buy used underwear (or other absurd items) from a vending machine?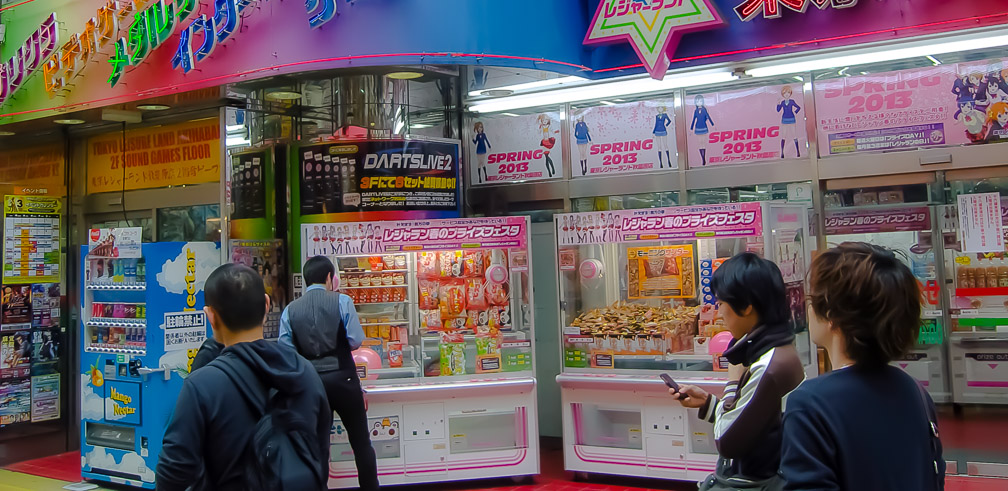 Vending machines in Akihabara. Despite the sexualized signage it's mostly snacks. Photo: Daniel
No. There are a lot of vending machines, but 90% sell hot and cold drinks. Very convenient, but not unheard of in other parts of the world. The majority of the rest sell cigarettes (tobacco is still big in Japan).
Capsule hotels and such may have vending machines for (fresh) underwear and other necessities, but our hotels had a machine for adult movie vouchers at best.
There are weirder machines in parts of Akihabara but, according to Wikipedia, the used panty trade seems to have somewhat dried up thanks to legal crackdowns and city ordinances.
Were you afraid of radiation?
Absolutely not. We were actually asked this in 2013, but even then there was no cause for concern. There is no increased background radiation except for some places around Fukushima; and you'll pick up more extra radiation on the flight to Japan than on the ground.
The only exception would be if you were to visit the actual exclusion zone around the Fukushima Daiichi reactor; which would require you to get past government checkpoints.
If you're still concerned, check Safecast, they also have a page for those wondering about food contamination
What are people like? Could you talk to anyone?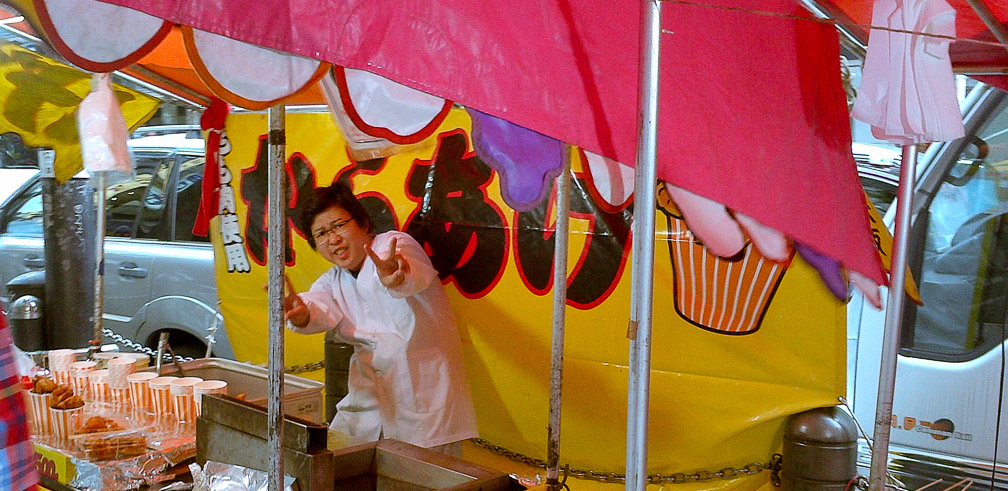 Yes, people can be fun. Photo: Daniel
It is difficult to generalize a group of people that you don't even know very well. However, for the most part, Japanese are just normal people: Some are friendlier, some may be more grumpy.
On average we found most people are helpful, and many will go out of their way to assist you, both privately or as part of the customer service.
Japanese like things well organized, and etiquette and rules are important. Don't get too nervous, though: As a foreigner you'll get a lot of leeway, and as long as you're not loud and obnoxious (and do as everyone else does) you should be fine.
Speaking English is a bit of a hit and miss: Most people who deal with tourists speak at least some amount of English; some are quite fluent. Others only have a "functional" English, where the person knows little more than the phrases and terms needed for the job.
It does make sense to learn some basic phrases, which is much easier than you'd think. As always, speaking a bit of the local language helps breaking the ice, and you'll probably get compliments on your amazing language skills if you can just utter "arigatou" (thanks) and "sumimasen" (excuse me).
Rules are get relaxed when work is over and the drinking starts; getting to know people gets easier over a few yakitori and beer.
How do the toilets work?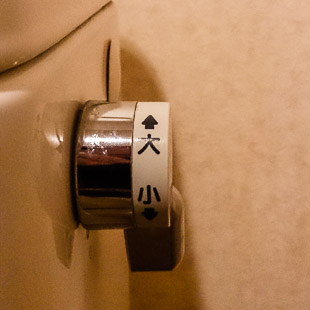 Toilet flush handle with two directions. Photo: Daniel
Japanese toilets can have many buttons, a number of which are features to spray your behind.
It is rare to find one that hasn't at least a heated seat, and the most sophisticated ones have remote controls and magically open their lid when you enter the room.
Fortunately, the flush handle is generally mechanical, except for a few very high-tech products. Those often have a 大 (big) and 小 (small) direction, which give a different "sized" flush.
If you accidentally touch one of the other buttons, go for the big one labelled 止 – this means "stop".
---
Get the newsletter
When you subscribe to the newsletter, we'll keep you up to date on what's new. You can unsubscribe at any time.
---
Share this page
---
What do you think?
Let us know what you think - privately or here for all to see. Simply email us or check our imprint and privacy policy for more info and possibilities to get in touch