February 22, 2020
Avoid: New "Welcome" Suica in Tokyo
There is a new "Welcome Suica" card for public transport in Tokyo. Here is why it may be a bad idea for you.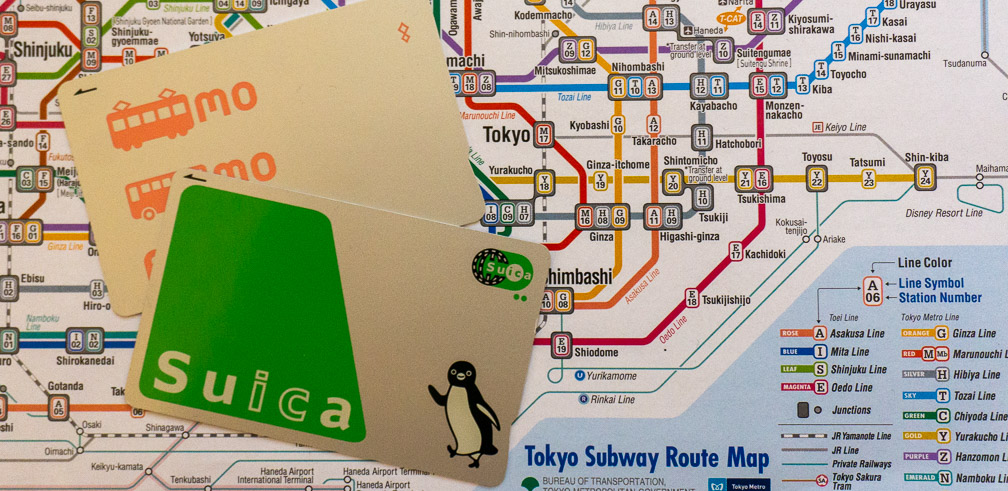 There is a new "Welcome Suica" card for public transport in Tokyo. Here is why it may be a bad idea for you.
When someone asks us about transport in Tokyo, we always recommend that you get a SUICA (or PASMO) IC card to get around. Those IC cards are the simplest way to use the subway; they work for public transport almost all over Japan – not just for Tokyo subway.
The cards also double as e-Money; they are accepted at shops, newsstands and vending machines and you can even use them to buy a bento box on the shinkansen.
They are available from ticket machines at almost any subway station for a small ¥500 deposit. Apparently this is somehow not for visitors, so JR East decided to introduce a "Welcome Suica" for "short term visitors".
"Welcome Suica"
The "Welcome Suica" works exactly like a regular Suica, with the one advantage that you don't have to pay the ¥500 deposit. You can also load some discount passes onto it that you'd previously buy as paper tickets.
But, unlike the regular card, "Welcome Suica" expires 28 days after purchase and comes with an absolute "no refunds" policy. Which means that the card will become useless after 28 days and any remaining balance goes to JR East.
In addition, you have to keep the "reference paper" that you get together with the card; you are supposed to show that to the staff upon request.
As there is no deposit and no refund, you can obviously keep the card as a souvenir – it does come with a cherry blossom design, while the regular ones feature the mascot penguin.
Regular SUICA
The standard SUICA, on the other hand, remains valid for 10 years after the last use. You can also return the card for all full refund of the balance and deposit, minus a small fee.
This means that if you have a remaining balance, you can either hold on to your card for the next trip (even if that's in a few years) or get a refund.
If you want to keep the card as a souvenir, you have to forfeit the ¥500 deposit, but the card will remain valid for 10 years should you ever return.
Virtual SUICA (Apple Pay)
If you have a compatible iPhone (8 or above), you can just add SUICA to your wallet and top it up using Apple Pay. There is no deposit and no expiry, but also no plastic card to use as a souvenir.
Why?
"Welcome Suica" has almost no advantages for the user; unless you really want the card as a souvenir, you don't plan on returning and you manage to leave with a balance of less than ¥500.
It does have a lot of advantages for JR East: They don't have to deal with people asking for refunds or their deposit back. They can also immediately close the card and keep the balance, instead of keeping your account open for 10 years in case you return.
PASMO Passport
PASMO, the other IC card system in Tokyo (issued by the subway), came up with a similar offer: PASMO Passport.
The card also expires after 28 days, but there also some differences:
Instead of a deposit, there is a ¥500 non-refundable "issuance fee"
You do get "special privileges" (read: discount coupons) with the PASMO Passport
While the "privileges" didn't really convince us, at least you do get a tangible benefit; at least in case you actually wanted to visit the Ninja Museum anyway.
The PASMO's kawaii design also seem a tad more collectible than the "Welcome Suica", but that's a matter of taste.
Comparison
|   | PASMO/SUICA | Welcome Suica | Passmo Passport |
| --- | --- | --- | --- |
| Deposit | ¥500 | ¥0 | ¥0 |
| Fee | ¥0 | ¥0 | ¥500 |
| Expiry | 10 years after use | 28 days after purchase | 28 days after purchase |
| Refund | yes, ¥220 fee | no | no |
| Benefits | none | can load discount passes | various coupon codes |
| Design | regular | cherry blossom | kawaii characters |
| Requirements | none | keep the "reference paper" | foreign visitor |
---
Get the newsletter
When you subscribe to the newsletter, we'll keep you up to date on what's new. You can unsubscribe at any time.
---
Share this page
---
What do you think?
Let us know what you think - privately or here for all to see. Simply email us or check our imprint and privacy policy for more info and possibilities to get in touch