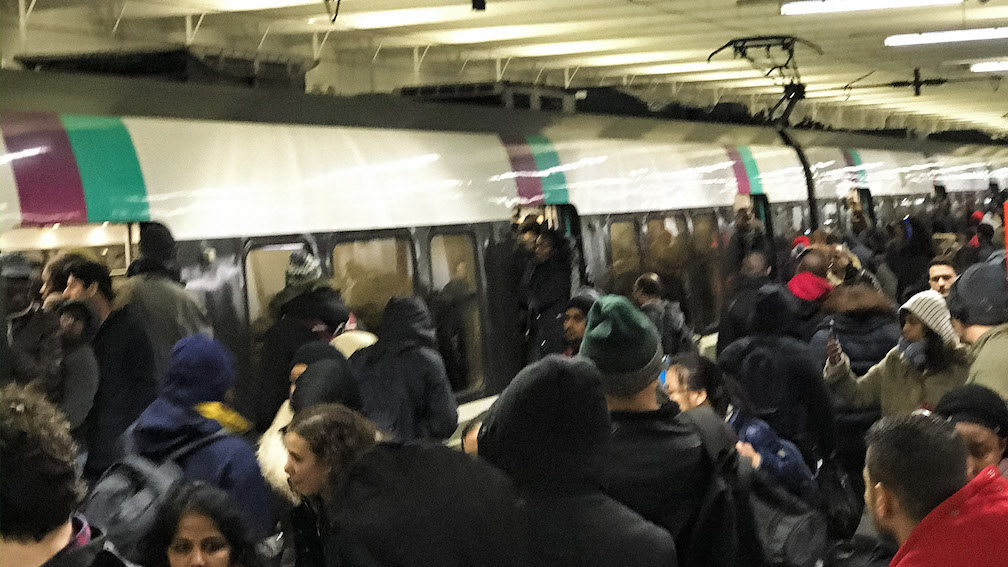 Since December 5th, the French are on strike against president Macron's proposed pension reform.
Update: Disruptions have generally disappeared as of the end of January
Though the strike hasn't officially been called of transport and trains are back to normal.
The internet is flooded with people who are unsure about what this will mean to their travel plans, so we'll provide little service announcement from the ground in Paris, with answers on what you can expect.
Who is striking?
Mainly railway personnel and train drivers; possibly because those stand to lose the enourmos privileges they have under the current pension system.
Some other professions have joined in, but much less systematically.
Will it stop soon?
Unlikely. Neither government nor unions are showing signs of backing down so far and there aren't any negotions that could result in a breakthrough.
Although the strike announcements are made for a few days into the future, it is a safe bet to assume that the strike will continue for longer than currently announced.
As of mid-December it looks like the strike may continue well into January.
Can I get in and out of France/Paris?
You can, though you should probably avoid the trains. The majority of long-distance trains remain cancelled. You will only know on short notice which ones are running. The trains that run will be jampacked with folks thrown from the ones that don't – it won't be a pleasant experience.
Flights seem much less affected, Air France and other airlines keep the long-distances flights operating as normal and most of the short-haul ones as well, although there are delays. Flights within France seem more affected.
Travelling to and from the airports can be challeging though, see below.
Streets are open, even though Paris pretty much clogs up every day.
How do I get around in Paris?
Slowly. Public transport is in disarray, and the few metro and suburban trains that operate are overrun by commuters who somehow have to get to work. Check the RATP homepage for the current status.
Do not use Google maps for public transport, they appear to know nothing of the strike. The Citymapper and RATP apps have live updates.
Metro and RER - Lines 1 and 14 operate as normal, they are fully automated. All others trains run on a reduced schedule or not at all. Avoid all affected lines if you can, especially during rush hour.
Buses - Half of the buses apparently run, but may be packed to the brim. Some are fine, your best bet is to decide at the bus stop.
Taxis, Uber, Kaptn and such - Taxis and ride services run, but are hard to get due to high demand. Services like Uber use surge pricing, meaning they are much more expensive than normal. Even if you're lucky enough to snatch a ride, it will be held up in traffic hell together with anyone else. If you get one: Budget at least an hour, and €50, to traverse the city from one side to the other.
Bikes, electric scooters - These are getting really popular now, and are in high demand. Velib and Jump are the main short-term bike rentals in Paris. There is a number of electric scooter (both "classic" and "kick-scooter" type). They are available, but battery levels may be low due to high usage. If you are in Paris for a few days, consider long-term bike rental - having your own ride is ideal these days.
Walking - works as well as ever. Most of Paris is really walkable, and if you stay centrally you should be able to get around fine.
Is public life affected?
Not much, other than transport. Most limitations are with publicly run institutions like the Paris Opera and public museums like the Louvre.
But shops are open for business, christmas lights are on and the shoppers are out and about in drones. Some smaller businesses run irregular hours, but that's about it.
Is there rioting?
No. There seems to be a demonstration every few days which is almost unnoticable outside the planned route. So far there is nothing comparable to last year's "gilets jaunes" protests.
What about airport access?
Most buses to the airport seem to run, but the number of trains is severly limited.
RER B to Charles de Gaulle airport in Roissy runs only once an hour. It is actually pretty empty when it starts from CDG but gets more and more packed when it passes through the suburbs. Getting on or off at Gare du Nord is mayhem, although they beefed up security there to control the crowds.
Your other option is to queue up for a taxi and join the traffic jam that leads into Paris.
---
Get our newsletter
When you subscribe to our newsletter, we'll keep you up to date on what's new. You can unsubscribe at any time.
---
Share this page
---
What do you think?
Let us know what you think - privately or here for all to see.