April 30, 2018
Why you don't need frequent flyer miles
Frequent flyer programs promise travel in style, flights and perks for free. But do they really work for the regular traveler?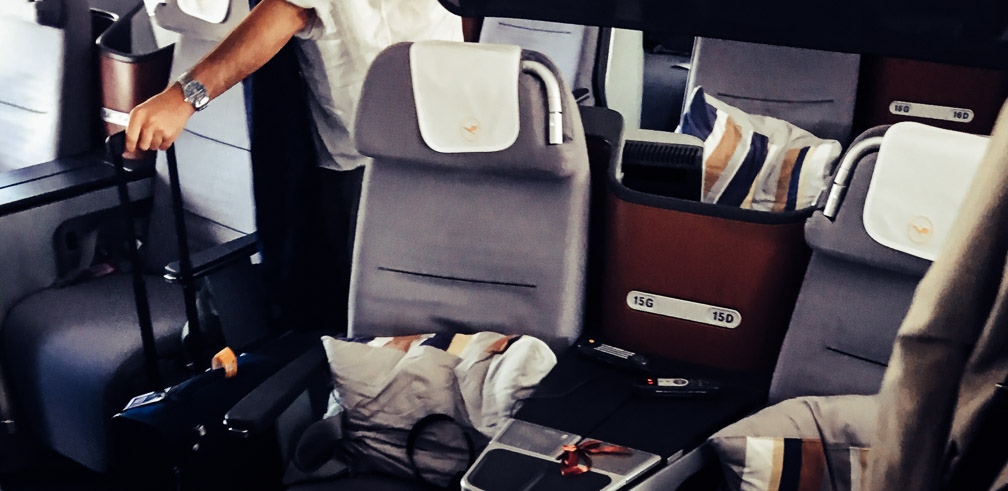 Frequent flyer programs promise travel in style, flights and perks for free. But do they really work for the regular traveler?
We have done the calculations for you and tell you why, in most cases, you just shouldn't bother (unless you like the logistics of buying thousands of puddings or or cheese wheels, that is).
And, if you're one of the lucky ones, we let you know how to spend best spend those miles as well.
Miles are worth 2 cents, at best
Simply put, a mile is worth whatever you can buy with it. In the case of Lufthansa's Miles and More program (which I'll be using for this comparison), the most valuable thing to buy is a business (or first) class ticket for a long distance flight.
For that, one mile can worth 1.5 to 2 (Euro-)cents. Spend it on anything else, like short-distance economy flights or goods, and it is only worth a fraction.
Here's the calculation, based on a trip from Germany to Hong Kong. I'm using actual prices from the time of writing:
| | |
| --- | --- |
| Price of a "mileage bargain" ticket | 70,000 miles |
| Taxes and surcharges on the "free" ticket | 600€ |
| Cheapest business class fare, any airline | 1,700€ |
| Savings | 1,100€ |
| Savings per mile spent | 0,016€ |
Frequent Flyin'

There's one point at which you can really start thinking about those miles:
If you take a dozen or so flights a year, or even just a few long-haul business class flights, you'll get enough for a free flight every once in a while.
How much you need to get around, exactly, depends on the airline and a number of other things. Still, one or two return trips a year usually won't cut it, no matter where to. You just won't collect enough miles before they expire after two or three years.
The rules of how much miles a flight is worth have evolved into an arcane art:
Payouts depend on the airline used, booking class, route and other factors. There are a lot of tips going around how to game the system, and get the most miles out of each flight.
However, many of the large players are now going for a revenue-based system that can be harder to game. Lufthansa has a new scheme that hands out 4 miles per 1€ spent on tickes, not counting taxes and some surcharges. This means you'll have to spend 17,500€ (plus taxes) for 70,000 miles.
Most programs are skewed in favor of the "best" customers, though: If you've got a frequent flyer status already, you'll get a bonus on top.
Still, it can never hurt to sign up for the program and collect miles for flight that you take. What makes less sense is to pay premium to fly with your preferred airline: At 2 cents per mile, 1000 miles are worth just 20€ at the very best.
Credit cards don't cut it any more
Credit cards are probably the second most popular method to collect miles. There used to be pretty good offers: In 2016, we could still get Visa cards with a sign-up bonus of 40,000 Miles&More miles, which then earned 1 mile for each euro spent - a great deal, even considering the 110€ yearly fee.
However, in the EU new legislation now limits the commission for credit card transactions; and mile payouts went down accordingly.
Today the equivalent card will only give you 4,000 miles on sign-up, plus 1 mile per 2€. Which means that for 70,000 miles you need to spend 132,000€ on that card - or the equivalent of a luxury car.
You could still use the card to get a few miles; only that you could get a better credit card for free; and the included insurance isn't that desirable either.
Buying business class through a credit card
| | |
| --- | --- |
| "Welcome bonus" | 4000 miles |
| Spending 2,000€ a month, for 6 years | 72,000 miles |
| Credit card fees, for 6 years | 660€ |
| Tax and surcharges on the "free" ticket | 600€ |
| Savings, compared to a regular ticket | 440€ |
| Value of the remaining 6000 miles, ca. | 100€ |
All those papers
Newspaper or magazine subscriptions used to be another way to "generate" miles: You could "buy" miles for less than 1 cent per mile in that way.
But again, these days are mostly over: You can still buy miles, but at around 1.4 cents per mile they cost more or less as much as they are worth when you spend them.
If you don't really want that magazine go ahead, otherwise you're making a bad deal.
Buying business class through newspaper subscriptions
| | |
| --- | --- |
| 6 subscriptions for 13,000 miles | 1,020€ |
| Taxes and surcharges on the "free" ticket | 600€ |
| Savings, compared to a regular ticket | 180€ |
| Value of remaining 8000 miles | 140€ |
Do you even want business class?
All of this assumes that you're really want to fly business, and that your alternative is paying for price for that.
But if you're okay with economy, fares for our route start around 700€ and Premium economy fares around 1,200€.
If you don't already have the miles, paying for one of those tickets can be cheaper and easier than dedicating than trying to rack up miles for the flight.
Take the miles that come your way
In other words: If miles come your way, take them. If they don't: Don't sweat it. There are many other ways to travel with little money, and in style.
---
Get our newsletter
When you subscribe to our newsletter, we'll keep you up to date on what's new. You can unsubscribe at any time.
---
Share this page
---
What do you think?
Let us know what you think - privately or here for all to see.